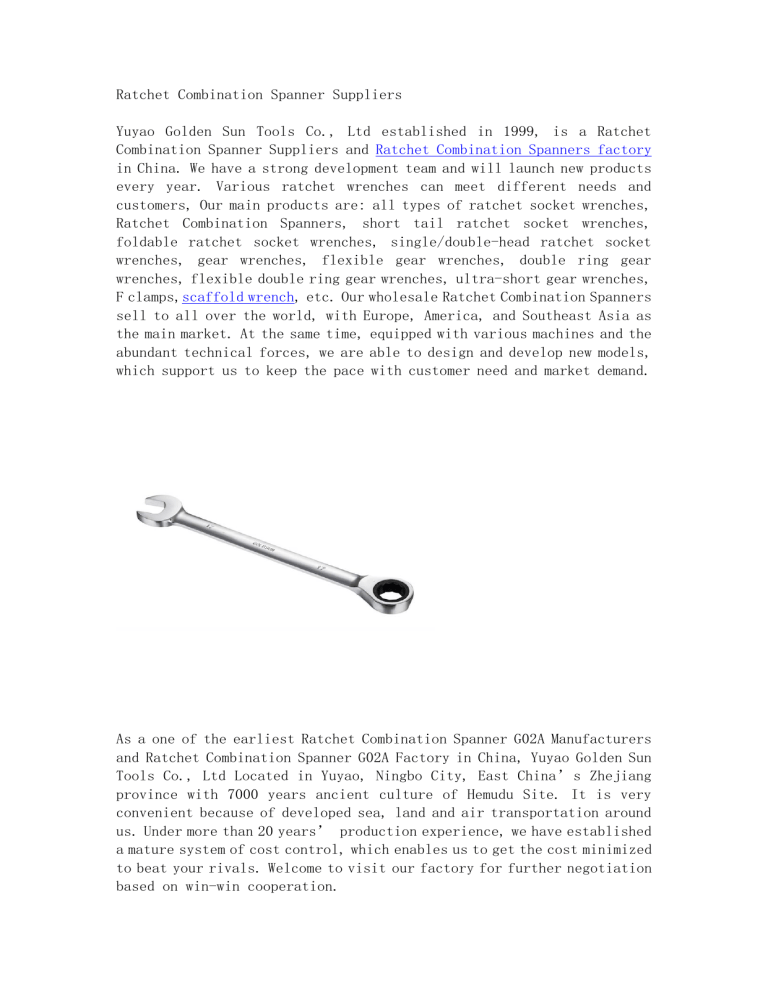 Ratchet Combination Spanner Suppliers
Yuyao Golden Sun Tools Co., Ltd established in 1999, is a Ratchet
Combination Spanner Suppliers and Ratchet Combination Spanners factory
in China. We have a strong development team and will launch new products
every year. Various ratchet wrenches can meet different needs and
customers, Our main products are: all types of ratchet socket wrenches,
Ratchet Combination Spanners, short tail ratchet socket wrenches,
foldable ratchet socket wrenches, single/double-head ratchet socket
wrenches, gear wrenches, flexible gear wrenches, double ring gear
wrenches, flexible double ring gear wrenches, ultra-short gear wrenches,
F clamps,scaffold wrench, etc. Our wholesale Ratchet Combination Spanners
sell to all over the world, with Europe, America, and Southeast Asia as
the main market. At the same time, equipped with various machines and the
abundant technical forces, we are able to design and develop new models,
which support us to keep the pace with customer need and market demand.
As a one of the earliest Ratchet Combination Spanner G02A Manufacturers
and Ratchet Combination Spanner G02A Factory in China, Yuyao Golden Sun
Tools Co., Ltd Located in Yuyao, Ningbo City, East China's Zhejiang
province with 7000 years ancient culture of Hemudu Site. It is very
convenient because of developed sea, land and air transportation around
us. Under more than 20 years' production experience, we have established
a mature system of cost control, which enables us to get the cost minimized
to beat your rivals. Welcome to visit our factory for further negotiation
based on win-win cooperation.
3-in-1 Reversible Ratchet Combination Spanner G02E-1 G02E-2
We are a professional ratchet wrench manufacturer.
Our aim is to provide the customers with stable quality, competitive price
and reliable service.
Different markets and customers, but GOLDEN SUN is able to meet
diversified demands.
For any problem or feedback from customers, we will response quickly
within 24 hours.
For any inquiry from customers, we will reply professionally in time.
We will follow the ideas of customers and at the same time give useful
suggestions to develop the best products.
For any order from customers, we will finish on time and keep good quality.
" High quality, Reliable service, Constant innovation " as basic
condition for enterprise survival.