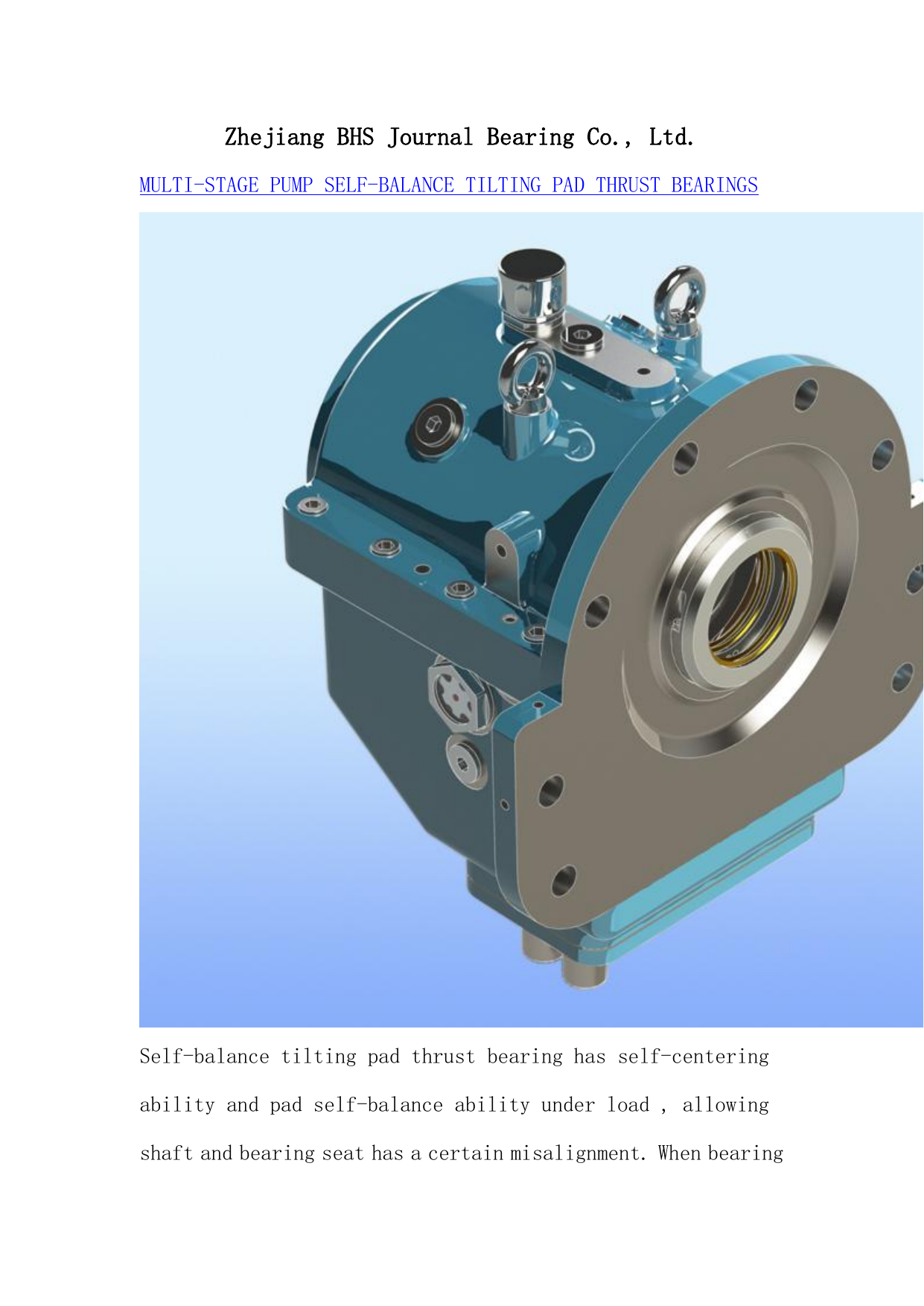 Zhejiang BHS Journal Bearing Co., Ltd.
MULTI-STAGE PUMP SELF-BALANCE TILTING PAD THRUST BEARINGS
Self-balance tilting pad thrust bearing has self-centering
ability and pad self-balance ability under load , allowing
shaft and bearing seat has a certain misalignment. When bearing
pad occurred unbalanced load due to machining or assembly
errors, bearing's self-balance mechanism can realize
adjustment among pads load, which makes temperature
distribution more uniform among pads. Therefore, comparing
with non self-balance tilting pad thrust bearing, self-balance
bearing has bigger load capacity, more suitable for high speed
heavy load working conditions.
Application:Middle,high speed and middle,heavy load
machines,such as compressors,gearboxes,turbines and
pumps.etc.
HIGH SPEED CIRCULATING PUMP BEARING
VERTICAL PUMP THRUST SLIDING BEARINGS
Vertical thrust sliding bearing is mainly used for vertical
mounted pump or other rotary mechanical equipments.It can
withstand axial force and radial force. It mainly consists of
thrust bushing components (with disc spring and support parts),
guiding tile, guiding tile seat, adjusting bolt for guiding
tile, bearing plate (for thrust bushing support), oil-water
cooler, housing, thrust head expansion sleeve, oil seal, inner
and outer oil pots, etc. According to different operating
conditions and load, different lubrication method can be
used,for example:self lubrication or pressure oil
lubrication. To self-lubricating bearing, there are two kind
of cooling way: natural cooling or through water cooler that
assembled inside of bearing housing. Lubrication oil goes
between thrust head and inner oil pot through the groove on
bearing plate with thrust head rotating, and then reaches
working surface of thrust bushing and guiding shoe for
lubrication and cooling. Then it goes out of oil outlet from
guiding bearing support and outer oil pot, it is cooled by
oil-water cooler and then goes for circulating lubrication.