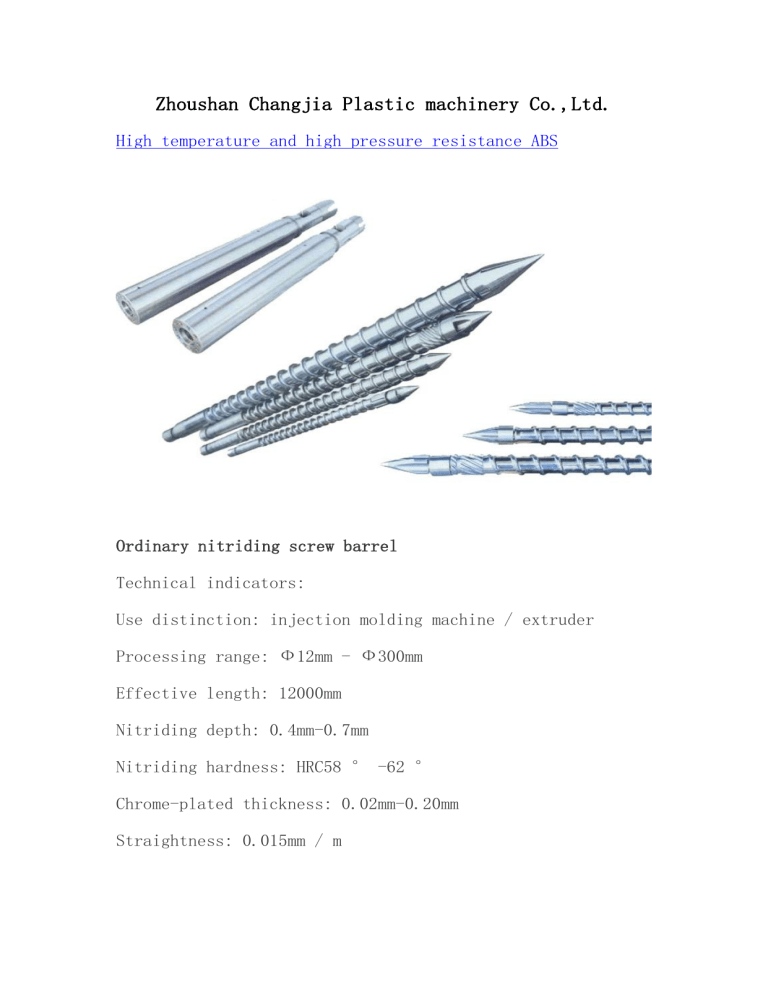 Zhoushan Changjia Plastic machinery Co.,Ltd.
High temperature and high pressure resistance ABS
Ordinary nitriding screw barrel
Technical indicators:
Use distinction: injection molding machine / extruder
Processing range: Ф12mm - Ф300mm
Effective length: 12000mm
Nitriding depth: 0.4mm-0.7mm
Nitriding hardness: HRC58 ° -62 °
Chrome-plated thickness: 0.02mm-0.20mm
Straightness: 0.015mm / m
Applicable plastic range: ABS, PP, PE, 475, PEV and other
ordinary plastic.
Bakelite special alloy screw barrel
Use distinction: injection molding machine / extrusion
machinery / bakelite machinery
Processing range: diameter Ф20mm-Ф250mm
Effective length: 8000mm
Alloy composition: 88wc / 12c0.Crc / 25Nicr.XaloY108
Alloy hardness: HRC60 ° -65 °
Surface roughness: R0.4
Screw Straightness: 0.015mm
Applicable to all kinds of glass fiber, plastic PPA, PO, PPS,
LCP, ABS fire, bakelite powder, magnetic powder, PC and other
special engineering plastics.
Three Small Pieces of Injection Molding Machine Barrel
Cheap and efficient export Shoe Machine Barrel Screw
1.Brand: ChangJia
2. Length:2mm~9000mm
3. Maximum Torque:900N~5000N
4. Diameter:5mm~200mm
5.Wrapping material:Wood
Country of originZhejiang, China (Mainland)
38GrMoAl;45#;Alloy;Stainless steel;high speed
Material
steel
Color
Silvery white;Yellow
Structure
Spiral
Shape
Square;Cone
Granules, film, bag, barrel, pipe, profile,
Used
plates,sheet, etc.