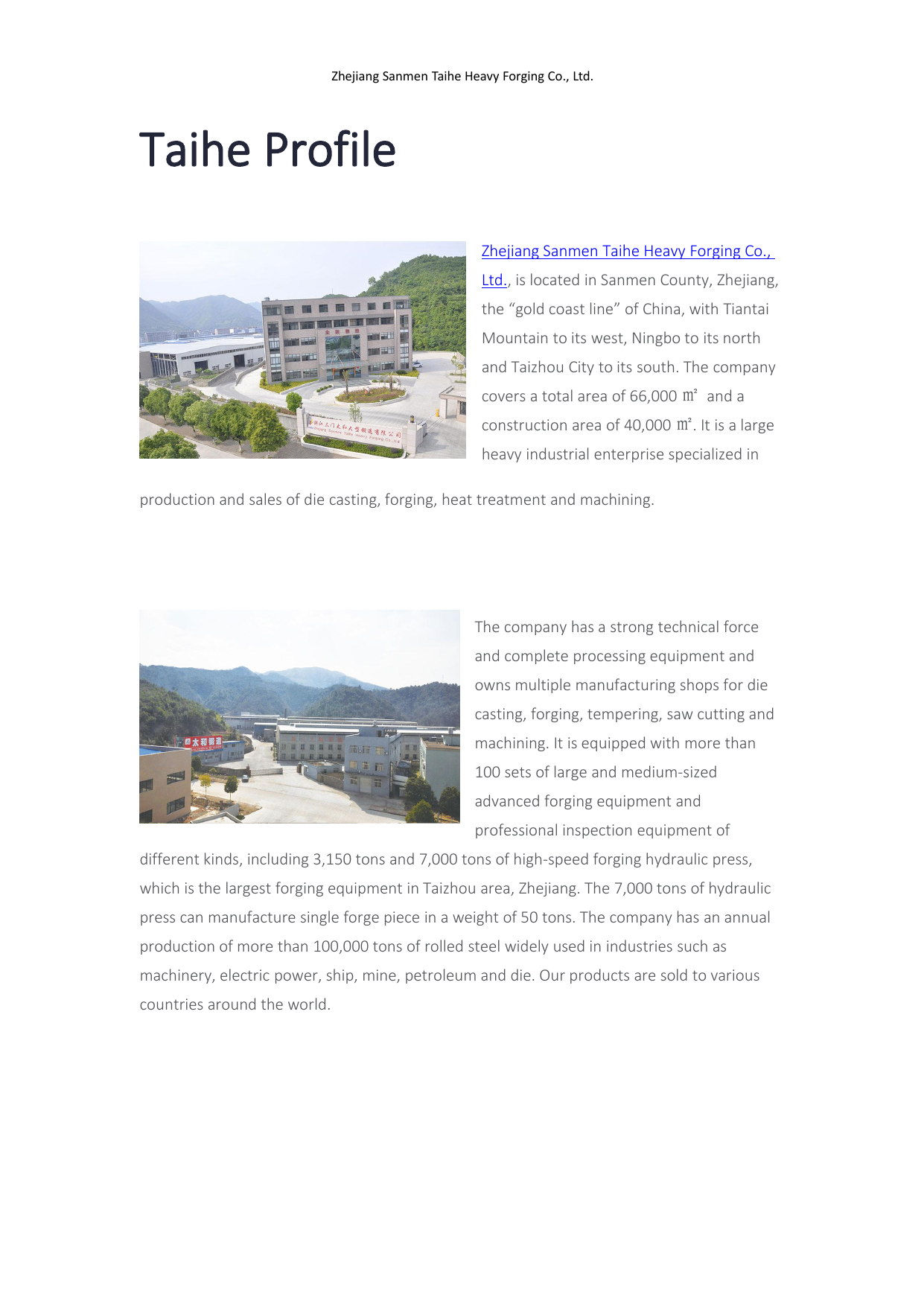 Zhejiang Sanmen Taihe Heavy Forging Co., Ltd.
Taihe Profile
Zhejiang Sanmen Taihe Heavy Forging Co.,
Ltd., is located in Sanmen County, Zhejiang,
the "gold coast line" of China, with Tiantai
Mountain to its west, Ningbo to its north
and Taizhou City to its south. The company
covers a total area of 66,000 ㎡ and a
construction area of 40,000 ㎡. It is a large
heavy industrial enterprise specialized in
production and sales of die casting, forging, heat treatment and machining.
The company has a strong technical force
and complete processing equipment and
owns multiple manufacturing shops for die
casting, forging, tempering, saw cutting and
machining. It is equipped with more than
100 sets of large and medium-sized
advanced forging equipment and
professional inspection equipment of
different kinds, including 3,150 tons and 7,000 tons of high-speed forging hydraulic press,
which is the largest forging equipment in Taizhou area, Zhejiang. The 7,000 tons of hydraulic
press can manufacture single forge piece in a weight of 50 tons. The company has an annual
production of more than 100,000 tons of rolled steel widely used in industries such as
machinery, electric power, ship, mine, petroleum and die. Our products are sold to various
countries around the world.
Zhejiang Sanmen Taihe Heavy Forging Co., Ltd.
Ingot Casting
Milling&Boring Machine
Large Vertical Sawing Machines
Benefit can only be achieved by management. The company has established a set of complete
management systems and strictly follows those rules. At the same time, the company
strengthens enterprise culture and brand building and has won honorary titles many times
including "Key Industrial Enterprises of the Year in Sanmen County", "Famous Trademark of
Taizhou", and "Safety Production Standardization Enterprise". It is one of the Top5
enterprises with a fiscal and tax revenue of more than 5 million of the county and has been
recognized as "Zhejiang Provincial Scientific and Technological Enterprise" in 2018.
Zhejiang Sanmen Taihe Heavy Forging Co., Ltd.
Open Die Forging
Closed Die Forging
The company adheres to the management tenet of "integrity management and seek
development by quality" as well as the management guideline of "honesty and
trustworthiness, technology leading, winning by quality, reasonable price, perfect service and
win-win cooperation". It is a people-oriented company that attaches great importance to
talent cultivation and talent development. Through years of development, it covers its
business domestically and internationally. The company's business scale and technological
level occupy leading positions in the industry. With its complete quality guarantee system,
fine technical craft and satisfactory after-sales service, it has gained recognition from the
market.