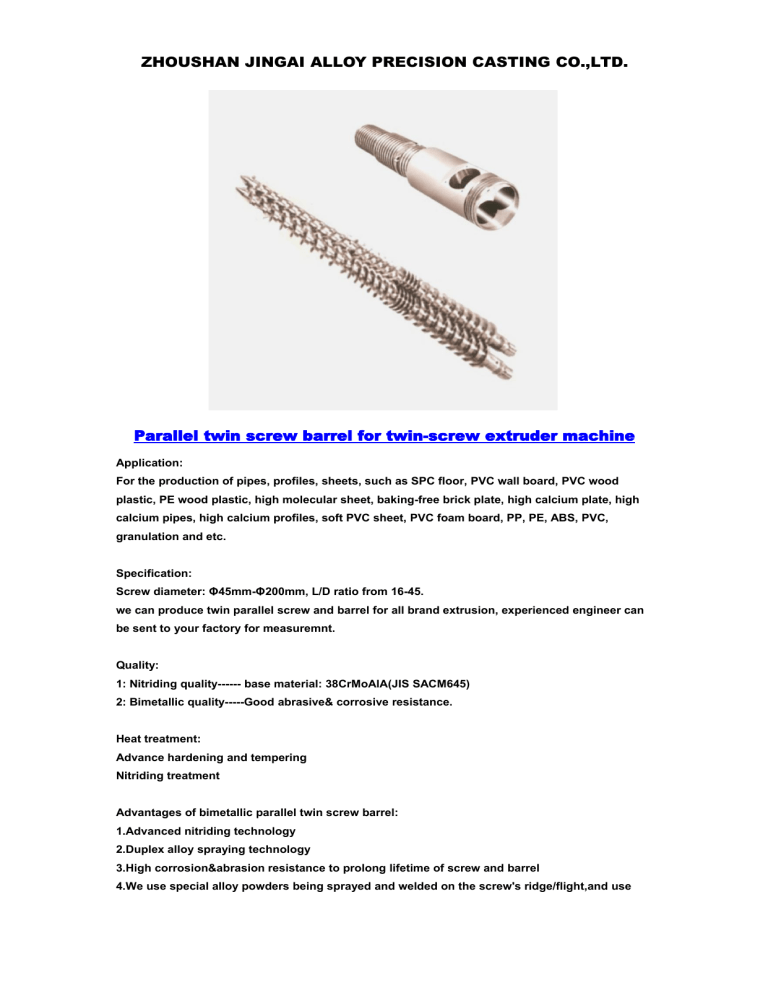 ZHOUSHAN JINGAI ALLOY PRECISION CASTING CO.,LTD.
Parallel twin screw barrel for twin-screw extruder machine
Application:
For the production of pipes, profiles, sheets, such as SPC floor, PVC wall board, PVC wood
plastic, PE wood plastic, high molecular sheet, baking-free brick plate, high calcium plate, high
calcium pipes, high calcium profiles, soft PVC sheet, PVC foam board, PP, PE, ABS, PVC,
granulation and etc.
Specification:
Screw diameter: Φ45mm-Φ200mm, L/D ratio from 16-45.
we can produce twin parallel screw and barrel for all brand extrusion, experienced engineer can
be sent to your factory for measuremnt.
Quality:
1: Nitriding quality------ base material: 38CrMoAlA(JIS SACM645)
2: Bimetallic quality-----Good abrasive& corrosive resistance.
Heat treatment:
Advance hardening and tempering
Nitriding treatment
Advantages of bimetallic parallel twin screw barrel:
1.Advanced nitriding technology
2.Duplex alloy spraying technology
3.High corrosion&abrasion resistance to prolong lifetime of screw and barrel
4.We use special alloy powders being sprayed and welded on the screw's ridge/flight,and use
ZHOUSHAN JINGAI ALLOY PRECISION CASTING CO.,LTD.
different alloy and welding methods for the screw of different functions.
5.For good plasticizing , it has many designs to meet customers' demand . Such as granual type ,
mutant type , wave type , barrier type , double screen typr ,shunt type , separation type , exhaust
type and so on .
Parallel twin screw barrel for PVC pipe extruder machine
Application machine: PVC WPC Profile Pipe Extruder
Surface treatment: Nitrided & Bimetallic Treatment
Spare Parts Type: extruder spare parts
Material: PVC, 38CrMoAlA SKD11 SKD61 Stainless
Parallel Twin Screw Application
1)PVC pipe extrusion line;
2)PVC sheet extrusion line;
3)PVC profile extrusion line
4)WPC extrusion line;
5)PVC granulation/recycling line;
6)PVC foaming board production line;
The material can be new or recycle, the material can compound calcium power 5%-300%.