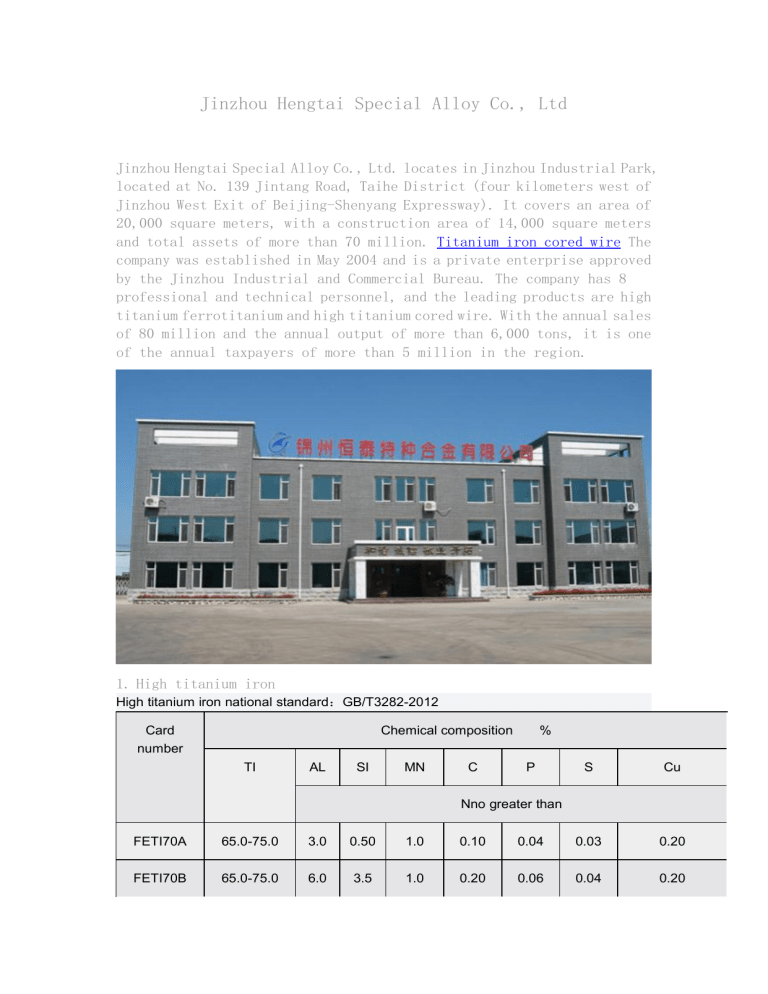 Jinzhou Hengtai Special Alloy Co., Ltd
Jinzhou Hengtai Special Alloy Co., Ltd. locates in Jinzhou Industrial Park,
located at No. 139 Jintang Road, Taihe District (four kilometers west of
Jinzhou West Exit of Beijing-Shenyang Expressway). It covers an area of
20,000 square meters, with a construction area of 14,000 square meters
and total assets of more than 70 million. Titanium iron cored wire The
company was established in May 2004 and is a private enterprise approved
by the Jinzhou Industrial and Commercial Bureau. The company has 8
professional and technical personnel, and the leading products are high
titanium ferrotitanium and high titanium cored wire. With the annual sales
of 80 million and the annual output of more than 6,000 tons, it is one
of the annual taxpayers of more than 5 million in the region.
1. High titanium iron
High titanium iron national standard:GB/T3282-2012
Card
number
Chemical composition
TI
AL
SI
MN
C
%
P
S
Cu
Nno greater than
FETI70A
65.0-75.0
3.0
0.50
1.0
0.10
0.04
0.03
0.20
FETI70B
65.0-75.0
6.0
3.5
1.0
0.20
0.06
0.04
0.20
Our company's High titanium iron implement national standards
2. High titanium iron particles 0-2mm
Titanium-iron alloy is an important raw material for the production of
chain steel, anchor chain steel, automotive steel, shipbuilding steel,
stainless steel, welding rods and electronic, High titanium iron
particles 0-2mm military and other products. In recent years, with the
rapid development of the economy, the demand for high-titanium iron
products by international and domestic steel companies and welding rod
enterprises is increasing, especially international demands.