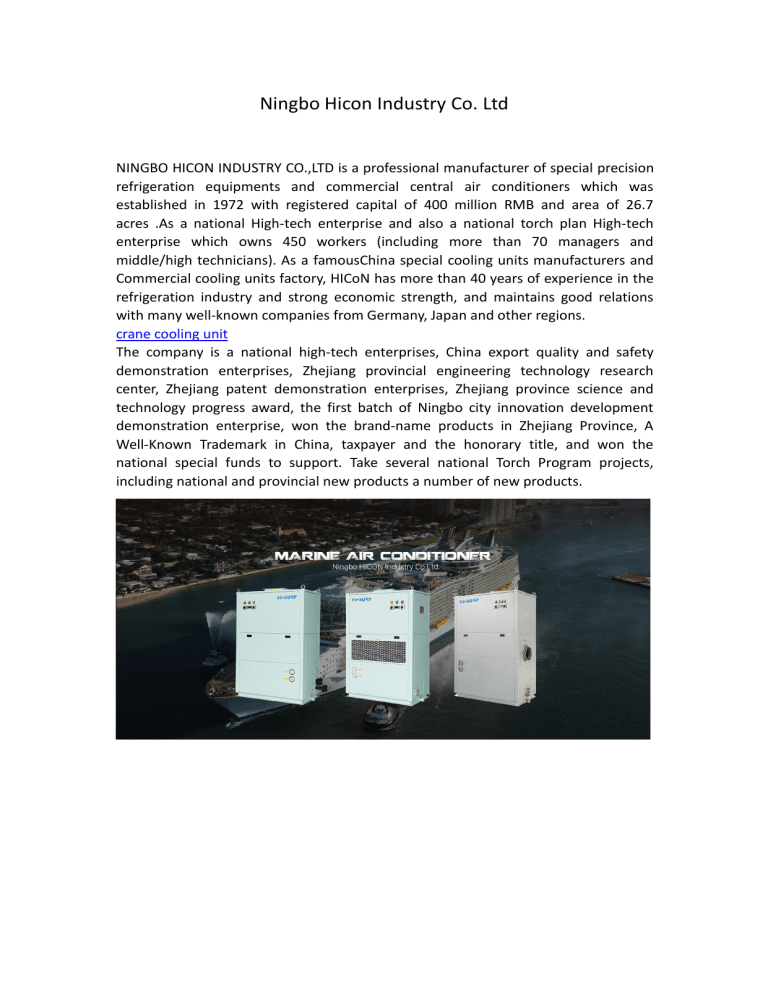 Ningbo Hicon Industry Co. Ltd
NINGBO HICON INDUSTRY CO.,LTD is a professional manufacturer of special precision
refrigeration equipments and commercial central air conditioners which was
established in 1972 with registered capital of 400 million RMB and area of 26.7
acres .As a national High-tech enterprise and also a national torch plan High-tech
enterprise which owns 450 workers (including more than 70 managers and
middle/high technicians). As a famousChina special cooling units manufacturers and
Commercial cooling units factory, HICoN has more than 40 years of experience in the
refrigeration industry and strong economic strength, and maintains good relations
with many well-known companies from Germany, Japan and other regions.
crane cooling unit
The company is a national high-tech enterprises, China export quality and safety
demonstration enterprises, Zhejiang provincial engineering technology research
center, Zhejiang patent demonstration enterprises, Zhejiang province science and
technology progress award, the first batch of Ningbo city innovation development
demonstration enterprise, won the brand-name products in Zhejiang Province, A
Well-Known Trademark in China, taxpayer and the honorary title, and won the
national special funds to support. Take several national Torch Program projects,
including national and provincial new products a number of new products.