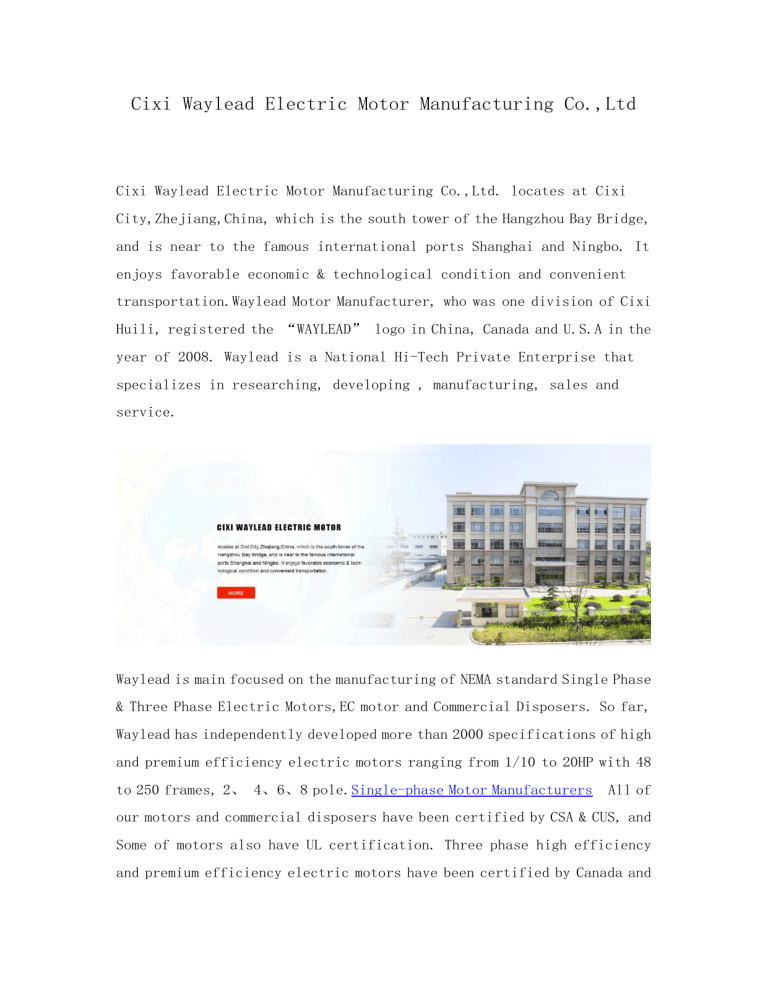 Cixi Waylead Electric Motor Manufacturing Co.,Ltd
Cixi Waylead Electric Motor Manufacturing Co.,Ltd. locates at Cixi
City,Zhejiang,China, which is the south tower of the Hangzhou Bay Bridge,
and is near to the famous international ports Shanghai and Ningbo. It
enjoys favorable economic & technological condition and convenient
transportation.Waylead Motor Manufacturer, who was one division of Cixi
Huili, registered the "WAYLEAD" logo in China, Canada and U.S.A in the
year of 2008. Waylead is a National Hi-Tech Private Enterprise that
specializes in researching, developing , manufacturing, sales and
service.
Waylead is main focused on the manufacturing of NEMA standard Single Phase
& Three Phase Electric Motors,EC motor and Commercial Disposers. So far,
Waylead has independently developed more than 2000 specifications of high
and premium efficiency electric motors ranging from 1/10 to 20HP with 48
to 250 frames, 2、 4、6、8 pole.Single-phase Motor Manufacturers
All of
our motors and commercial disposers have been certified by CSA & CUS, and
Some of motors also have UL certification. Three phase high efficiency
and premium efficiency electric motors have been certified by Canada and
US Energy Department in 2007 and 2010. All of our motors are exported to
USA, Canada, Mexico, Japan, Australia, New Zealand, Saudi Arabia and so
on. Motors are widely used in different industrial and agricultural field
such as Woodworker, Air compressor, Blower, Fan,Water Pump, Hydraulic
pump, Washing pump, Pool and spa pump, Ice cream Machine, Baking Equipment
and Garage door, etc. Waylead was also the OEM supplier for worldwide known
motor enterprises such as MARATHON、LINCOLN、GE and EMERSON.
Pump Motor Manufacturers
Tel: 0086-574-58580503
Fax: 0086-574-58580518
E-mail: [email protected]
Add:No.151 Taiyu Road,Kuangyan Industrial Zone,Cixi City, Zhejiang,
China.