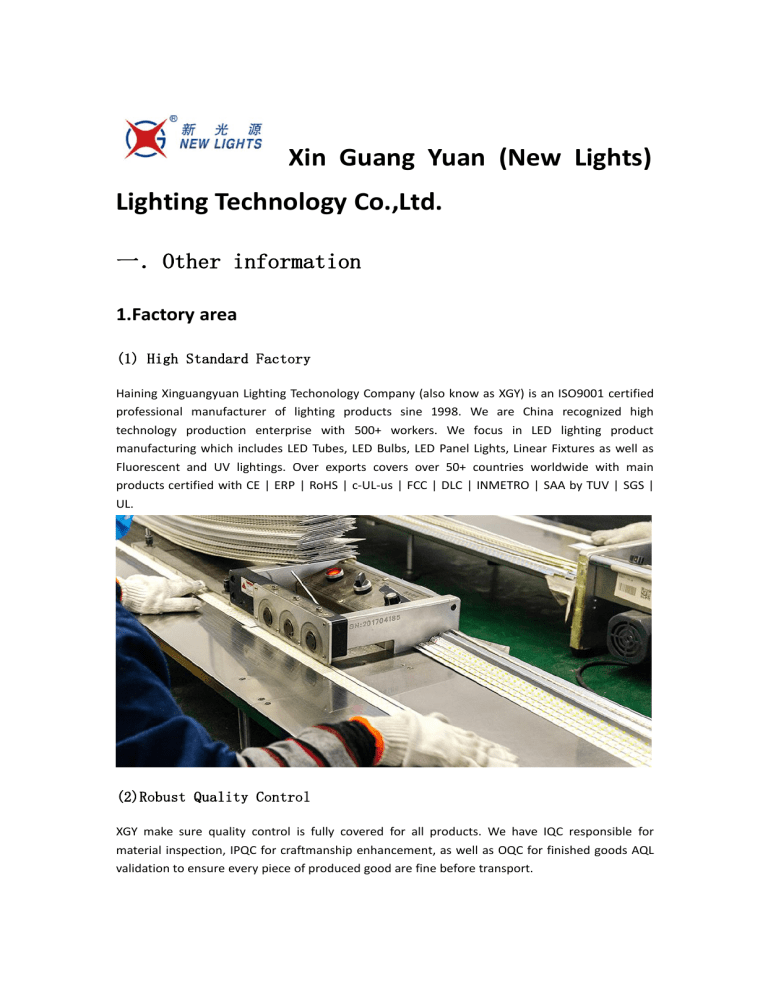 Xin Guang Yuan (New Lights)
Lighting Technology Co.,Ltd.
一.Other information
1.Factory area
(1) High Standard Factory
Haining Xinguangyuan Lighting Techonology Company (also know as XGY) is an ISO9001 certified
professional manufacturer of lighting products sine 1998. We are China recognized high
technology production enterprise with 500+ workers. We focus in LED lighting product
manufacturing which includes LED Tubes, LED Bulbs, LED Panel Lights, Linear Fixtures as well as
Fluorescent and UV lightings. Over exports covers over 50+ countries worldwide with main
products certified with CE | ERP | RoHS | c-UL-us | FCC | DLC | INMETRO | SAA by TUV | SGS |
UL.
(2)Robust Quality Control
XGY make sure quality control is fully covered for all products. We have IQC responsible for
material inspection, IPQC for craftmanship enhancement, as well as OQC for finished goods AQL
validation to ensure every piece of produced good are fine before transport.
(3) Our 3Cs (Core Values)
Our Goal | Mission | Vision as Manufacturer
Company Vision
Change a Light, Change the World
Company Values
Be Grateful | Be Responsible | Be Positive
Company Philosophy
Work with Integrity to Grow Business
Bring Creative Solution & Excel in Services
Company Working Attitude
Company Working Style
Be Best of the Best & Always Get Better
Obedience | Responsible | No Excuse | Take Immediate Action
2. Industry News
APPLICATION RANGE AND COLOR TEMPERATURE OF LED PANEL
LIGHTS:
LED panel lights are widely used, and there is a trend to replace grille lights; LED panel lights are
mainly used in:
1. Ceiling (replace the original grille lamp);
2. Walls (not only for lighting purposes, but also artistic expressions);
3. Installation body (the pursuit of practical and artistic combination, convenient and simple
installation);
4. Others (can also be used in other places, such as train boxes or large mobile cars, counters,
etc.);
Color temperature of LED panel light
Positive white 5500-6500K
Natural white 4000-4500K
Warm white 2800-3500
3.Contact Us

Working hours: 9am – 5pm on weekdays

Tel:+86-183-5831-5743
WeChat:+852-6909-0122



E-mail:[email protected]
Address:No.5 Fenghuang Road Qianjiang Industrial Area Dingqiao Town Haining
Zhejiang 314413 China
Please write us Email directly for any product inquiry through email address Our professional
sales representative will reply you as soon as possible. You could also leave your message to us
using the Contact Us inquiry board. Please fill in your name, email address (important), mobile
number and message of inquiry. If it is preferrable, you could also leave your Wechat, Whatsapp,
Line, Skype or any instant contact APPS or software for us to contact you. Please write down in
the message box "This is an inquiry from www.newlights.com". Thanks for your attention.