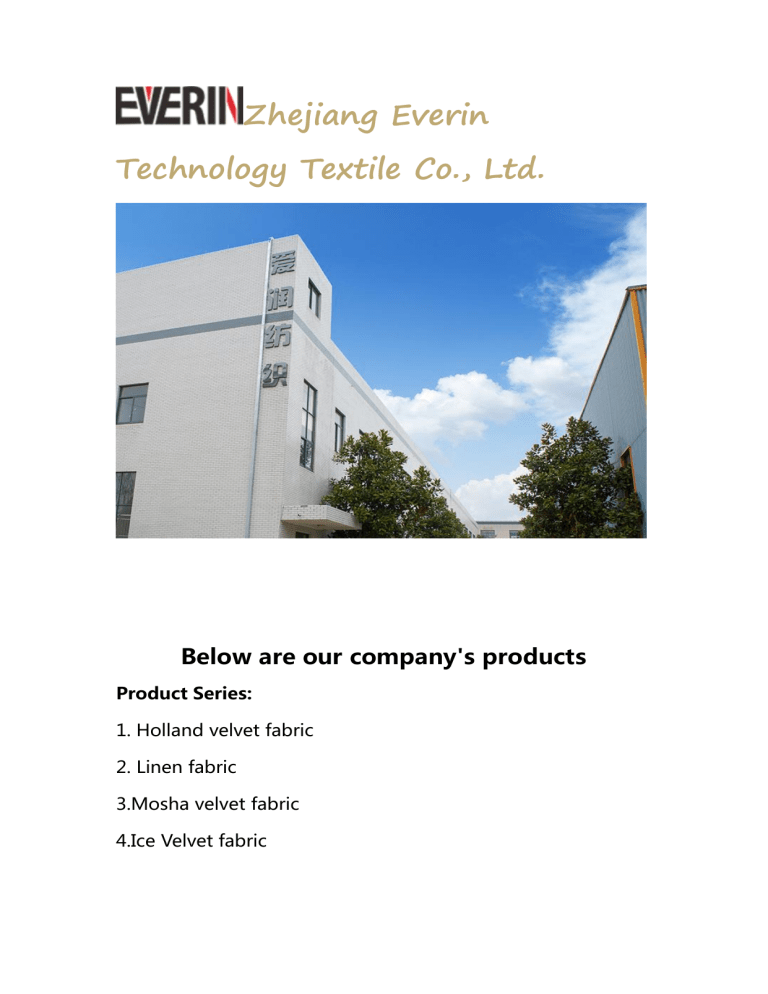 Zhejiang Everin
Technology Textile Co., Ltd.
Below are our company's products
Product Series:
1. Holland velvet fabric
2. Linen fabric
3.Mosha velvet fabric
4.Ice Velvet fabric
Ice Velvet fabric
Upholstery fabric / Ice velvet fabric
/ Plain color fabric/ Embossing
fabric / Sofa & Chair fabric / warp
knitting fabric – Item No.:AR635
ProductSpecification:
brief introduction:
This is a fabric which is suitable for power loom or shuttle loom. It has
a embossing with an ice velvet back. It is suitable for sofa, chair and
couch. This fabric is made of 100% polyester and comes in a cloth texture
with a smooth feel. This product is easy to care for and doesn't wrinkle
easily making it perfect for those who want to look their best without
having to iron regularly. The ice velvet fabric is warp knit using using
high strength multi-core wires that are made of stainless steel, making
them more durable than conventional twisted wires or tapes.
Upholstery fabric / Ice velvet
fabric / Plain color fabric/
Sofa & Chair fabric / warp
knitting fabric – Item
No.:AR636
ProductSpecification:
brief introduction:
Made of 100% polyester, this fabric features a plain ice blue base with
a soft nap finish, giving it a plush looking surface that feels wonderfully
cozy to the touch. This plain color fabric is featured with a 260gsm ice
velvet top and 160gsm brown fleece backing. The material is soft feeling,
light weight, good drape, so it can be used in various combination of
design. Boasting great durability, color fastness and strength, this
fabric can be widely used in bedroom curtains, car seat upholstery, common
room upholstery and other decorative fields.
Ice Velvet fabric Manufacturers
We are specialized in producing furniture & sofa fabrics, mainly engaged
in velvet fabrics, technology fabrics, linen-like fabrics and some other
textiles products' developing, manufacturing and selling. We import
advanced high-speed warp knitting equipments and warp knitting machines
from German Karl Mayer company.
Zhejiang Everin Technology Textile Co., Ltd, established in 2014, is a
professional Ice Velvet fabric Manufacturers and Ice Velvet fabric
factory, we are a comprehensive factory producing fabrics from knitting
to bonding. So we can provide prices and products directly. We specialize
in Ice Velvet fabrics and other textile products, and we have obtained
ISO9001 quality system certification and ISO14001 environmental system
certification. We have our own testing laboratory and advanced and
complete testing equipment, which can ensure the quality of our products.
We focus on developing high-quality products. Products meet international
standards, mainly exported to Southeast Asia, India, South America,
Mexico, Canada, Greece, Sri Lanka, Kazakhstan, Uzbekistan, Russia, the
Middle East and other countries and regions, welcome to cooperate with
you!