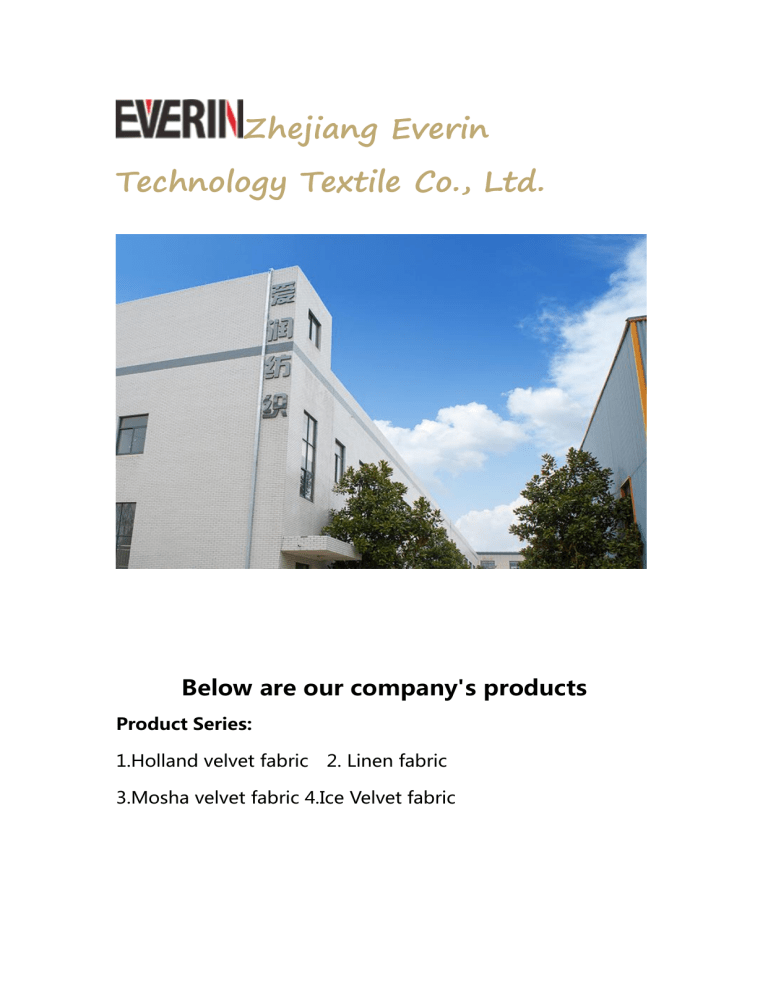 Zhejiang Everin
Technology Textile Co., Ltd.
Below are our company's products
Product Series:
1.Holland velvet fabric 2. Linen fabric
3.Mosha velvet fabric 4.Ice Velvet fabric
Holland velvet fabric
Upholstery fabric / Holland
velvet fabric / Printing fabric /
Sofa & Chair fabric / warp
knitting fabric – Item
No.:AR299
Product Specification:
brief introduction:Our velvet backed fleece fabric is perfect
for creating a sofa or chair cover. The holland velvet has a
luxurious print that is bright and vivid, making it the perfect
way to add color and style to any room. This durable fabric is
both comfortable and soft, ensuring that you'll get many years
of enjoyment out of your new furniture set.
Upholstery fabric / Holland velvet
fabric / Printing fabric / Sofa &
Chair fabric / Warp knitting fabric
– Item No.: AR323
ProductSpecification:
brief introduction:Our top quality upholstery fabric offers
great value at a budget price. This durable, attractive velvet
is perfect for sofas and chairs. With 30gsm pongee backing and
with an abrasion resistance of more than 50,000 rubs this fabric
will give you years of enjoyment.
Holland velvet fabric Manufacturers
We are specialized in producing furniture & sofa fabrics, mainly
engaged in velvet fabrics, technology fabrics, linen-like fabrics and
some other textiles products' developing, manufacturing and selling. We
import advanced high-speed warp knitting equipments and warp knitting
machines from German Karl Mayer company.
Zhejiang Everin Technology Textile Co., Ltd, established in 2014, is
a professional Holland velvet fabric Manufacturers and printing velvet
fabric factory, we are a comprehensive factory producing fabrics from
knitting to bonding. So we can provide prices and products directly. We
specialize in printing velvet fabrics and other textile products, and we
have obtained ISO9001 quality system certification and ISO14001
environmental system certification. We have our own testing laboratory
and advanced and complete testing equipment, which can ensure the quality
of our products. We focus on developing high-quality products. Products
meet international standards, mainly exported to Southeast Asia, India,
South America, Mexico, Canada, Greece, Sri Lanka, Kazakhstan, Uzbekistan,
Russia, the Middle East and other countries and regions, welcome to
cooperate with you!