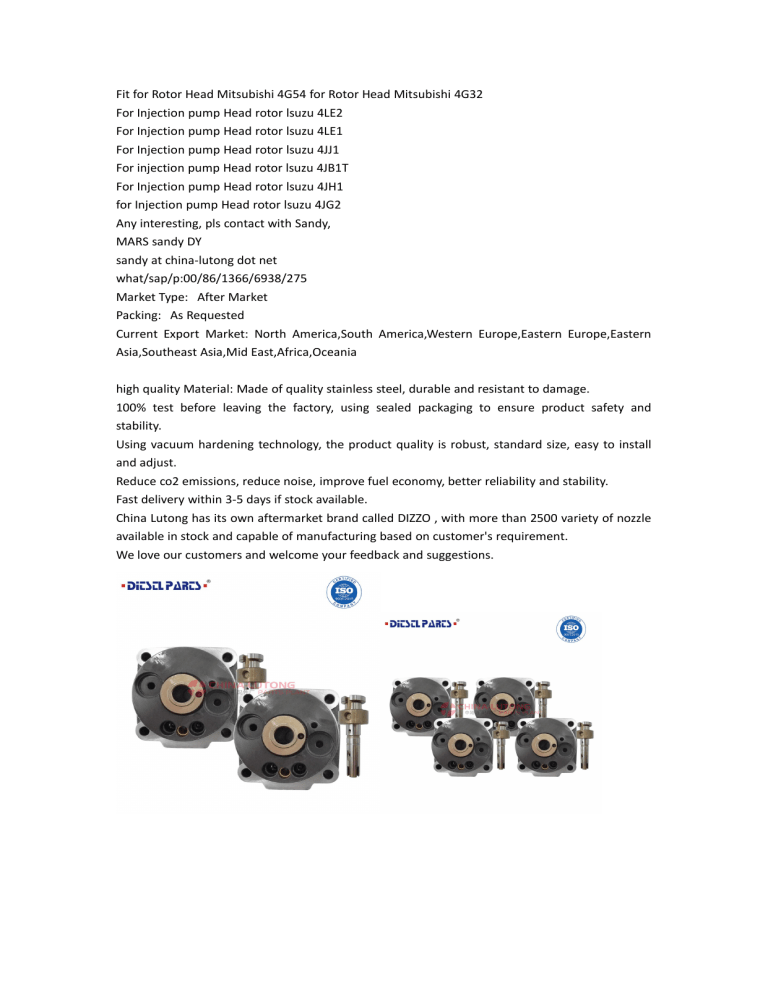 Fit for Rotor Head Mitsubishi 4G54 for Rotor Head Mitsubishi 4G32
For Injection pump Head rotor lsuzu 4LE2
For Injection pump Head rotor lsuzu 4LE1
For Injection pump Head rotor lsuzu 4JJ1
For injection pump Head rotor lsuzu 4JB1T
For Injection pump Head rotor lsuzu 4JH1
for Injection pump Head rotor lsuzu 4JG2
Any interesting, pls contact with Sandy,
MARS sandy DY
sandy at china-lutong dot net
what/sap/p:00/86/1366/6938/275
Market Type: After Market
Packing: As Requested
Current Export Market: North America,South America,Western Europe,Eastern Europe,Eastern
Asia,Southeast Asia,Mid East,Africa,Oceania
high quality Material: Made of quality stainless steel, durable and resistant to damage.
100% test before leaving the factory, using sealed packaging to ensure product safety and
stability.
Using vacuum hardening technology, the product quality is robust, standard size, easy to install
and adjust.
Reduce co2 emissions, reduce noise, improve fuel economy, better reliability and stability.
Fast delivery within 3-5 days if stock available.
China Lutong has its own aftermarket brand called DIZZO , with more than 2500 variety of nozzle
available in stock and capable of manufacturing based on customer's requirement.
We love our customers and welcome your feedback and suggestions.