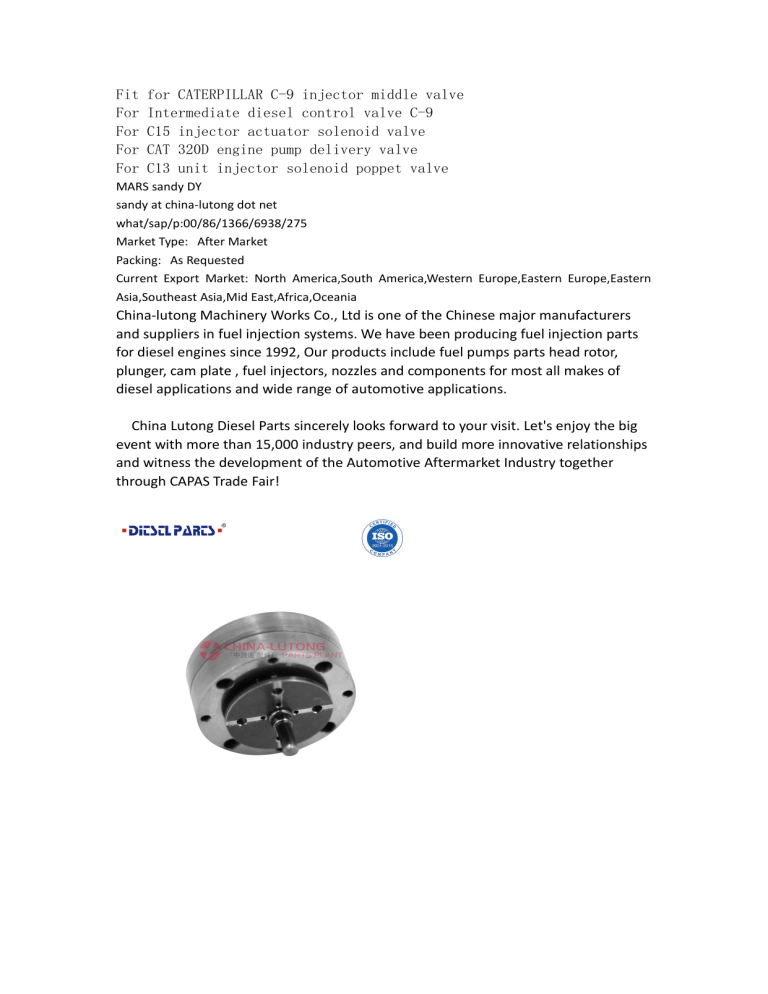 Fit
For
For
For
For
for CATERPILLAR C-9 injector middle valve
Intermediate diesel control valve C-9
C15 injector actuator solenoid valve
CAT 320D engine pump delivery valve
C13 unit injector solenoid poppet valve
MARS sandy DY
sandy at china-lutong dot net
what/sap/p:00/86/1366/6938/275
Market Type: After Market
Packing: As Requested
Current Export Market: North America,South America,Western Europe,Eastern Europe,Eastern
Asia,Southeast Asia,Mid East,Africa,Oceania
China-lutong Machinery Works Co., Ltd is one of the Chinese major manufacturers
and suppliers in fuel injection systems. We have been producing fuel injection parts
for diesel engines since 1992, Our products include fuel pumps parts head rotor,
plunger, cam plate , fuel injectors, nozzles and components for most all makes of
diesel applications and wide range of automotive applications.
China Lutong Diesel Parts sincerely looks forward to your visit. Let's enjoy the big
event with more than 15,000 industry peers, and build more innovative relationships
and witness the development of the Automotive Aftermarket Industry together
through CAPAS Trade Fair!