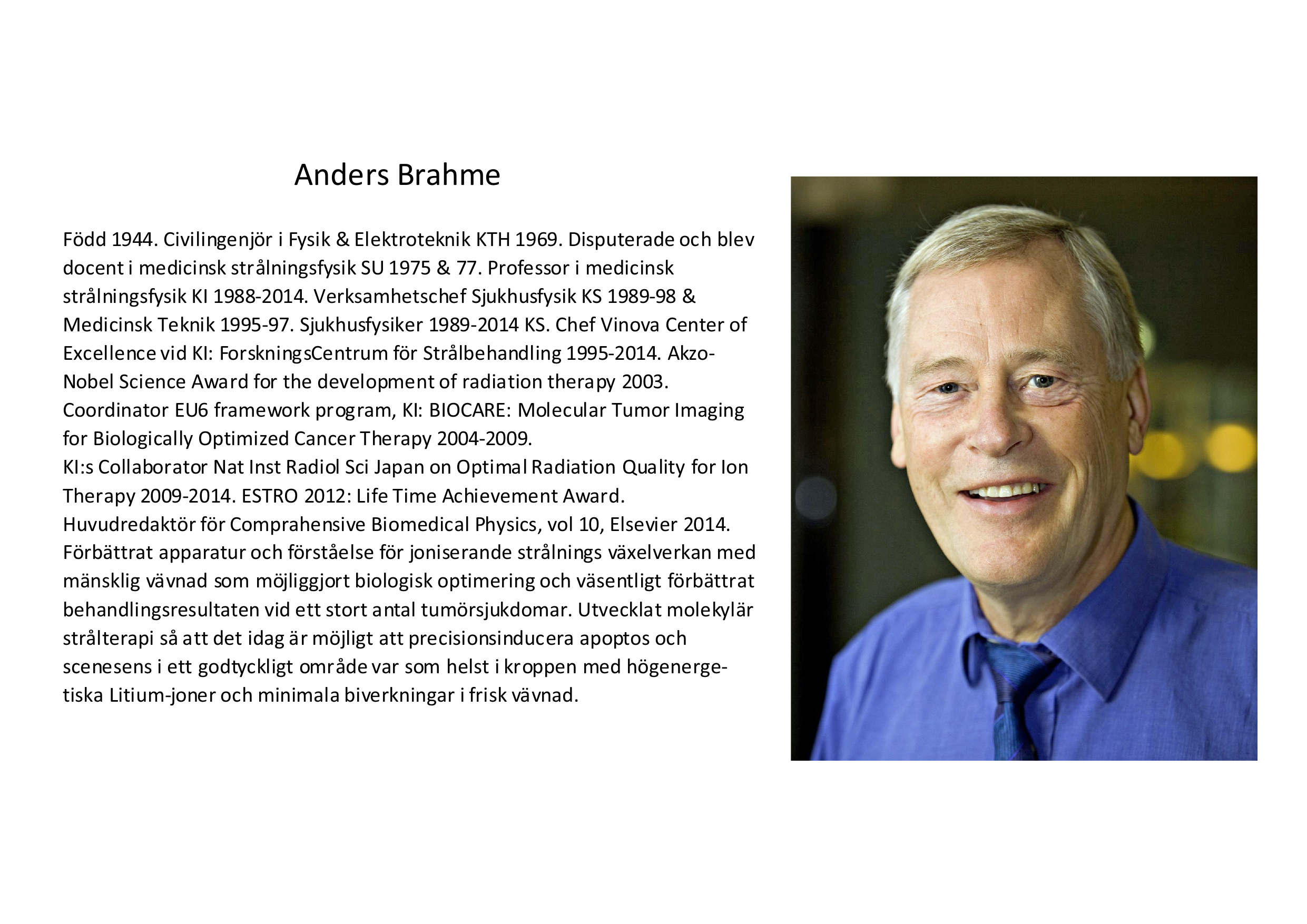 Anders Brahme
Född 1944. Civilingenjör i Fysik & Elektroteknik KTH 1969. Disputerade och blev
docent i medicinsk strålningsfysik SU 1975 & 77. Professor i medicinsk
strålningsfysik KI 1988-2014. Verksamhetschef Sjukhusfysik KS 1989-98 &
Medicinsk Teknik 1995-97. Sjukhusfysiker 1989-2014 KS. Chef Vinova Center of
Excellence vid KI: ForskningsCentrum för Strålbehandling 1995-2014. AkzoNobel Science Award for the development of radiation therapy 2003.
Coordinator EU6 framework program, KI: BIOCARE: Molecular Tumor Imaging
for Biologically Optimized Cancer Therapy 2004-2009.
KI:s Collaborator Nat Inst Radiol Sci Japan on Optimal Radiation Quality for Ion
Therapy 2009-2014. ESTRO 2012: Life Time Achievement Award.
Huvudredaktör för Comprahensive Biomedical Physics, vol 10, Elsevier 2014.
Förbättrat apparatur och förståelse för joniserande strålnings växelverkan med
d
t
mänsklig vävnad som möjliggjort biologisk optimering och väsentligt förbättrat
behandlingsresultaten vid ett stort antal tumörsjukdomar. Utvecklat molekylär
r
strålterapi så att det idag är möjligt att precisionsinducera apoptos och
scenesens i ett godtyckligt område var som helst i kroppen med högenergetiska Litium-joner och minimala biverkningar i frisk vävnad.