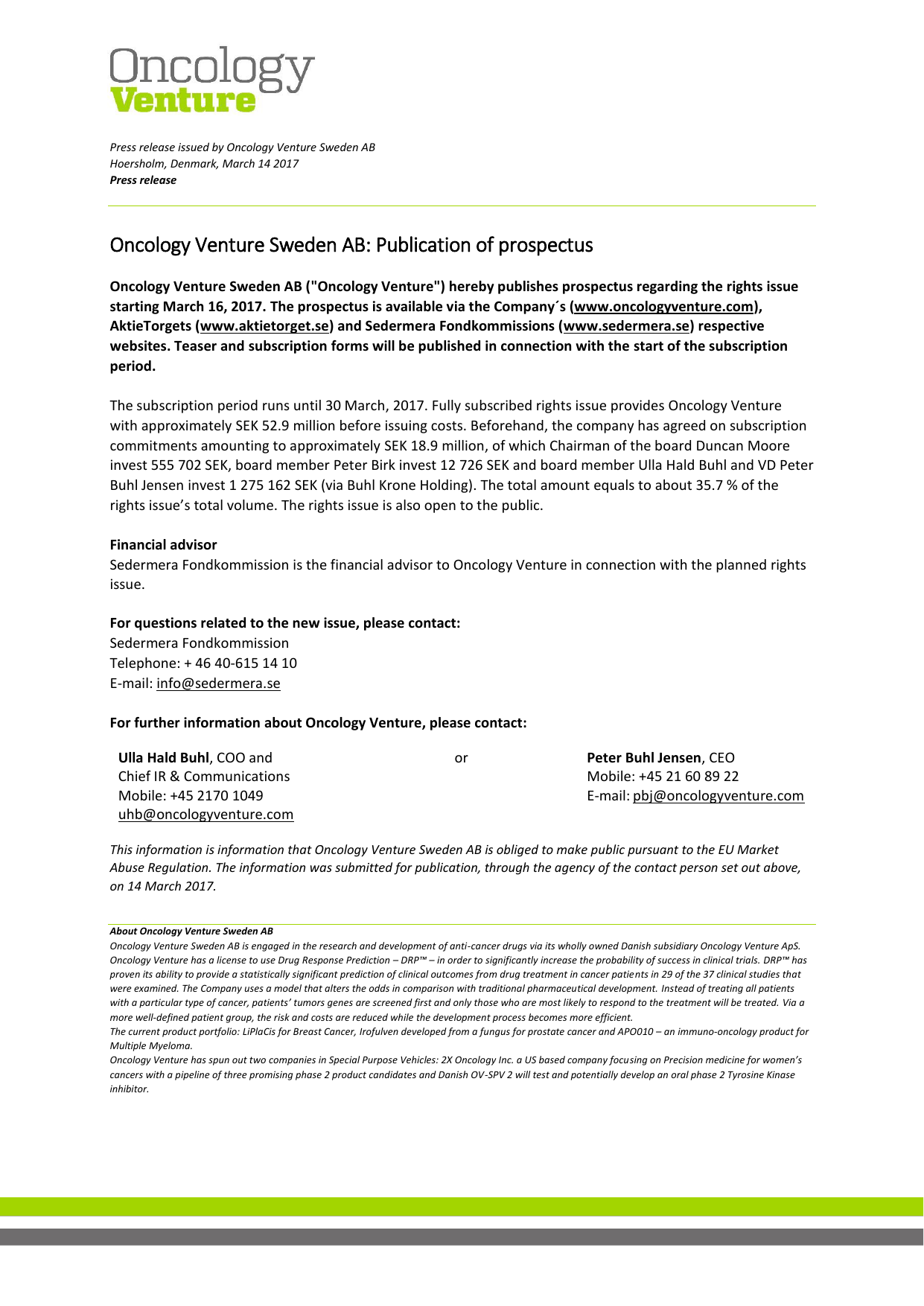 Press release issued by Oncology Venture Sweden AB
Hoersholm, Denmark, March 14 2017
Press release
Oncology Venture Sweden AB: Publication of prospectus
Oncology Venture Sweden AB ("Oncology Venture") hereby publishes prospectus regarding the rights issue
starting March 16, 2017. The prospectus is available via the Company´s (www.oncologyventure.com),
AktieTorgets (www.aktietorget.se) and Sedermera Fondkommissions (www.sedermera.se) respective
websites. Teaser and subscription forms will be published in connection with the start of the subscription
period.
The subscription period runs until 30 March, 2017. Fully subscribed rights issue provides Oncology Venture
with approximately SEK 52.9 million before issuing costs. Beforehand, the company has agreed on subscription
commitments amounting to approximately SEK 18.9 million, of which Chairman of the board Duncan Moore
invest 555 702 SEK, board member Peter Birk invest 12 726 SEK and board member Ulla Hald Buhl and VD Peter
Buhl Jensen invest 1 275 162 SEK (via Buhl Krone Holding). The total amount equals to about 35.7 % of the
rights issue's total volume. The rights issue is also open to the public.
Financial advisor
Sedermera Fondkommission is the financial advisor to Oncology Venture in connection with the planned rights
issue.
For questions related to the new issue, please contact:
Sedermera Fondkommission
Telephone: + 46 40-615 14 10
E-mail: [email protected]
For further information about Oncology Venture, please contact:
Ulla Hald Buhl, COO and
Chief IR & Communications
Mobile: +45 2170 1049
[email protected]
or
Peter Buhl Jensen, CEO
Mobile: +45 21 60 89 22
E-mail: [email protected]
This information is information that Oncology Venture Sweden AB is obliged to make public pursuant to the EU Market
Abuse Regulation. The information was submitted for publication, through the agency of the contact person set out above,
on 14 March 2017.
About Oncology Venture Sweden AB
Oncology Venture Sweden AB is engaged in the research and development of anti-cancer drugs via its wholly owned Danish subsidiary Oncology Venture ApS.
Oncology Venture has a license to use Drug Response Prediction – DRP™ – in order to significantly increase the probability of success in clinical trials. DRP™ has
proven its ability to provide a statistically significant prediction of clinical outcomes from drug treatment in cancer patients in 29 of the 37 clinical studies that
were examined. The Company uses a model that alters the odds in comparison with traditional pharmaceutical development. Instead of treating all patients
with a particular type of cancer, patients' tumors genes are screened first and only those who are most likely to respond to the treatment will be treated. Via a
more well-defined patient group, the risk and costs are reduced while the development process becomes more efficient.
The current product portfolio: LiPlaCis for Breast Cancer, Irofulven developed from a fungus for prostate cancer and APO010 – an immuno-oncology product for
Multiple Myeloma.
Oncology Venture has spun out two companies in Special Purpose Vehicles: 2X Oncology Inc. a US based company focusing on Precision medicine for women's
cancers with a pipeline of three promising phase 2 product candidates and Danish OV-SPV 2 will test and potentially develop an oral phase 2 Tyrosine Kinase
inhibitor.