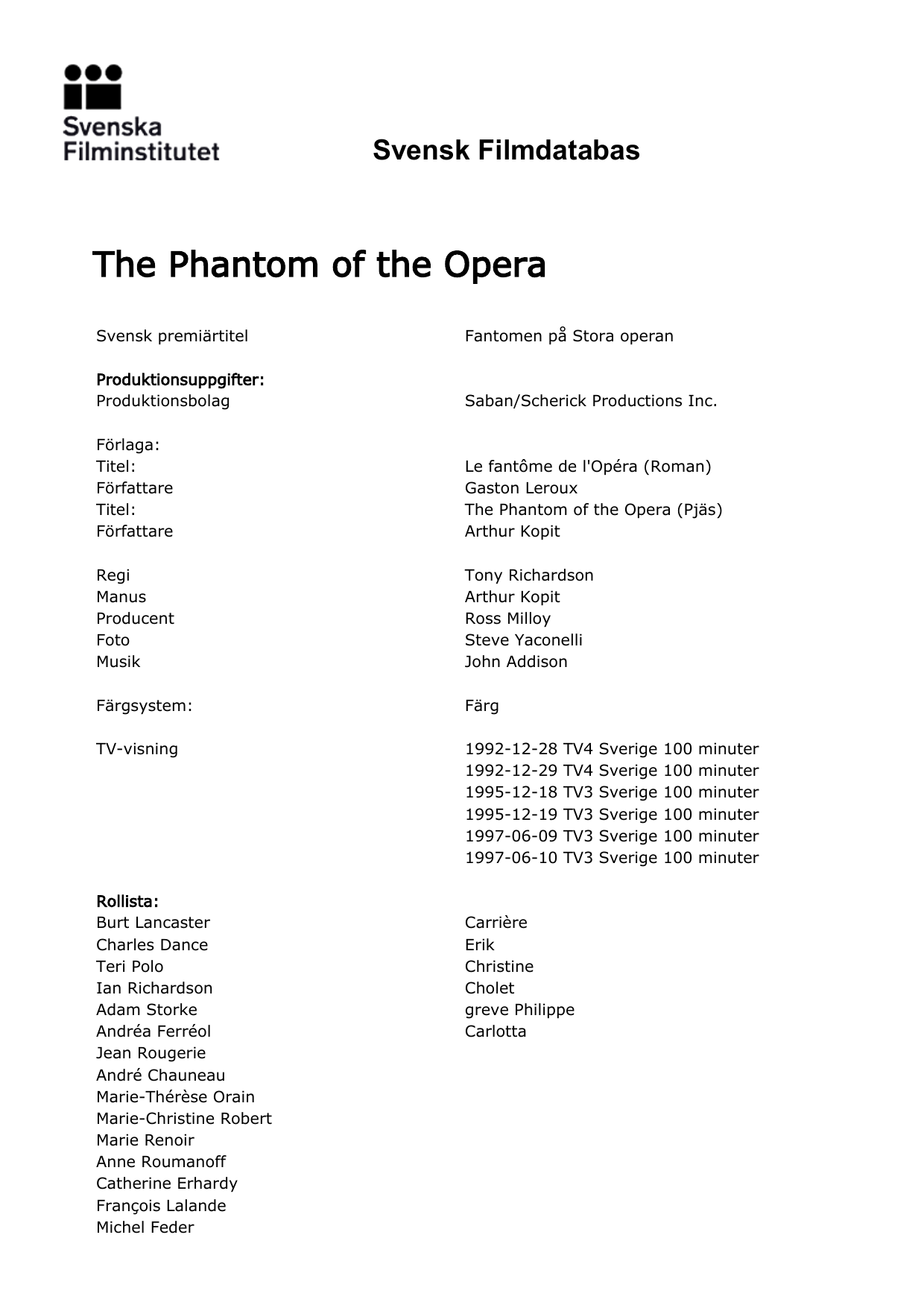 Svensk Filmdatabas
The Phantom of the Opera
Svensk premiärtitel
Fantomen på Stora operan
Produktionsuppgifter:
Produktionsbolag
Saban/Scherick Productions Inc.
Förlaga:
Titel:
Författare
Titel:
Författare
Le fantôme de l'Opéra (Roman)
Gaston Leroux
The Phantom of the Opera (Pjäs)
Arthur Kopit
Regi
Manus
Producent
Foto
Musik
Tony Richardson
Arthur Kopit
Ross Milloy
Steve Yaconelli
John Addison
Färgsystem:
Färg
TV-visning
1992-12-28
1992-12-29
1995-12-18
1995-12-19
1997-06-09
1997-06-10
Rollista:
Burt Lancaster
Charles Dance
Teri Polo
Ian Richardson
Adam Storke
Andréa Ferréol
Jean Rougerie
André Chauneau
Marie-Thérèse Orain
Marie-Christine Robert
Marie Renoir
Anne Roumanoff
Catherine Erhardy
François Lalande
Michel Feder
TV4
TV4
TV3
TV3
TV3
TV3
Carrière
Erik
Christine
Cholet
greve Philippe
Carlotta
Sverige
Sverige
Sverige
Sverige
Sverige
Sverige
100
100
100
100
100
100
minuter
minuter
minuter
minuter
minuter
minuter
Svensk Filmdatabas
Philippe de Brogada
Gérard Garino
Michèle LaGrange
Helia T'hezan
Sångröster:
Erik
Cholet
Carlotta
Svensk filmografi
Den olycklige och ensamme "Fantomen" lever i katakomberna under operahuset i Paris,
fruktad och hånad av alla. När han får höra den vackra Christine sjunga förändras hans värld
för alltid. Han lämnar tryggheten i mörkret i ett försök att vinna hennes hjärta men drivs
slutligen till vansinne av sin obesvarade kärlek.