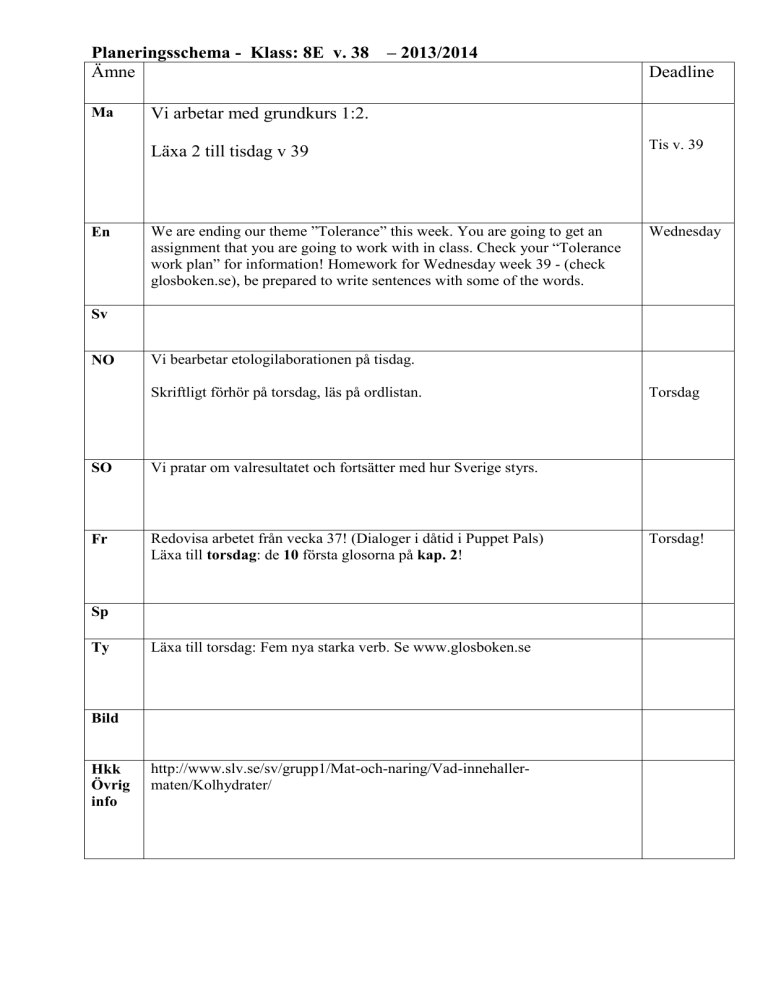 Planeringsschema - Klass: 8E v. 38 – 2013/2014
Ämne
Ma
En
Deadline
Vi arbetar med grundkurs 1:2.
Läxa 2 till tisdag v 39
Tis v. 39
We are ending our theme "Tolerance" this week. You are going to get an
assignment that you are going to work with in class. Check your "Tolerance
work plan" for information! Homework for Wednesday week 39 - (check
glosboken.se), be prepared to write sentences with some of the words.
Wednesday
Sv
NO
Vi bearbetar etologilaborationen på tisdag.
Skriftligt förhör på torsdag, läs på ordlistan.
SO
Vi pratar om valresultatet och fortsätter med hur Sverige styrs.
Fr
Redovisa arbetet från vecka 37! (Dialoger i dåtid i Puppet Pals)
Läxa till torsdag: de 10 första glosorna på kap. 2!
Sp
Ty
Läxa till torsdag: Fem nya starka verb. Se www.glosboken.se
Bild
Hkk
Övrig
info
http://www.slv.se/sv/grupp1/Mat-och-naring/Vad-innehallermaten/Kolhydrater/
Torsdag
Torsdag!