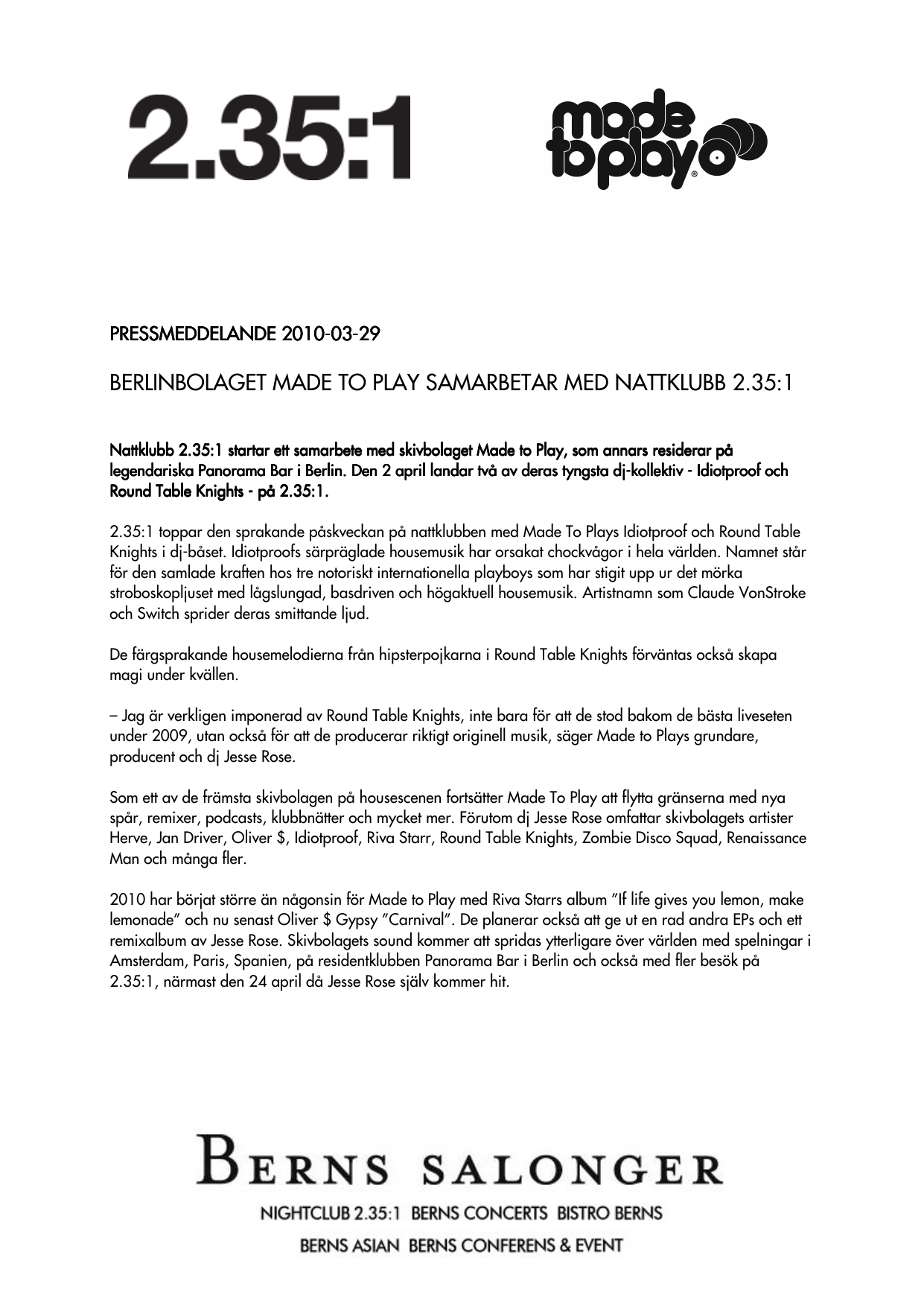 PRESSMEDDELANDE 2010
201003
0329
BERLINBOLAGET MADE TO PLAY SAMARBETAR MED NATTKLUBB 2.35:1
Nattklubb 2.35:1 startar ett samarbete med skivbolaget Made to Play, som annars residerar på
legendariska Panorama Bar i Berlin. Den 2 april landar två av
av deras tyngsta dj
djkollektiv Idiotproof och
Round Table Knights på 2.35:1.
2.35:1.
2.35:1 toppar den sprakande påskveckan på nattklubben med Made To Plays Idiotproof och Round Table
Knights i djbåset. Idiotproofs särpräglade housemusik har orsakat chockvågor i hela världen. Namnet står
för den samlade kraften hos tre notoriskt internationella playboys som har stigit upp ur det mörka
stroboskopljuset med lågslungad, basdriven och högaktuell housemusik. Artistnamn som Claude VonStroke
och Switch sprider deras smittande ljud.
De färgsprakande housemelodierna från hipsterpojkarna i Round Table Knights förväntas också skapa
magi under kvällen.
– Jag är verkligen imponerad av Round Table Knights, inte bara för att de stod bakom de bästa liveseten
under 2009, utan också för att de producerar riktigt originell musik, säger Made to Plays grundare,
producent och dj Jesse Rose.
Som ett av de främsta skivbolagen på housescenen fortsätter Made To Play att flytta gränserna med nya
spår, remixer, podcasts, klubbnätter och mycket mer. Förutom dj Jesse Rose omfattar skivbolagets artister
Herve, Jan Driver, Oliver $, Idiotproof, Riva Starr, Round Table Knights, Zombie Disco Squad, Renaissance
Man och många fler.
2010 har börjat större än någonsin för Made to Play med Riva Starrs album "If life gives you lemon, make
lemonade" och nu senast Oliver $ Gypsy "Carnival". De planerar också att ge ut en rad andra EPs och ett
remixalbum av Jesse Rose. Skivbolagets sound kommer att spridas ytterligare över världen med spelningar i
Amsterdam, Paris, Spanien, på residentklubben Panorama Bar i Berlin och också med fler besök på
2.35:1, närmast den 24 april då Jesse Rose själv kommer hit.