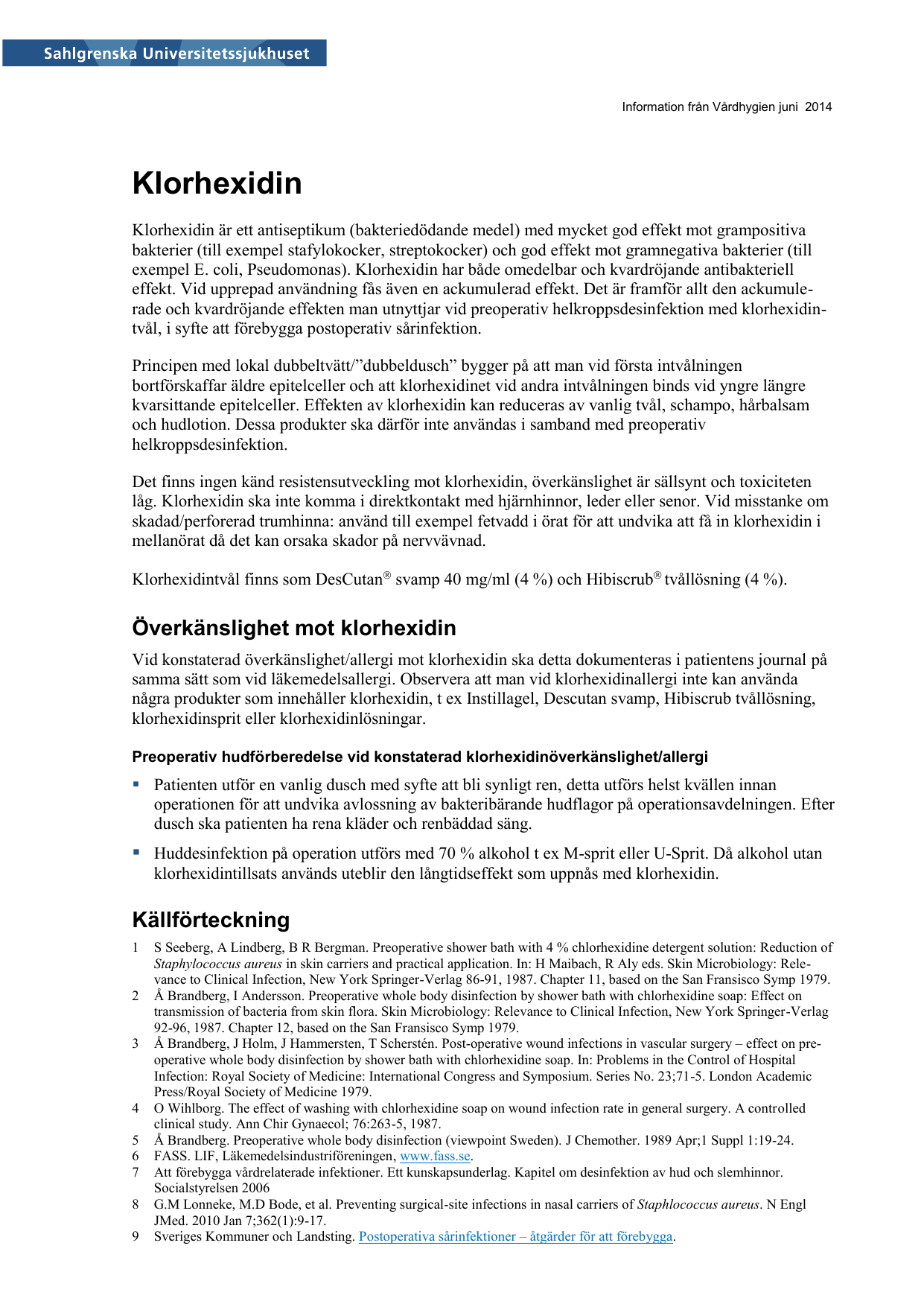 Information från Vårdhygien juni 2014
Klorhexidin
Klorhexidin är ett antiseptikum (bakteriedödande medel) med mycket god effekt mot grampositiva
bakterier (till exempel stafylokocker, streptokocker) och god effekt mot gramnegativa bakterier (till
exempel E. coli, Pseudomonas). Klorhexidin har både omedelbar och kvardröjande antibakteriell
effekt. Vid upprepad användning fås även en ackumulerad effekt. Det är framför allt den ackumulerade och kvardröjande effekten man utnyttjar vid preoperativ helkroppsdesinfektion med klorhexidintvål, i syfte att förebygga postoperativ sårinfektion.
Principen med lokal dubbeltvätt/"dubbeldusch" bygger på att man vid första intvålningen
bortförskaffar äldre epitelceller och att klorhexidinet vid andra intvålningen binds vid yngre längre
kvarsittande epitelceller. Effekten av klorhexidin kan reduceras av vanlig tvål, schampo, hårbalsam
och hudlotion. Dessa produkter ska därför inte användas i samband med preoperativ
helkroppsdesinfektion.
Det finns ingen känd resistensutveckling mot klorhexidin, överkänslighet är sällsynt och toxiciteten
låg. Klorhexidin ska inte komma i direktkontakt med hjärnhinnor, leder eller senor. Vid misstanke om
skadad/perforerad trumhinna: använd till exempel fetvadd i örat för att undvika att få in klorhexidin i
mellanörat då det kan orsaka skador på nervvävnad.
Klorhexidintvål finns som DesCutan svamp 40 mg/ml (4 %) och Hibiscrub tvållösning (4 %).
Överkänslighet mot klorhexidin
Vid konstaterad överkänslighet/allergi mot klorhexidin ska detta dokumenteras i patientens journal på
samma sätt som vid läkemedelsallergi. Observera att man vid klorhexidinallergi inte kan använda
några produkter som innehåller klorhexidin, t ex Instillagel, Descutan svamp, Hibiscrub tvållösning,
klorhexidinsprit eller klorhexidinlösningar.
Preoperativ hudförberedelse vid konstaterad klorhexidinöverkänslighet/allergi
 Patienten utför en vanlig dusch med syfte att bli synligt ren, detta utförs helst kvällen innan
operationen för att undvika avlossning av bakteribärande hudflagor på operationsavdelningen. Efter
dusch ska patienten ha rena kläder och renbäddad säng.
 Huddesinfektion på operation utförs med 70 % alkohol t ex M-sprit eller U-Sprit. Då alkohol utan
klorhexidintillsats används uteblir den långtidseffekt som uppnås med klorhexidin.
Källförteckning
1
2
3
4
5
6
7
8
9
S Seeberg, A Lindberg, B R Bergman. Preoperative shower bath with 4 % chlorhexidine detergent solution: Reduction of
Staphylococcus aureus in skin carriers and practical application. In: H Maibach, R Aly eds. Skin Microbiology: Relevance to Clinical Infection, New York Springer-Verlag 86-91, 1987. Chapter 11, based on the San Fransisco Symp 1979.
Å Brandberg, I Andersson. Preoperative whole body disinfection by shower bath with chlorhexidine soap: Effect on
transmission of bacteria from skin flora. Skin Microbiology: Relevance to Clinical Infection, New York Springer-Verlag
92-96, 1987. Chapter 12, based on the San Fransisco Symp 1979.
Å Brandberg, J Holm, J Hammersten, T Scherstén. Post-operative wound infections in vascular surgery – effect on preoperative whole body disinfection by shower bath with chlorhexidine soap. In: Problems in the Control of Hospital
Infection: Royal Society of Medicine: International Congress and Symposium. Series No. 23;71-5. London Academic
Press/Royal Society of Medicine 1979.
O Wihlborg. The effect of washing with chlorhexidine soap on wound infection rate in general surgery. A controlled
clinical study. Ann Chir Gynaecol; 76:263-5, 1987.
Å Brandberg. Preoperative whole body disinfection (viewpoint Sweden). J Chemother. 1989 Apr;1 Suppl 1:19-24.
FASS. LIF, Läkemedelsindustriföreningen, www.fass.se.
Att förebygga vårdrelaterade infektioner. Ett kunskapsunderlag. Kapitel om desinfektion av hud och slemhinnor.
Socialstyrelsen 2006
G.M Lonneke, M.D Bode, et al. Preventing surgical-site infections in nasal carriers of Staphlococcus aureus. N Engl
JMed. 2010 Jan 7;362(1):9-17.
Sveriges Kommuner och Landsting. Postoperativa sårinfektioner – åtgärder för att förebygga.