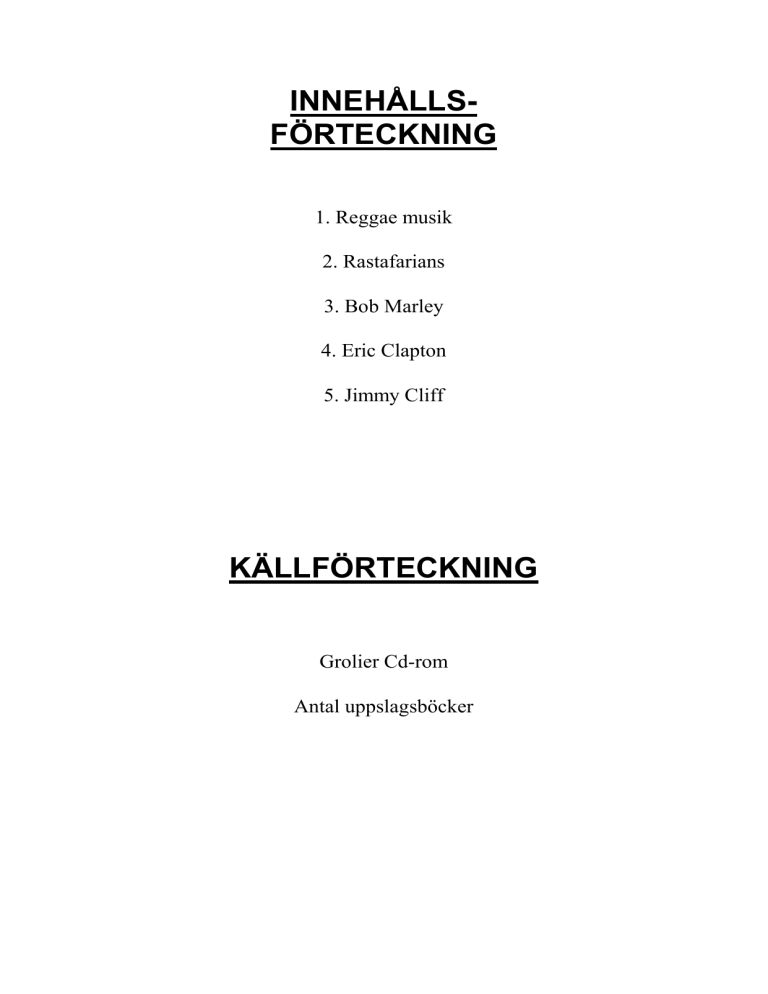 INNEHÅLLSFÖRTECKNING
1. Reggae musik
2. Rastafarians
3. Bob Marley
4. Eric Clapton
5. Jimmy Cliff
KÄLLFÖRTECKNING
Grolier Cd-rom
Antal uppslagsböcker
REGGAE
(Ord som är understrukna förklaras senare.)
Reggae, är en musikstil från Jamaica baserad på amerikansk soul men med
ändrade rytmer och bas.
Musikstilen började i Kingstons slum. Reggae är ett uttrycksätt för Jamaicas
fattigaste svarta.
Många reggae artister är "rastafarians". Temat i reggae sångtexterna inkluderar
rastafarianism och politiska protester.
Bob Marley (1945-81) och hans grupp, Wailers, var "skyldiga" till det stora
utbredandet av reggae. Filmen "The Harder They Come" (1973) förde stilen till
USA. Reggae har haft inflytande på generationer vita musiker, som t.ex. Paul
Simon och Eric Clapton. Reggae rytmer kan också höras i 1980- och 1990-talets
rock och rap musik.
Efter Bob Marleys död, miste stilen mycket av sin energi. Undantag är några få
band som Black Uhuru och Steel Pulse, och sångaren Linton Kwesi Johnson,
en jamaicansk poet som lever i England.
Sammanslagningen mellan rap och reggae kallas "dub" eller "toasting". Reggae
återuppstod i slutet av 1980-talet och början av 1990-talet med tex Ziggy
Marley (Bobs son).
RASTAFARIANS
Rastafarians är medlemmar av en rörelse från Jamaica, som startade på 1930talet. Enligt rastafarian tro så är den enda riktiga guden den sena Etiopiska
kejsaren Haile Selassie (Heter egentligen Rus Tafari).
Rastafarians påstår att vita kristna präster och missionärer har förvrängt
skrifterna för att dölja att Adam och Jesus egentligen var svarta. Deras ritualer
inkluderar att man ska använda marijuana och att taktfast ropa olika psalmer.
Reggae musik är den populäraste musiken i rörelsen. Rastafarians hr påskyndat
på den svarta frigörelsen, och har påverkat några politiskt styrande i Jamaica.
Här kommer några artister och vad de har gjort:
BOB MARLEY
Sångaren, låtskrivaren och gitarristen, Bob Marley, föddes i St. Ann, Jamaica,
1945, dog 11 maj 1981. Han förde ut reggae från Jamaica och spred musikstilen
över världen.
1964 grundade Marley gruppen Wailers (eller Wailin` Wailers eller Wailin`
Rudeboys.). I gruppen inngick Peter Tosh och Bunny Livingstone, båda började
sedan egna solo karriärer. Deras första hit "Simmer Down", följdes av flera
succeér, och 1972 hade gruppen spelat in fyra Jamaica album.
1967 konverterade Marley till rastafarian, som blev ett dominant tema i hans
musik. Marley blev låtskrivare till Johonny Nash 1972, tillsammans gav ut den
första reggae influerade internationella hit med "Stir it Up". Med albumen Natty
Dread (1975), Rastaman Vibration (1976) och Uprising (1981) blev Marley
känd.
Bob Marley var den som populariserade reggae musik. Med sin grupp Wailers,
förde han sin rockinfluerade ömusik till resten av världen på 1970-talet.
Marleys sånger reflekterade hans rastafarian tro.
ERIC CLAPTON
Den brittiska gitarristen och sångaren Eric Clapton, föddes den 30 mars 1945.
Han är allmänt känd som rock musikens mest utvecklade gitarrist. Hans lyriska
gitarrspel är mycket influerad av blues gitarristen B.B King.Clapton har gjort
otaliga bäst- säljande album och singlar, inräknat "Sunshine of Your Love"
(1968), spelat in med Cream och "Layla" (1971), och med hans eget band Derek
and the Dominoes.
Hans "I Shot the Sheriff" (1974) hjälpte till med populariseringen av reggaemusik i USA. 1983 släpte Clapton albumet Money and Cigarettes, som många
tyckte var en blandning av hans allra bästa låtar, det täckte ett helt årtionde.
Clapton vann sex stycken Grammys 1993, inräknat årets album (Unplugged),
och årets låt ("Tears in Heaven").
JIMMY CLIFF
Den jamaicanske sångaren och låtskrivaren Jimmy Cliff, föddes 1948. Han var
en av de som populariserade reggae musiken.
1964 gjorde han en turné till USA sponsrad av Jamaicas regering. Detta förde
Ciff till en inspelnings producent, som 1965 introducerade honom i England.
Trots Cliffs låtskrivnings förmåga och hans tenor röst blev hans första brittiska
album (Hard Road to Travel), en flopp.
1968 turnerade Cliff i Brasilien, där han skrev "Wonderful World (Beutiful
People)", som blev hans första riktiga internationella hit. Fastän han skrev låtar
åt andra artister, som t.ex. "You Can Get It If You Really Want It" för Desmond
Dekker, blev hans egen karriär lidande när han försökte lämna reggae musiken
bakom sig, som när han gav ut pop album som Another Cycle (1971). Filmen
The Harder They Come (1973) och dess soundtrack album blev en stor succé i
Jamaica. Han har fortsatt att ge ut album, som unlimited (1973), Give Tanx
(1978), Special (1982), och Cliff Hanger (1985).
Den som är störst i reggae sammanhang är naturligtvis Bob Marley.