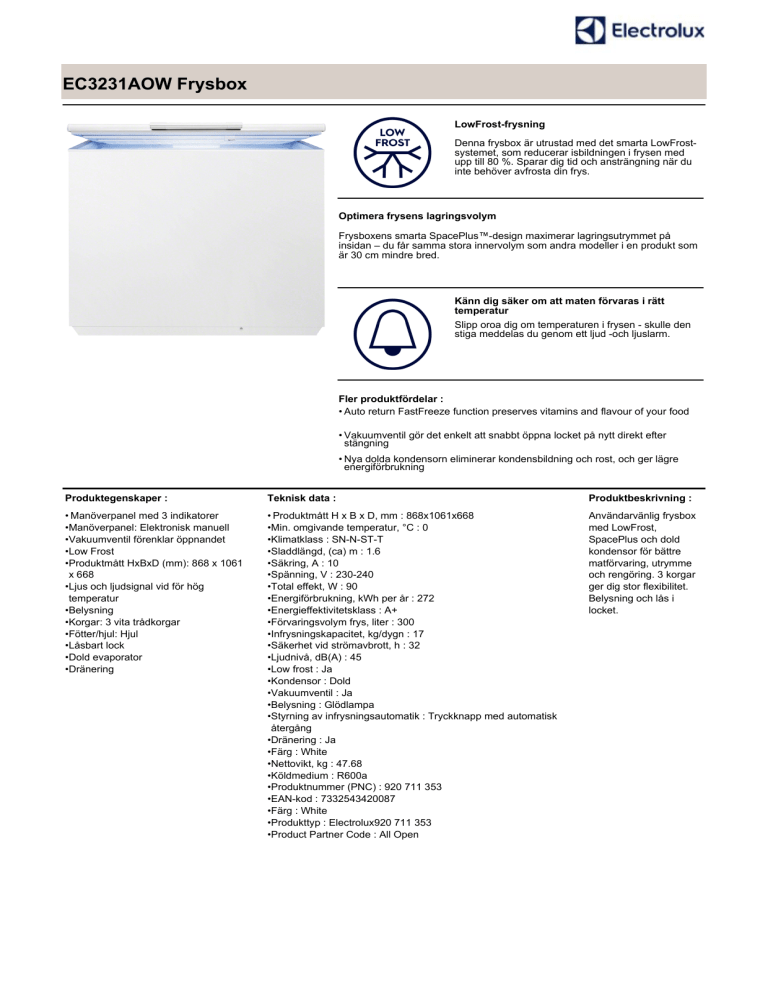 EC3231AOW Frysbox
LowFrost-frysning
Denna frysbox är utrustad med det smarta LowFrostsystemet, som reducerar isbildningen i frysen med
upp till 80 %. Sparar dig tid och ansträngning när du
inte behöver avfrosta din frys.
Optimera frysens lagringsvolym
Frysboxens smarta SpacePlus™-design maximerar lagringsutrymmet på
insidan – du får samma stora innervolym som andra modeller i en produkt som
är 30 cm mindre bred.
Känn dig säker om att maten förvaras i rätt
temperatur
Slipp oroa dig om temperaturen i frysen - skulle den
stiga meddelas du genom ett ljud -och ljuslarm.
Fler produktfördelar :
• Auto return FastFreeze function preserves vitamins and flavour of your food
• Vakuumventil gör det enkelt att snabbt öppna locket på nytt direkt efter
stängning
• Nya dolda kondensorn eliminerar kondensbildning och rost, och ger lägre
energiförbrukning
Produktegenskaper :
Teknisk data :
Produktbeskrivning :
• Manöverpanel med 3 indikatorer
•Manöverpanel: Elektronisk manuell
•Vakuumventil förenklar öppnandet
•Low Frost
•Produktmått HxBxD (mm): 868 x 1061
x 668
•Ljus och ljudsignal vid för hög
temperatur
•Belysning
•Korgar: 3 vita trådkorgar
•Fötter/hjul: Hjul
•Låsbart lock
•Dold evaporator
•Dränering
• Produktmått H x B x D, mm : 868x1061x668
•Min. omgivande temperatur, °C : 0
•Klimatklass : SN-N-ST-T
•Sladdlängd, (ca) m : 1.6
•Säkring, A : 10
•Spänning, V : 230-240
•Total effekt, W : 90
•Energiförbrukning, kWh per år : 272
•Energieffektivitetsklass : A+
•Förvaringsvolym frys, liter : 300
•Infrysningskapacitet, kg/dygn : 17
•Säkerhet vid strömavbrott, h : 32
•Ljudnivå, dB(A) : 45
•Low frost : Ja
•Kondensor : Dold
•Vakuumventil : Ja
•Belysning : Glödlampa
•Styrning av infrysningsautomatik : Tryckknapp med automatisk
återgång
•Dränering : Ja
•Färg : White
•Nettovikt, kg : 47.68
•Köldmedium : R600a
•Produktnummer (PNC) : 920 711 353
•EAN-kod : 7332543420087
•Färg : White
•Produkttyp : Electrolux920 711 353
•Product Partner Code : All Open
Användarvänlig frysbox
med LowFrost,
SpacePlus och dold
kondensor för bättre
matförvaring, utrymme
och rengöring. 3 korgar
ger dig stor flexibilitet.
Belysning och lås i
locket.