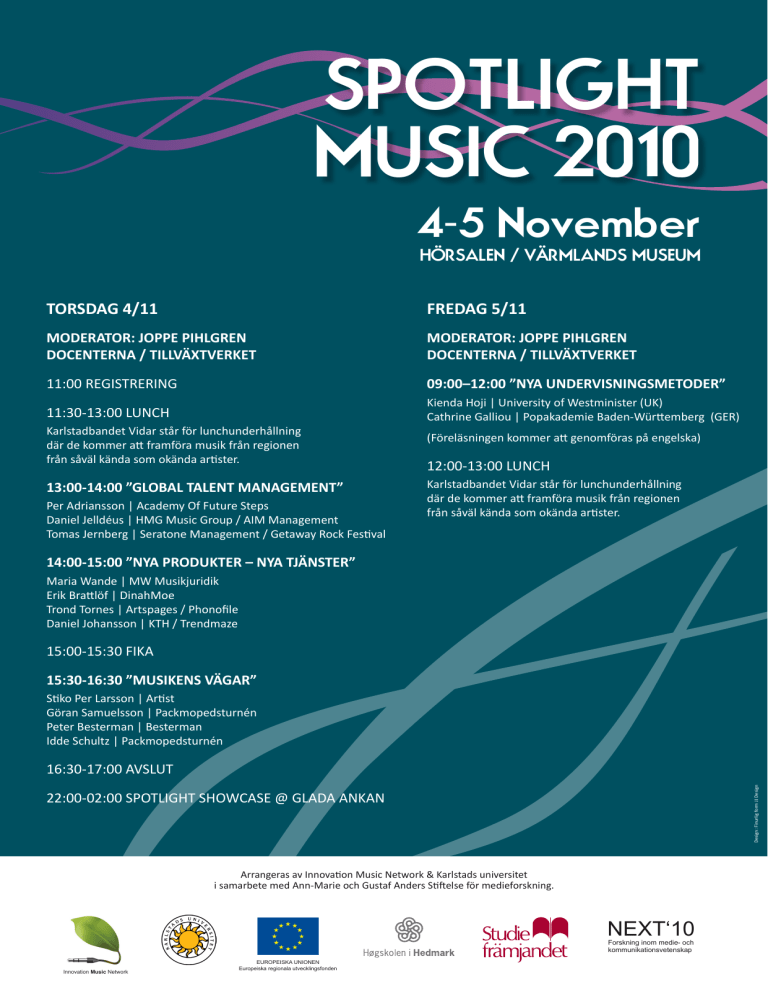 SPOTLIGHT
MUSIC 2010
4-5 November
HÖRSALEN / VÄRMLANDS MUSEUM
TORSDAG 4/11
FREDAG 5/11
MODERATOR: JOPPE PIHLGREN
DOCENTERNA / TILLVÄXTVERKET
MODERATOR: JOPPE PIHLGREN
DOCENTERNA / TILLVÄXTVERKET
11:00 REGISTRERING
09:00–12:00 "NYA UNDERVISNINGSMETODER"
11:30-13:00 LUNCH
Kienda Hoji | University of Westminister (UK)
Cathrine Galliou | Popakademie Baden-Württemberg (GER)
Karlstadbandet Vidar står för lunchunderhållning
där de kommer att framföra musik från regionen
från såväl kända som okända artister.
13:00-14:00 "GLOBAL TALENT MANAGEMENT"
Per Adriansson | Academy Of Future Steps
Daniel Jelldéus | HMG Music Group / AIM Management
Tomas Jernberg | Seratone Management / Getaway Rock Festival
(Föreläsningen kommer att genomföras på engelska)
12:00-13:00 LUNCH
Karlstadbandet Vidar står för lunchunderhållning
där de kommer att framföra musik från regionen
från såväl kända som okända artister.
14:00-15:00 "NYA PRODUKTER – NYA TJÄNSTER"
Maria Wande | MW Musikjuridik
Erik Brattlöf | DinahMoe
Trond Tornes | Artspages / Phonofile
Daniel Johansson | KTH / Trendmaze
15:00-15:30 FIKA
15:30-16:30 "MUSIKENS VÄGAR"
Stiko Per Larsson | Artist
Göran Samuelsson | Packmopedsturnén
Peter Besterman | Besterman
Idde Schultz | Packmopedsturnén
Design: Finurlig form JJ Design
16:30-17:00 AVSLUT
22:00-02:00 SPOTLIGHT SHOWCASE @ GLADA ANKAN
Arrangeras av Innovation Music Network & Karlstads universitet
i samarbete med Ann-Marie och Gustaf Anders Stiftelse för medieforskning.
NEXT'10
Forskning inom medie- och
kommunikationsvetenskap
Innovation Music Network
EUROPEISKA UNIONEN
Europeiska regionala utvecklingsfonden
JOPPE PIHLGREN - sångare och
gitarrist i popbandet Docenterna
har gjort över 1000 spelningar
och spelat in cirka 150 utgivna
låtar. 10 års erfarenheter som
byråkrat inom kulturella och
kreativa näringar på KK-stiftelsen
och Tillväxtverket finns också
med på meritlistan. Men man
är inte bättre än sin senaste
spelning eller sitt senaste jobb
och därför är det inte det gamla,
utan det som kommer som är
intressant. Man blir ju aldrig klar
med arbetet att försöka få till
en perfekt poplåt eller ett bra
samarbete.
VIDAR är en Värmlandsbördig tjejtrio som
spelat tillsammans i
drygt två år. De har
en stämsångspräglad
repertoar. Vidar står för
lunchunderhållning under
Spotlight där de kommer
att framföra musik från
regionen från såväl kända
som okända artister.
DANIEL JELLDÉUS har ett förflutet som artist,
låtskrivare och producent, och var under
mitten av 90-talet signad till skivbolaget EMI.
Under 90-talets slut gick hans roll alltmer över
till att producera och skriva åt andra. Detta i
sin tur ledde till anställningar på bl.a. Berkely
Square Publishing, WellDone Productions
och senast Hagenburg Management. 2009
grundade Daniel Jelldéus Held Music Group
tillsammans med Henrik Eld. Bolaget äger och
driver Held Management AB, Held Music AB,
Held & Bäck Records AB, All In Management
AB (AIM) och Getaway Rock Festival AB.
Held Music Group jobbar med artister som
Lillasyster, Anders Fernette, Kim Fransson,
Anders Lundin, Deathstars, Renegade 5 och
Anna Sahlene m. fl.
TOMAS JERNBERG är
idag en av Sveriges
mest framstående
managers och driver
idag managementbolag
(Seratone & All in
management) som
representerar artister
såsom Hammerfall, Dead
By April, Da Buzz, Evergrey,
Deathstars, Renegade
5 m.fl. Han är idag även
festivalgeneral samt
delägare i Getaway Rock
Festival som snabbt växte
sig till att bli en av Sveriges
största hårdrocksfestivaler.
PER ADRIANSSON, född och uppvuxen i
Svärdsjö, Dalarna, är utvecklingsstrateg
inom flera branscher, samt besitter
högklassig kompetens inom juridiska
och ekonomiska frågor. Han arbetar
med talangförädling för såväl små
som världsomspännande aktörer
inom idrott och musik. Han startade
företaget Academy of future steps
1992 och har sedan starten drivit
bolaget framgångsrikt. Han säger själv
att han tidigt vill komma in i en process
för att starta en strategisk omställning.
För att realisera sina drömmars mål
krävs resurser och Per ger sina kunder
råd och verktyg för att de ska kunna
uppnå dem.
TROND TORNES er markedssjef i
Phonofile som er en nordisk digital
musikkdistributør for distribusjon
til alle store digitalbutikker samt til
nisje og DJ butikker. Vi arbeider med
artister & labels som Lindstrøm /
Annie / Diskjokke / Bjørn Torske /
Arp / KXP (Smalltown Supersound),
Madrugada, Dumdum Boys, Bjørn
Eidsvåg, Vamp (Majorstudio),
Odense Assholes (Target), Kirsten
& Marie / 4 Guys From the Future
(Tambourhinoceros), Familjen /
Andreas Tilliander / The Bear Quartet
(Adrian Recordings), Moto Boy
(Songs I wish I had Written), Stefan
Sundstrøm / Miss Li (National).
ERIK BRATTLÖF arbetar som web
sound engineer på företaget
DinahMoe, som är ett kreativt
digitalt produktionsbolag - helt
inriktat på musik och ljud för
interaktiva medier. Företaget
ansvarar för alla delar av produktion,
från idé/koncept, produktion till
implementering och testning.
DinahMoe har sedan starten gjort
nästan 100 produktioner där de
ansvarat för all musik och ljud, där
majoriteten är webbkampanjer men
även mobila applikationer. DinahMoe
har bland annat jobbat med Lexus,
Coca-Cola, Ikea, Adidas, Toyota,
Doritos, Saab, Försvarsmakten.
DANIEL JOHANSSON
är industridoktorand i
datavetenskap vid Kungliga
Tekniska Högskolan och forskar
kring hur musikindustrin
påverkas av det teknikskifte
som just nu sker, främst när det
gäller distributionsprocesser.
Han finns med i det europeiska
forskningsprojektet P2PNext, är VD för IT-företaget
Trendmaze, som analyserar
musik och media online, samt
skriver för musikbranschens
nyhetsorgan Musikindustrin.se.
MARIA WANDE är utbildad
jurist med upphovsrätt
som specialitet. Hon har
arbetat med licensiering
av musikrättigheter online
(internet, mobilt) för
musikupphovsmännens
(del på Stim mellan 2001
och 2010). Numera driver
hon egen verksamhet, MW
Musikjuridik, från Gotland.
GÖRAN SAMUELSSON har
sedan 15 år tillbaka anordnat
Packmopedsturnén som
numera är något av en
institution. Det som började i
liten skala har utvecklats och
idag samlar Göran ett antal
musiker inom den svenska
artisteliten på sin turné.
STIKO PER LARSSON, med rötter
från Dalarna, har under ett antal
år bedrivit fotvandringsturnéer
och har i ordets sannaste
mening gått hem till publiken.
Vandringsturnéerna har blivit
ett starkt signum för Stiko
Per Larsson och bygger på
en dåraktig envishet, god
kamratskap och en lust att
uppleva äventyr och nya
människor. Hur han kom
på denna idé och hur han
utvecklat den till ett modernt
koncept som man kan följa på
nätet i direktsändning är en
fascinerande historia att ta del av.
IDDE SCHULTZ har en
minst sagt diger meritlista.
Förutom två soloskivor har
Idde samarbetat med bl.a.
Docenterna, Anna Stadling,
Thåström, Lars Winnerbäck
och Sulo. Idde har även startat
och drivit ett skivbolag, och
jobbar sedan sju år tillbaka
som sång- och ensemblelärare
på Fryshusets Gymnasium i
Stockholm.
"Jag älskar samarbeten och
nya utmaningar och tycker att
vi befinner oss i en intressant
period just nu när det gäller
svensk musikbransch."
PETER BESTERMAN är
producent och kan berätta
hur det är att organisera
ett musikliv med en liten
ort som utgångspunkt. Han
driver produktionsbolaget
Besterman som sedan starten
1984 agerat på Skandinaviska
marknaden med Sunne som
bas. Besterman är arrangör
för Packmopedsturnén och
Peter kommer att diskutera,
utifrån ett produktionsbolags
syn, hur han ser på frågor som
musiklivets utveckling och vilka
möjligheter som finns framöver
för att skapa nya vägar.
KIENDA HOJI is the programme Director
for the Westminster Centre for Commercial
Music at the University of Westminster
London, UK . The Centre runs courses in
music business, music law, production
and Sociology. Kienda is a media
entertainment lawyer and legal specialist
with over 20 years experience in the
entertainment industries. He has acted a
legal representative for a number of Artist
and entertainment companies. Kienda has
held a number of international visiting
lectureships including the Sibelius academy
in Helsinki Finland, the institute of cultural
studies in St Petersburg Russia and a
visiting Professorship at Peking University
Beijing China.
CATHRINE GALLIOU is
working as Project Assistant
with Internationalisation,
MU:ZONE, School of Rock,
PASCH at the Pop Academy
Baden-Wuerttemberg.
More information about Pop
Academy below.
POP ACADEMY BADEN-WUERTTEMBERG - University of Popular
Music and Music Business. Pop Music is a driving force in the
economic progress of cultural wealth. The Pop Academy BadenWuerttemberg combines all relevant aspects of popular culture
and creates synergies in order to maximize the creative and
economic output of the music business.
After 50 years of pop music history, Germany offers an academic
education in pop music for the first time, focusing on popular
music and music business. Due to Mannheim, the secret capital
of pop music, the academy is located in an ultimate surrounding
that is characterized by a lively cultural scene, actively supported
by institutions like the Musikpark Mannheim, a centre for
innovative music industries.
The Pop Academy Baden-Wuerttemberg is an academy that
distinguishes itself from others throughout outstanding
reputations for all aspects of the music business. This is
supported by numerous projects ranging from European
partnerships to the regional development and economic support
for media businesses in the region of Baden-Wuerttemberg.
Society changes, markets modify, and trends come and go.
In the digital age there is a need for new approaches to artist
development, marketing and the collaboration between creative
heads and users. The future music economy demands qualified
experts and highly creative artists.
The academy confronts these demands by offering two Bachelor
degree programs: Music Business and Pop Music Design.