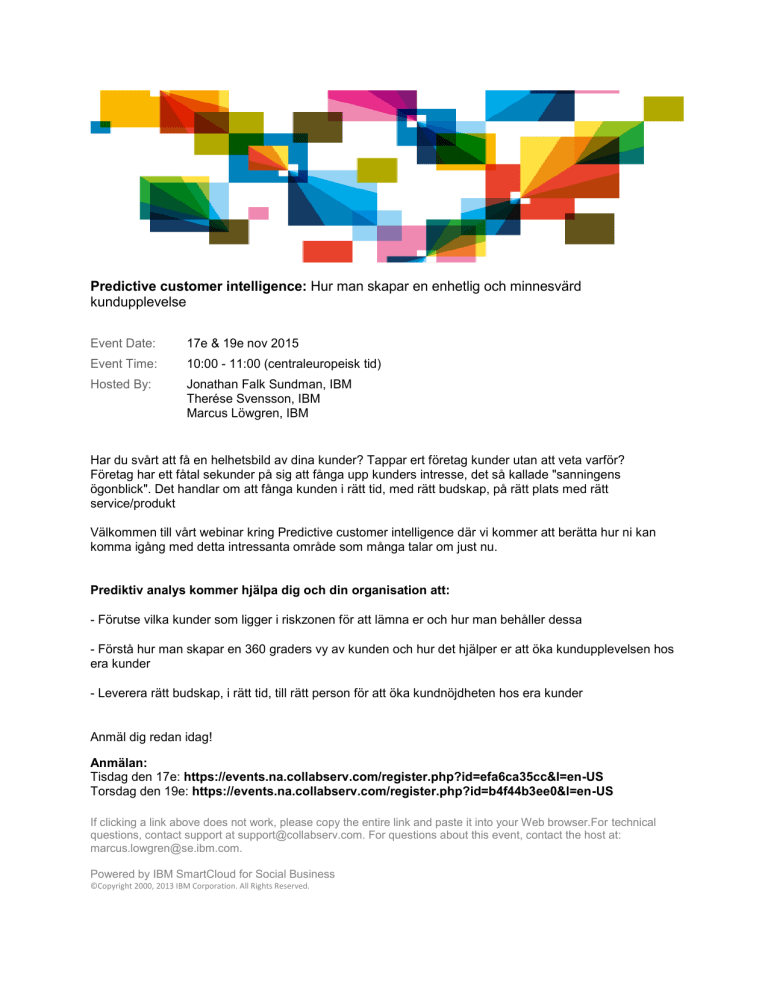 Predictive customer intelligence: Hur man skapar en enhetlig och minnesvärd
kundupplevelse
Event Date:
17e & 19e nov 2015
Event Time:
10:00 - 11:00 (centraleuropeisk tid)
Hosted By:
Jonathan Falk Sundman, IBM
Therése Svensson, IBM
Marcus Löwgren, IBM
Har du svårt att få en helhetsbild av dina kunder? Tappar ert företag kunder utan att veta varför?
Företag har ett fåtal sekunder på sig att fånga upp kunders intresse, det så kallade "sanningens
ögonblick". Det handlar om att fånga kunden i rätt tid, med rätt budskap, på rätt plats med rätt
service/produkt
Välkommen till vårt webinar kring Predictive customer intelligence där vi kommer att berätta hur ni kan
komma igång med detta intressanta område som många talar om just nu.
Prediktiv analys kommer hjälpa dig och din organisation att:
- Förutse vilka kunder som ligger i riskzonen för att lämna er och hur man behåller dessa
- Förstå hur man skapar en 360 graders vy av kunden och hur det hjälper er att öka kundupplevelsen hos
era kunder
- Leverera rätt budskap, i rätt tid, till rätt person för att öka kundnöjdheten hos era kunder
Anmäl dig redan idag!
Anmälan:
Tisdag den 17e: https://events.na.collabserv.com/register.php?id=efa6ca35cc&l=en-US
Torsdag den 19e: https://events.na.collabserv.com/register.php?id=b4f44b3ee0&l=en-US
If clicking a link above does not work, please copy the entire link and paste it into your Web browser.For technical
questions, contact support at [email protected]. For questions about this event, contact the host at:
[email protected].
Powered by IBM SmartCloud for Social Business
©Copyright 2000, 2013 IBM Corporation. All Rights Reserved.