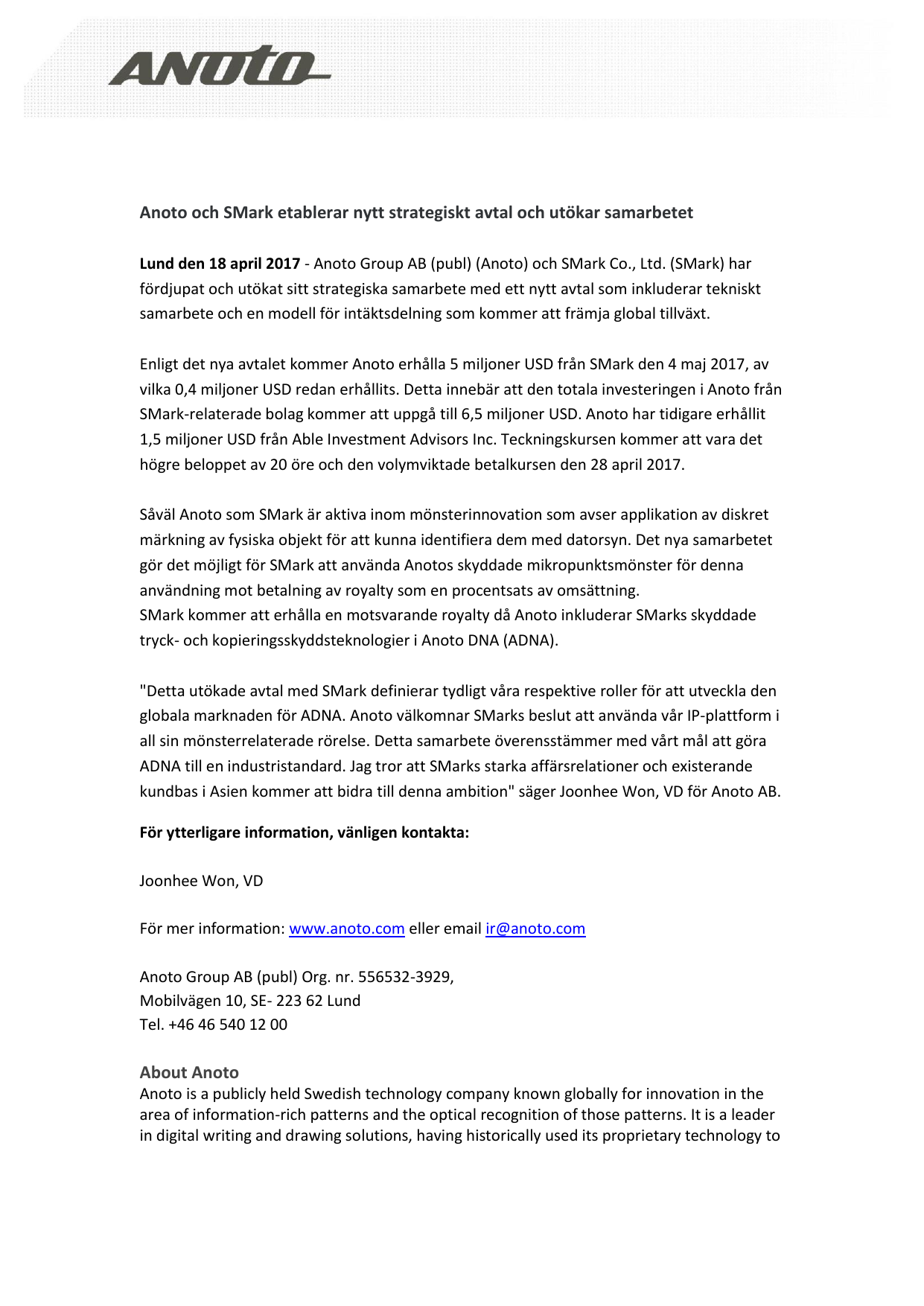 Anoto och SMark etablerar nytt strategiskt avtal och utökar samarbetet
Lund den 18 april 2017 - Anoto Group AB (publ) (Anoto) och SMark Co., Ltd. (SMark) har
fördjupat och utökat sitt strategiska samarbete med ett nytt avtal som inkluderar tekniskt
samarbete och en modell för intäktsdelning som kommer att främja global tillväxt.
Enligt det nya avtalet kommer Anoto erhålla 5 miljoner USD från SMark den 4 maj 2017, av
vilka 0,4 miljoner USD redan erhållits. Detta innebär att den totala investeringen i Anoto från
SMark-relaterade bolag kommer att uppgå till 6,5 miljoner USD. Anoto har tidigare erhållit
1,5 miljoner USD från Able Investment Advisors Inc. Teckningskursen kommer att vara det
högre beloppet av 20 öre och den volymviktade betalkursen den 28 april 2017.
Såväl Anoto som SMark är aktiva inom mönsterinnovation som avser applikation av diskret
märkning av fysiska objekt för att kunna identifiera dem med datorsyn. Det nya samarbetet
gör det möjligt för SMark att använda Anotos skyddade mikropunktsmönster för denna
användning mot betalning av royalty som en procentsats av omsättning.
SMark kommer att erhålla en motsvarande royalty då Anoto inkluderar SMarks skyddade
tryck- och kopieringsskyddsteknologier i Anoto DNA (ADNA).
"Detta utökade avtal med SMark definierar tydligt våra respektive roller för att utveckla den
globala marknaden för ADNA. Anoto välkomnar SMarks beslut att använda vår IP-plattform i
all sin mönsterrelaterade rörelse. Detta samarbete överensstämmer med vårt mål att göra
ADNA till en industristandard. Jag tror att SMarks starka affärsrelationer och existerande
kundbas i Asien kommer att bidra till denna ambition" säger Joonhee Won, VD för Anoto AB.
För ytterligare information, vänligen kontakta:
Joonhee Won, VD
För mer information: www.anoto.com eller email [email protected]
Anoto Group AB (publ) Org. nr. 556532-3929,
Mobilvägen 10, SE- 223 62 Lund
Tel. +46 46 540 12 00
About Anoto
Anoto is a publicly held Swedish technology company known globally for innovation in the
area of information-rich patterns and the optical recognition of those patterns. It is a leader
in digital writing and drawing solutions, having historically used its proprietary technology to
develop smartpens and the related software. These smartpens enrich the daily lives of
millions of people around the world. Now Anoto is also using its pattern, optics, and imageprocessing expertise to bridge between the analogue and digital domains through an
initiative known as Anoto DNA (ADNA). ADNA makes it possible to uniquely and
imperceptibly mark physical objects and then easily identify those individual objects using
ubiquitous mobile devices such as phones and tablets. ADNA is enabling exciting possibilities
for product innovation, marketing insights, and supply-chain control. Anoto is traded on the
Small Cap list of Nasdaq Stockholm under ANOT.