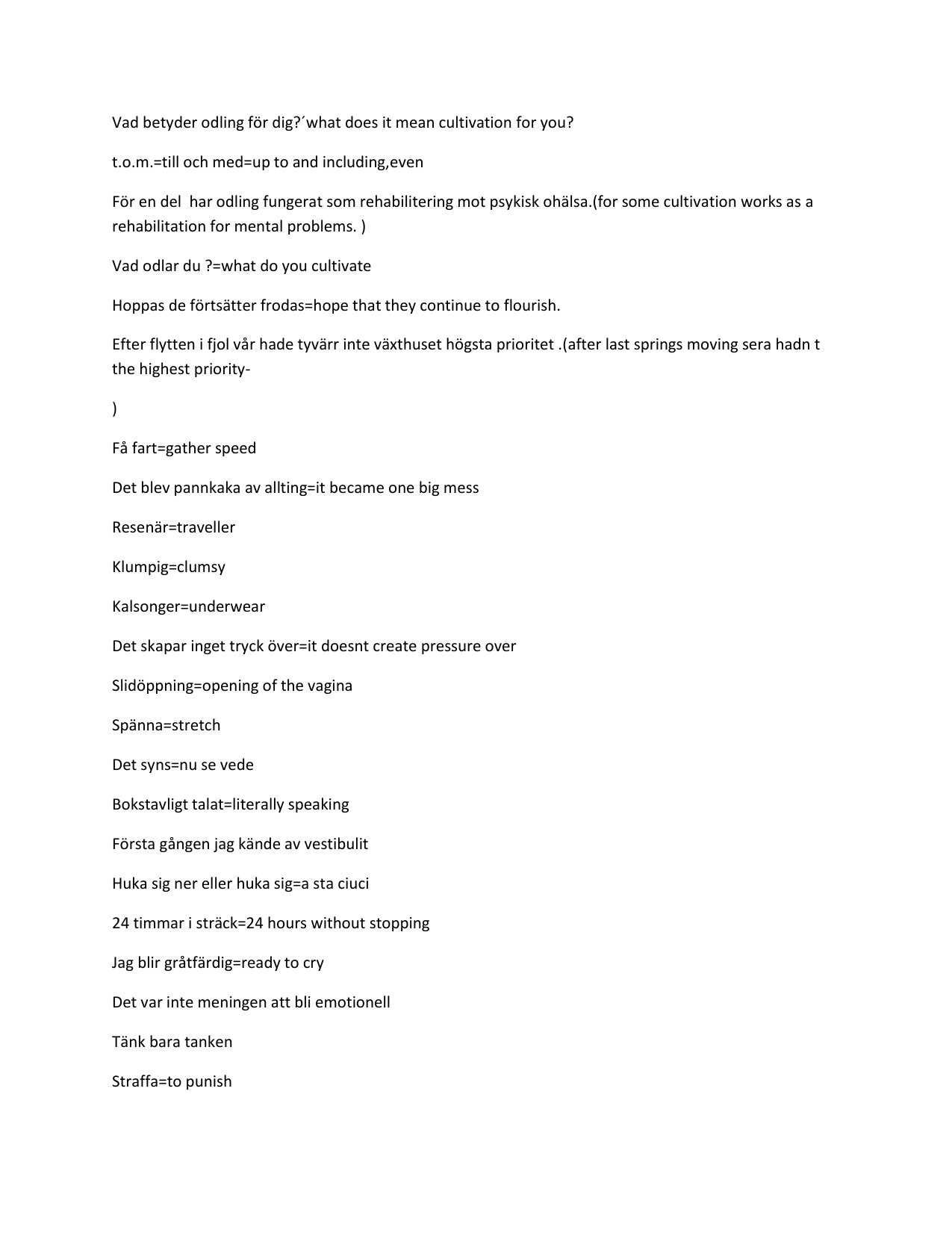 Vad betyder odling för dig?´what does it mean cultivation for you?
t.o.m.=till och med=up to and including,even
För en del har odling fungerat som rehabilitering mot psykisk ohälsa.(for some cultivation works as a
rehabilitation for mental problems. )
Vad odlar du ?=what do you cultivate
Hoppas de förtsätter frodas=hope that they continue to flourish.
Efter flytten i fjol vår hade tyvärr inte växthuset högsta prioritet .(after last springs moving sera hadn t
the highest priority)
Få fart=gather speed
Det blev pannkaka av allting=it became one big mess
Resenär=traveller
Klumpig=clumsy
Kalsonger=underwear
Det skapar inget tryck över=it doesnt create pressure over
Slidöppning=opening of the vagina
Spänna=stretch
Det syns=nu se vede
Bokstavligt talat=literally speaking
Första gången jag kände av vestibulit
Huka sig ner eller huka sig=a sta ciuci
24 timmar i sträck=24 hours without stopping
Jag blir gråtfärdig=ready to cry
Det var inte meningen att bli emotionell
Tänk bara tanken
Straffa=to punish
Tänka om=do a bit of rethinking
Ingen tog mig på allvar
Gå miste om=to miss
Hoppas att resenärerna som går miste om sina resor kan trösta sig med det.(to console)
Pratglad=som pratar mycket
Hon åkte till ordinarie(regular) jobb inatt(last night).
Genomlida=to go through,endure,suffer
Läcker=delicious
Spår=track,footstep
Längst=right,at the very
Långt=far,a long way
Sörpla I sig ngt=to slurp sth,to guzzle down sth
Begripa =to understand,to comprehend
Hederlig=honest
Beklaga=to be sorry,to regret
Smula sönder=crumble=to break
Lera=mud
En mark=ground
Mjuka upp=to soften sth
Inte ens=not even
Mjölken skummar=the milk makes foam
Jag törs inte göra det=I don t dare do that
Berg-och-dalbanan=roller coaster
Tivoli=amusement park
Flämta=puff
Strömma=stream,flow
En klippa=cut,mow
Sträcka ngt=stretch,pull
Fast=solid,fix
Att ha bekymmer=to have worries
Tält=tent
Filt=blanket
Fästa=fix,attach
Knyta=tie
Skruva upp=turn upp(gas,radio)
Fart=speed
Slippa=to get rid of,to escape
Undan=out of, from
Förstöra=to destroy
Avundsjuk=envious
Hon var osminkad=she was with no make up
Göra audition
Alla håller käften=all shut up
Vi hoppas på vinst=we hope for win
Jag ska köra en sång=I am going to sing a song
Är du sur på mig?=are you angry with me
En mineralvatten
Fejka=to fake
Stödig=messy,untidy
Agera=act
Mogen=mature
Onanera=masturbate
Sken=pretence,pretext
Ett lånerack=
Pissa en snabbis=pee a quickie
Träffsäker=
Jag har ganska bråttom=I am in a hurry
Av misstag=by mistake
Stänga av
Flytta trafik
Trafiken kör normalt
Ramla av hästen=a cadea de pe cal
Släppa ut
Min mobil är trasig=telefonul meu e stricat
Jag har det lite struligt=am ceva dificultati
Reta någon=a enerva ,a irita¨
Harry potter+3
Råka vara=happen to be
Trollkarl=magician,wizard
Knyta=a lega
Ett snöre=un cordon,o ata ,o funie
Ta loss paketet=take lightly the package
Svag=weak
Hoande=hoa=cum face bufnita
Snövit=ren och vit
Hena=female
Se belåten ut=to look satisfied
Hålla på att göra något=be on the point of doing sth
Passagerarfartyg=ship,vessel
Narkos=anestezic
Stöta på någon=to meet with,to come across
Snurra=a se invarti=whirl,spin
Skräp=rubbish,trash
Tillförlitligt=reliable
Ana=have a feeling,suspect,imagine,think
Skalbagge=insect
Överge=leave,abandon
Han överger til sin present.
Prydlig=neat,trim
Käck=trevlig
Hronbågade glasögonen=ochelari cu rama rotunda,sub forma de cerc
En tull=vama
Dyka upp=visa sig
Omväxling=variety
Vara förtjust=delighted,be fond
Be om=to ask
Lägga något åt sidan=a pune ceva intr o parte
Skutt=leap
Etui=case
Kvastskaft=batul de la matura
Spela på hemmaplan=play at home
Slarvig=careless
Klottret=scribble
Den översta=the top
Glimt=gleam,flash
Aktig=liknande
Läderktig=ladder like
Ägodelar=property
Ta ut till=to admit to
Våldsam=furious,violent
Slå ihop=to mix together,to bland together
Stelna=to get stiff
Med avsikt=on purpose
Uppfattning=understanding
Smussla in=hide in
Göra sig till=spela roll
Peka=pick
Slå till=to strike
Riva av=tear off
Nätt och jämnt=only just
Skymt=trace
Bladguld=frunza de aur
Banga=vara rädd,inte våga
Känslig=senzitive,sensible,delicate
Utöka=increase
Är du dum i huvudet=are you mad?
Kyla=chill
Pinsamma=awkward
Får du bilder I huvudet=iti faci filme in cap?
Jag ska slå sönder dig=
Jag minns första gången när jag bröt näsan=i remmember the first time when i broke my nose
En nylle=ett ansikt
Han skallade dig=han stötar till dig med huvudet
Fitta=cunt,pussy
Kom du hit för att ta hans parti=take sbs part
Misshandel=misstreat,assault
Har du tappat talförmågan=are you lost your voice?
Hålla på med=göra
Du har svårt att hålla tyst
Du har inte anning om hur det är när det är tufft
det synd om någon=it is pity,feel sorry
självupptagen=self-centred
Jag pallar inte=i cant cope
Förblöda=bleed to death
Begrava=bury
Få herravälde över min kropp=to have control over your body
Jag är allmänbildad=i am well informed
låtsaS=pretend
undvika=avoid
taskig=dålig
spola ner=flush the toilet
vara släpphänt med någon=to easy going,indulgent with sb=a fi indulgent cu cineva
vara till gagn för någon=to be sb s advantage
kan du hämta mig cola?can you bring me cola
det svider I halsen på mig=it is burning my throat
han menade inget illa med det=he didnt mean sth bad about it
det var på grund av dig=it was your blame
Proviant=supplies
De var inte meningen att lämna ut dig=i didnt mean to
Alla är utklädda=all are dressed up
Skaldjur=sea food
Få punka=have a flat
Du sårade mig=you offended me,you hurt me
Blir förbannad på=get furious with
Ska jag hämta upp dig
Loppis=bazar
Han brås på sin pappa=han liknar sin pappa=he looks like his father
Ska vi kolla utsiktet=shall we check the view?
Brukar amie rymma i väg så här?=does amie usually run away like this
Omogen=immature
Vi sitter ju I samma båt
Det var så otroligt fegt av dig=it was unbelievable cowardly of you
Proffs=pro
Skrämma mig=frighten me
Jag måste bara hämta min väska
Jag drar ut=i wanna go out
Arsle=asshole
Jag har kört rygg=Ive done the back (kört=köra)
Jag skäms för min kropp.(skämmas för=be ashamed of)
Schyst=korrekt,
Slå sig ned=sit down
Jag hade ett kort snack med din mamma
Det är bråk=it makes fuss
Ha det kämpigt=have a tough time
Gamlingar=old folks
Omänsklig=inhuman
Påhitt=idea,invention
Krocka=crush
Polare=mate,buddy
Tjata på någon=make a fuss
Bromsa=a pune frana
Vänskap=friendship
Jag är felfri=fara greseala
Talangfull=talented
Långsynt=long-sighted
Varför dröjer han?=why is he late
Höjta till om papa kommer=yell shout if dad comes
Sluta stirra=stop starring
Det är obehagligt=it is unpleasant
Synd med fräknarna bara
Fräknarna försvinner med åldern
Jag vill lyta mitt glas för annan speciell person
Invigning=invention
Reda ut=explain
En spricka=break
Skyldig=guilty
Blir du besviken=are you dissappointed
Lite grann=just a little
Överhuvudtaget=all the whole
Ett ansvar=responsibility
Ha fel=be wrong
Maktgalen=power-mad
Har du nytt rakvatten=have you new aftershave?
Hon dog hastigt=she died suddently
Jag måste rensa och röja I min lägenhet
Försätta med sitt egna liv
Samtidigt som man ska försätta med
Jag har tagit beslutet att vara sjukskriven halvtid för att kunna reda upp lite.=
Dra i nödbromsen=a pune frana
Magkarrat=gastritis
Det var fullt på instrument
Ja har half kul i musikkår
Då have vi bott grannar i samma område utan att lägga märke till varandra.
Måste du ha de där säckiga brallorna=must you have those baggy trousers
Så håller du på med din frisyr hela tiden=and you make your hair all the times
Oskyldig=innocent
En flört=flirt
Vara kvitt=be rid of
Oduglig=useless
Patientmatsal=canteen,
Bana väg=clear the way
Det är upp till dig=it is up to you
En bit från där jag bor
Jag tar ett kort på bilen i solnedgången
Var det första gången du stötte på en björn ute i det vilda=it was the first time when you came across
with a bear out in the wildness
Attans! =damned
Tur att du kom undan med blotta förskräckelse=noroc ca ai scapat ca prin urechile acului
Ta en genväg=gena=take a short cut
Änglavkt=to have a guardian angel
Ta inte livet för givet=don't take your granted
Hur lång tid tog det att komma tillbaka efteråt
Sladdar=cabluri
Lasarett=hospital
Ha tillträde till=to have admission to
Ta emot=to accept
Vad har du för dig=what are you doing(ce faci in momentul asta )
Spå ngn i kort=to tell sb fortunes by the cards
Vattenfast=waterproof
Väluppfostrad=well brought up=bine educat,
Utbildad till lärare
Vara sängsliggande=to be confined to bed
Spela in=record sth
Saft=juice
Samla=gather,get together
Flack=spot
Berlock=charm(om smycke)piese de bijuterie care se leaga de o bratara
Tillfälle=opportunity
Chatta
Dra igång något=get sth going
Tog självmord=to commit suicide
Hur har du det=what are you doing
Att gasa=to accelerate
Det ramlade ner massor av trädbitar=it fell down a lot of pieces of tree
Föra ngn till sjukhuset= take sb to hospital
Vad är det för typ av lokal=what are the premises
Jag bläddrade i det som går at bläddra i på internet.(m am uitat in ea la ce se poate uita pe internet)
Få tag i =get hold of
Oerhörd=enormous
Äktenskap=marriage
Sköt om dig =be careful,take care
Ett fyrfarlig leve för=four cheers for
Det är min förslag=it is my suggestion
Hur hamnade jag här?=how do I end up here.
Jag hade svårt att slutföra saker.
Jag är skitbra på att vara asdålig på att göra klart saker.
Det har fått mig att ta impulsiva och dåliga beslut.(that makes me to take impulsive and bad decisions.)
Jag har hoppat av skolan=I dropped out school.
Vi klickade verkligen på nån bisarr jävla nivå.
Bisarr=bizzare
Flykt=flight,route
Beteende=behaviour
Inse=realize
Vara pank=be broke
Jag var absolut inte beredd att flytta hem=I wasnt prepared for att go home
På tal om det=apropå=by the way
Jag låtsas vara 16=I pretend to be 16
Jag har lovat mig själv att inte bara dra=
Ärligt talat=to be honest
En blixt=a flashlighting
Vi har olika syn på David.(we catch sight of)
Smidig=flexible
Ska jag förklara med strumpdockor=Shall I explain with papusi din ciorapi
Fast de brukar inte användas för att förklara saker.=although they are not usually needed to explain
things.
För till och med barn=for even children
Till och med =even
För en gångs skull=for once
David har vuxit till sig=David has grown into a fine boy
Bläddra=turn over the pages
Jag hann inte ens anpassa min iris=I didn't even adjust my iris
Noja=paranoia
Du nojar för mycket=you have paranoia too much.
Gödkannade=approval
Samtliga mobiler=all the mobiles
Ett utrop=
Lita på mig=I rely on me
Som sagt=as I said
Göra illa=do wrong
I fred=in peace
Sågon=fierastrau
Kliva=climb
Bräda=blani
Spik=nail
Skiftnyckel=cheie
Hammare=hammer
Trasig=broken
Pallen=un scaunel mai mic,de pus picioare
Mäta=measure
Tumstock=folding rull
Krokig=crocked,bent,curved
En tang=patent
Dra ut spiken=a scos cuiul
Ett staket=a fence
Koja=hut,cabin
Når inte=not reach
Vara bakis=vara bakfull=have a hangover
Läkare på avdelningen=on the department
Spår=tracel
Elakartad baksmälla=malignant hangover
Bodemel=cure,remedy
Ökad känslighet mot ljus och ljud
Ha frossa=have shivers
Nedsatt balans=impaired balance
Ångest=anxiety
Kräkning=vomiting
Ordinera=prescribe
Symptomen lindras=the simptoms are relieving
Intryck=impression
Ett krossat glas=a broken glass
En Pissoar=un pisioar
Promillehalt=
Halt=contain
Hög Promille=high percentage of alcohol
På tal om det=by the way
Pricka=,dot
Ska du gapa lite=could you open your mouth
Gapa=open ones mouth
Tryck på larmet=press on the alarm
Tappa livslusten=to lose the desire to live
Månen lyser=
Prassla=rustle=a frunzari hartiile
Hitåt=in this direction
Djungel=jungle
Förkräckt=frightened
Lurig=viclean
Tajming=timing
Tajm=time
Jag jobbar med tjurfäktning=I work with bullfighting
Dra uppmärksamhet till mig=draw attention to you
Verktygslåda=toolbox
In med dig
Ta en bild
Jag vill inte dra onödig uppmärksamhet till mig=i dont want to draw needless attention to me
Jag har ropat flera gånger=I have called out many times
Det är ofta förbjudet att hälla vatten på stenarna=it is often forbidden to pour water on the stones
En riktig het och fuktig ångbastu=a really hot and humid vapoursauna
Fläta hår=a face codite
Krullig hår=curly hair
Ta emot=få=get
Daglig ordbok
Hälla vatten i soppan=to pour water into the soup
Kryddad mat=spiced food
Jag hänger tvätten.
Mitt rum känns stökigt.
Jag ska torka mitt hår först och främst.(I will dry my hair first of all).
Jag har träningsvärk=am febra musculara
Klumpig=clumsy,awkward
Tändare=brigheta
Jag har inte tappat aptitet av den här=i havent lost my apetite
Harkla sig=clear ones throat
Jag måste sticka=i must be off
Inte med avsikt=not on purpose
En uppfattning=idea
Göra sig till=föreställa sig=imagine,visualize,picture
Ilska=anger,rage
Smussla in=bring secretly
Drake=dragon
Peta=pick
Ge ifrån sig=lämna över,avge ljud,signal
Sträcka sig=stretch
Grepp=hold
Stadigt=steady
Slå till=ge ngn ett slag,gå till anfall,snabbt bestämma sig för ngt
Riva av=tear off
Nätt och jämnt=only just
Skymt=glimpse
Sidledes=i sidled=laterally,sideways
Duns=thud=bufnitura
Smygande=insidious
Utrymme=space,room
Be en bön=say a prayer
Slå igen=stänga
Flaxa=flutter
Kravla=crawl=tara
Folksjukdom=widespread disease
Lindrig=mild,light
Mätbar=measurable
Överväga=consider
Over min förmåga=over my power
Han nekade till att ha gjort det=he denied having done it
Jag är här idag för att ta reda på vem min hemliga beundrare är
Sudda bort=rub out,erase
Stämpel i pannan som player=stampila pe frunte tip jucator
Det är väldigt smickrande att ha en hemlig beundrare=it is very flattering to have
Jag har varit singel tillräckligt länge nu
Det är dags att stadga mig=it is time to settle down
Blodtillförsel=blood supply
Jag har en tendens att göra sådana grejer=have tendency to do
Locka håret=a ondula parul
Omställning=förändring av viktiga faktorer
De fick nöja sig med
Lite varstans=lite här och var=på olika ställen
Hanskas med =handle=hantera
Livet tappar all mening
Luta sig=lean
När det gäller=when it comes
Däremot=however
Plocka ihop=gather together,collect
Läka=heal
Det är btydligt mycket enklare=it is considerable much easier
Dyka upp=emerge
Avfölja=unfollow
Dölj någon från något=hide from
Flöde=flow
Ventilera=discuss
Byta lakan=hange sheets
Du har makten nu=be in power
Häng upp en tavlan
Med betoning på ...=cu accent pe
Känslomässig=emotional
Klippa av dig långa hår
Göra slingor i håret=a face suvite
Måla dina naglar i en mer vågad färg än vanligt=indrazneata
Hålla dig till en träningsrutin
Unna sig något=allow oneself sth
Skilja mellan (på)=tell the difference between
Man kan inte sklja på något och något
Skämma bort=a rasfata
Den är mycket efterfrågan=it is on great demand
Anlagstavla=panou de afisaj
Åtgärd=step,move,measure
Känna till=ha vetskap om
Varva ner=easy off,relax
Knep=trick
Växla ner=lägga in en lägre växel
Avlägsen=distant,far-off
Släcka allt ljus
Belysning från teven eller datorskärmen=iluminat de la tv sau de la ecranul laptopului
I synnerhet=particularly,especially
Kroppen avger mer värme till omgivningen=the body emits much warm to the surroundings
Skriva ned allt på en att göra-lista
Det ger dig en känsla av att du har kontroll.