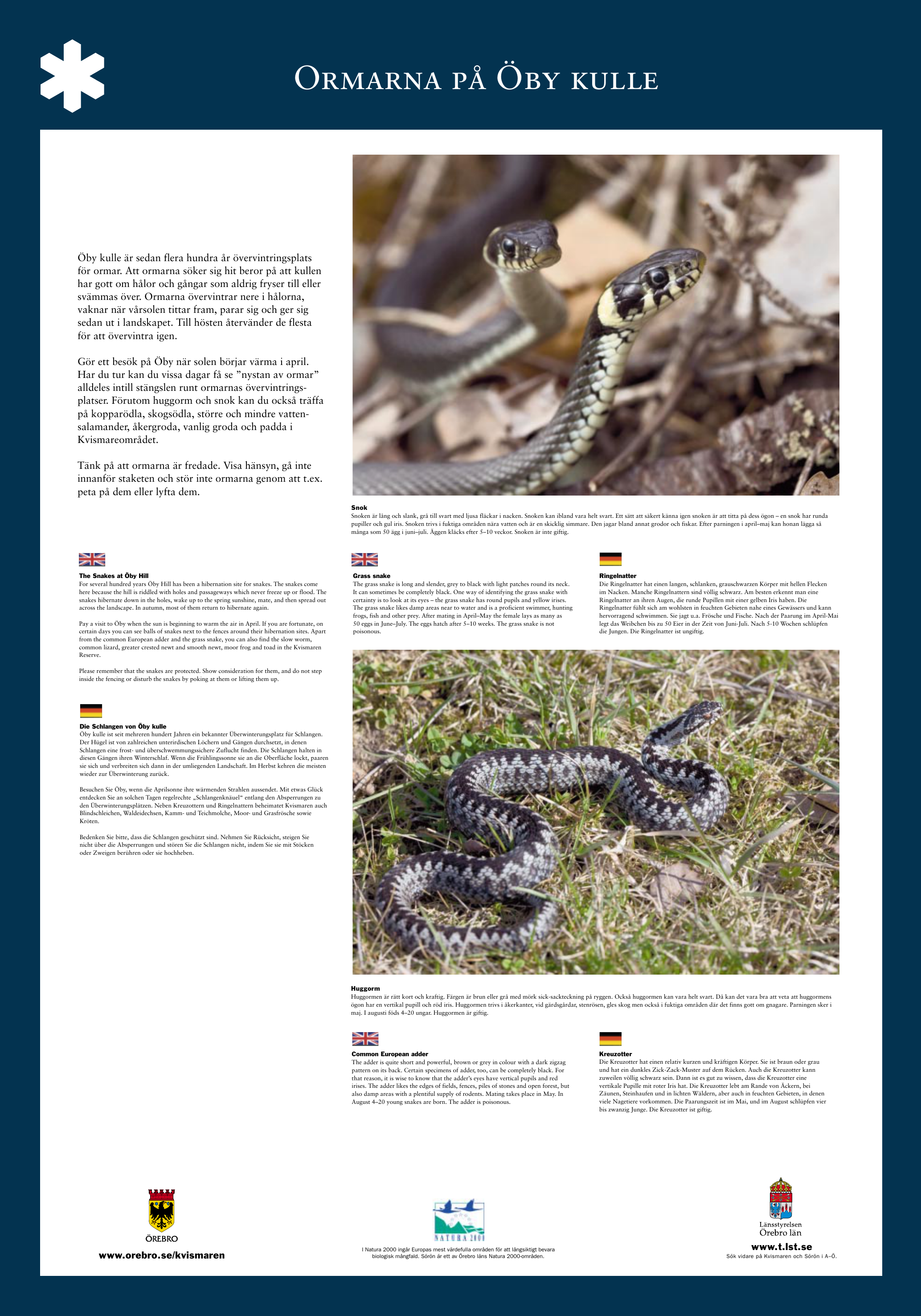 Ormarna på Öby kulle
Öby kulle är sedan flera hundra år övervintringsplats
för ormar. Att ormarna söker sig hit beror på att kullen
har gott om hålor och gångar som aldrig fryser till eller
svämmas över. Ormarna övervintrar nere i hålorna,
vaknar när vårsolen tittar fram, parar sig och ger sig
sedan ut i landskapet. Till hösten återvänder de flesta
för att övervintra igen.
Gör ett besök på Öby när solen börjar värma i april.
Har du tur kan du vissa dagar få se "nystan av ormar"
alldeles intill stängslen runt ormarnas övervintringsplatser. Förutom huggorm och snok kan du också träffa
på kopparödla, skogsödla, större och mindre vattensalamander, åkergroda, vanlig groda och padda i
Kvismareområdet.
Tänk på att ormarna är fredade. Visa hänsyn, gå inte
innanför staketen och stör inte ormarna genom att t.ex.
peta på dem eller lyfta dem.
Snok
Snoken är lång och slank, grå till svart med ljusa fläckar i nacken. Snoken kan ibland vara helt svart. Ett sätt att säkert känna igen snoken är att titta på dess ögon – en snok har runda
pupiller och gul iris. Snoken trivs i fuktiga områden nära vatten och är en skicklig simmare. Den jagar bland annat grodor och fiskar. Efter parningen i april–maj kan honan lägga så
många som 50 ägg i juni–juli. Äggen kläcks efter 5–10 veckor. Snoken är inte giftig.
The Snakes at Öby Hill
For several hundred years Öby Hill has been a hibernation site for snakes. The snakes come
here because the hill is riddled with holes and passageways which never freeze up or flood. The
snakes hibernate down in the holes, wake up to the spring sunshine, mate, and then spread out
across the landscape. In autumn, most of them return to hibernate again.
Pay a visit to Öby when the sun is beginning to warm the air in April. If you are fortunate, on
certain days you can see balls of snakes next to the fences around their hibernation sites. Apart
from the common European adder and the grass snake, you can also find the slow worm,
common lizard, greater crested newt and smooth newt, moor frog and toad in the Kvismaren
Reserve.
Grass snake
The grass snake is long and slender, grey to black with light patches round its neck.
It can sometimes be completely black. One way of identifying the grass snake with
certainty is to look at its eyes – the grass snake has round pupils and yellow irises.
The grass snake likes damp areas near to water and is a proficient swimmer, hunting
frogs, fish and other prey. After mating in April–May the female lays as many as
50 eggs in June–July. The eggs hatch after 5–10 weeks. The grass snake is not
poisonous.
Ringelnatter
Die Ringelnatter hat einen langen, schlanken, grauschwarzen Körper mit hellen Flecken
im Nacken. Manche Ringelnattern sind völlig schwarz. Am besten erkennt man eine
Ringelnatter an ihren Augen, die runde Pupillen mit einer gelben Iris haben. Die
Ringelnatter fühlt sich am wohlsten in feuchten Gebieten nahe eines Gewässers und kann
hervorragend schwimmen. Sie jagt u.a. Frösche und Fische. Nach der Paarung im April-Mai
legt das Weibchen bis zu 50 Eier in der Zeit von Juni-Juli. Nach 5-10 Wochen schlüpfen
die Jungen. Die Ringelnatter ist ungiftig.
Please remember that the snakes are protected. Show consideration for them, and do not step
inside the fencing or disturb the snakes by poking at them or lifting them up.
Die Schlangen von Öby kulle
Öby kulle ist seit mehreren hundert Jahren ein bekannter Überwinterungsplatz für Schlangen.
Der Hügel ist von zahlreichen unterirdischen Löchern und Gängen durchsetzt, in denen
Schlangen eine frost- und überschwemmungssichere Zuflucht finden. Die Schlangen halten in
diesen Gängen ihren Winterschlaf. Wenn die Frühlingssonne sie an die Oberfläche lockt, paaren
sie sich und verbreiten sich dann in der umliegenden Landschaft. Im Herbst kehren die meisten
wieder zur Überwinterung zurück.
Besuchen Sie Öby, wenn die Aprilsonne ihre wärmenden Strahlen aussendet. Mit etwas Glück
entdecken Sie an solchen Tagen regelrechte "Schlangenknäuel" entlang den Absperrungen zu
den Überwinterungsplätzen. Neben Kreuzottern und Ringelnattern beheimatet Kvismaren auch
Blindschleichen, Waldeidechsen, Kamm- und Teichmolche, Moor- und Grasfrösche sowie
Kröten.
Bedenken Sie bitte, dass die Schlangen geschützt sind. Nehmen Sie Rücksicht, steigen Sie
nicht über die Absperrungen und stören Sie die Schlangen nicht, indem Sie sie mit Stöcken
oder Zweigen berühren oder sie hochheben.
Huggorm
Huggormen är rätt kort och kraftig. Färgen är brun eller grå med mörk sick-sackteckning på ryggen. Också huggormen kan vara helt svart. Då kan det vara bra att veta att huggormens
ögon har en vertikal pupill och röd iris. Huggormen trivs i åkerkanter, vid gärdsgårdar, stenrösen, gles skog men också i fuktiga områden där det finns gott om gnagare. Parningen sker i
maj. I augusti föds 4–20 ungar. Huggormen är giftig.
Common European adder
The adder is quite short and powerful, brown or grey in colour with a dark zigzag
pattern on its back. Certain specimens of adder, too, can be completely black. For
that reason, it is wise to know that the adder's eyes have vertical pupils and red
irises. The adder likes the edges of fields, fences, piles of stones and open forest, but
also damp areas with a plentiful supply of rodents. Mating takes place in May. In
August 4–20 young snakes are born. The adder is poisonous.
www.orebro.se/kvismaren
I Natura 2000 ingår Europas mest värdefulla områden för att långsiktigt bevara
biologisk mångfald. Sörön är ett av Örebro läns Natura 2000-områden.
Kreuzotter
Die Kreuzotter hat einen relativ kurzen und kräftigen Körper. Sie ist braun oder grau
und hat ein dunkles Zick-Zack-Muster auf dem Rücken. Auch die Kreuzotter kann
zuweilen völlig schwarz sein. Dann ist es gut zu wissen, dass die Kreuzotter eine
vertikale Pupille mit roter Iris hat. Die Kreuzotter lebt am Rande von Äckern, bei
Zäunen, Steinhaufen und in lichten Wäldern, aber auch in feuchten Gebieten, in denen
viele Nagetiere vorkommen. Die Paarungszeit ist im Mai, und im August schlüpfen vier
bis zwanzig Junge. Die Kreuzotter ist giftig.
www.t.lst.se
Sök vidare på Kvismaren och Sörön i A–Ö.