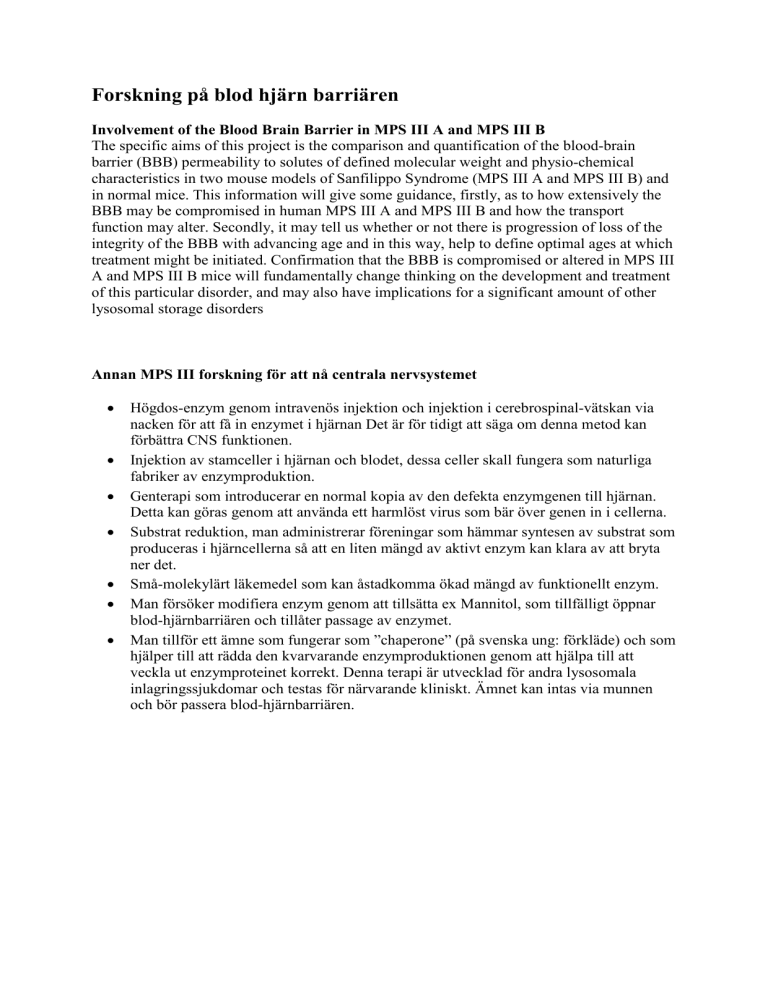 Forskning på blod hjärn barriären
Involvement of the Blood Brain Barrier in MPS III A and MPS III B
The specific aims of this project is the comparison and quantification of the blood-brain
barrier (BBB) permeability to solutes of defined molecular weight and physio-chemical
characteristics in two mouse models of Sanfilippo Syndrome (MPS III A and MPS III B) and
in normal mice. This information will give some guidance, firstly, as to how extensively the
BBB may be compromised in human MPS III A and MPS III B and how the transport
function may alter. Secondly, it may tell us whether or not there is progression of loss of the
integrity of the BBB with advancing age and in this way, help to define optimal ages at which
treatment might be initiated. Confirmation that the BBB is compromised or altered in MPS III
A and MPS III B mice will fundamentally change thinking on the development and treatment
of this particular disorder, and may also have implications for a significant amount of other
lysosomal storage disorders
Annan MPS III forskning för att nå centrala nervsystemet
•
•
•
•
•
•
•
Högdos-enzym genom intravenös injektion och injektion i cerebrospinal-vätskan via
nacken för att få in enzymet i hjärnan Det är för tidigt att säga om denna metod kan
förbättra CNS funktionen.
Injektion av stamceller i hjärnan och blodet, dessa celler skall fungera som naturliga
fabriker av enzymproduktion.
Genterapi som introducerar en normal kopia av den defekta enzymgenen till hjärnan.
Detta kan göras genom att använda ett harmlöst virus som bär över genen in i cellerna.
Substrat reduktion, man administrerar föreningar som hämmar syntesen av substrat som
produceras i hjärncellerna så att en liten mängd av aktivt enzym kan klara av att bryta
ner det.
Små-molekylärt läkemedel som kan åstadkomma ökad mängd av funktionellt enzym.
Man försöker modifiera enzym genom att tillsätta ex Mannitol, som tillfälligt öppnar
blod-hjärnbarriären och tillåter passage av enzymet.
Man tillför ett ämne som fungerar som "chaperone" (på svenska ung: förkläde) och som
hjälper till att rädda den kvarvarande enzymproduktionen genom att hjälpa till att
veckla ut enzymproteinet korrekt. Denna terapi är utvecklad för andra lysosomala
inlagringssjukdomar och testas för närvarande kliniskt. Ämnet kan intas via munnen
och bör passera blod-hjärnbarriären.
Behandling för MPS III B: Naglu till CNS
Dr Matthew Ellinwood, Iowa State University
Blod-hjärnbarriären är det största hindret för att kunna ge behandling åt neurologiska
lysosomala inlagringssjukdomar. En metod för att försöka komma förbi barriären är
att ge injektion direkt in i centrala nervsystemet av antingen enzymet, genterapivektorer, stamceller eller genterapi-behandlade stamceller. En alternativ metod är att
genetiskt konstruera det saknade enzymet så att det kan kan passera blodhjärnbarriären genom upptag med en en aktiv process från blodet och leverans genom
blodhjärn-barriären. Då kan man behandla antingen intravenöst med det genetiskt
konstruerade enzymet eller behandla med en leverspecifik genterapi-vektor designad
att leverera genen för det kostruerade enzymet. Det är den senare metoden vi vill
utvärdera för behandling av MPS III B.