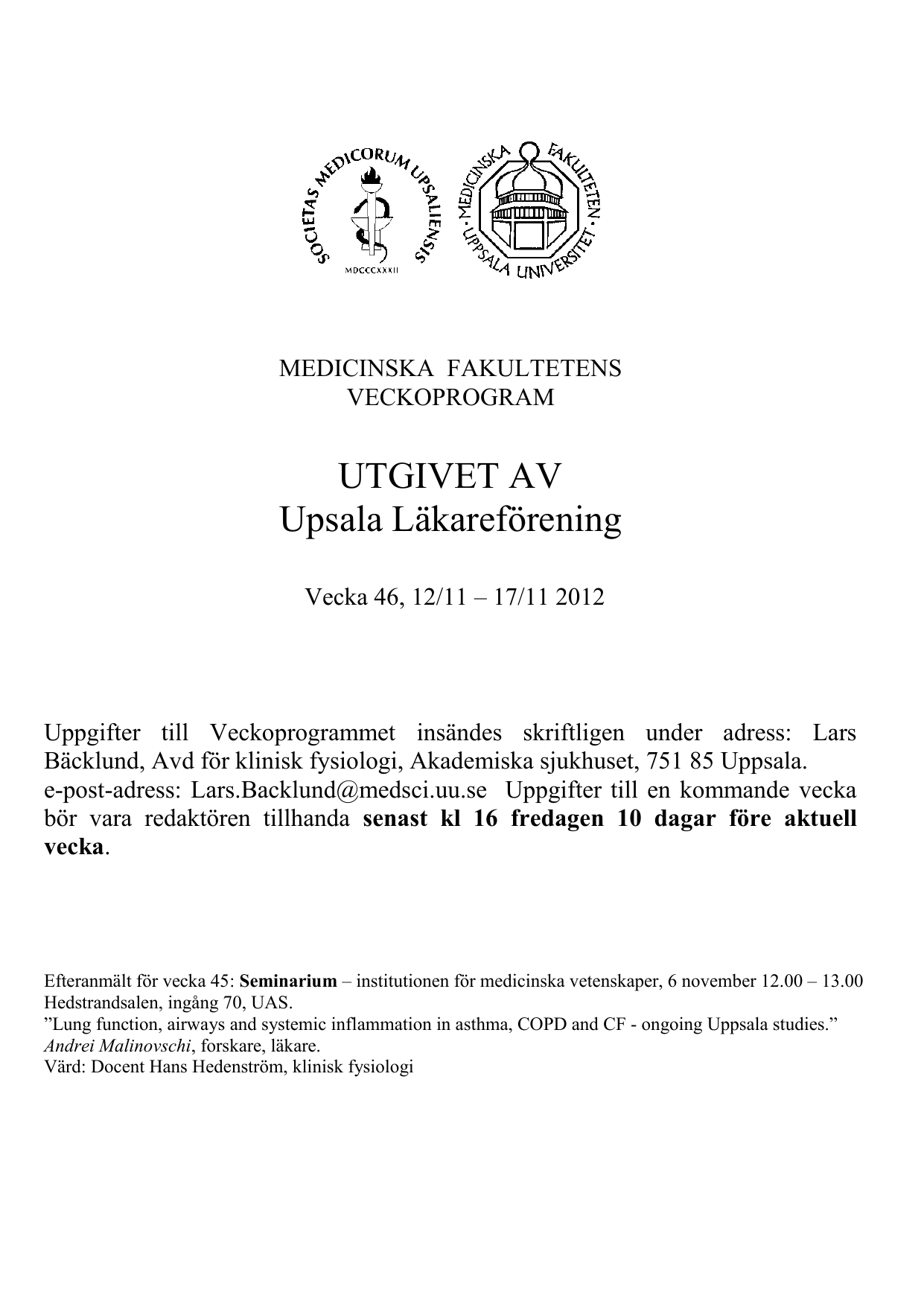 MEDICINSKA FAKULTETENS
VECKOPROGRAM
UTGIVET AV
Upsala Läkareförening
Vecka 46, 12/11 – 17/11 2012
Uppgifter till Veckoprogrammet insändes skriftligen under adress: Lars
Bäcklund, Avd för klinisk fysiologi, Akademiska sjukhuset, 751 85 Uppsala.
e-post-adress: [email protected] Uppgifter till en kommande vecka
bör vara redaktören tillhanda senast kl 16 fredagen 10 dagar före aktuell
vecka.
Efteranmält för vecka 45: Seminarium – institutionen för medicinska vetenskaper, 6 november 12.00 – 13.00
Hedstrandsalen, ingång 70, UAS.
"Lung function, airways and systemic inflammation in asthma, COPD and CF - ongoing Uppsala studies."
Andrei Malinovschi, forskare, läkare.
Värd: Docent Hans Hedenström, klinisk fysiologi
Måndag
12 nov
15.15
The Svedberg Lecture Series at BMC
"Intravital microscopy of cancer cell plasticity through
imaging windows."
Dr. Jacco van Rheenen, Hubrecht Institute-KNAW &
University Medical Center Utrecht, The Netherlands.
Host: Aristidis Moustakas
Sal C 8:305
BMC
Tisdag
13 nov
12.00
Seminarium – institutionen för medicinska vetenskaper
"Association between kidney injury/kidney function
markers and cardiovascular mortality."
Anders Larsson. Biokemisk struktur och funktion
Robergsalen,
Ingång 40, 4tr
UAS
18.00- TISDAGSSAMMANKOMST - Svenska Läkaresällskapet Klara Östra
19.30 Den gravida mannen
Kyrkogata 10,
Stockholm
Medverkande: Claudia Bruss (moderator) Svenska
Läkaresällskapets Etikdelegation, Cecilia Dhejne
(psykiatriker, enheten för könsbyte Huddinge) och professor
emer. Marc Bygdeman. Arrangörer: SLS Etikdelegation och
SFOG samt Svensk förening för obstetrik & gynekologi.
Onsdag
14 nov
Torsdag
15 nov
Inget program aviserat
09.00
Frödingsalen
DISPUTATION
"Environmental Pesticide Exposure and Neurobehavioral
Ulleråkersvägen
Effects among Children of Nicaraguan Agricultural
40, Uppsala
Workers."
Teresa Rodríguez, institutionen för medicinska vetenskaper,
arbets- och miljömedicin.
Opponent: Universitetslektor, docent Ingvar Bergdahl,
yrkesmedicin, folkhälsa och klinisk medicin, Umeå
universitet.
13.00
RUDBECK SEMINAR - Tumor biology, genetics and
molecular biology
Program ej fastställt
Rudbecksalen
Rudbecklaboratoriet, Dag Hammarskjölds väg
20
Fredag
16 nov
Lördag
17 nov
13.15
DISPUTATION
"Molecular Characterisation and Prognostic Biomarker
Discovery in Human Non-Small Cell Lung Cancer."
Karolina Edlund, institutionen för immunologi, genetik och
patologi, molekylär och morfologisk patologi.
Opponent: Professor Martin Schuler, Clinic for Internal
Medicine (Tumor Research), Essen University Hospital,
Essen, Tyskland.
Rudbecksalen
Rudbecklaboratoriet, Dag Hammarskjölds väg
20
15.00
PROFESSORSINSTALLATION
Medicinska föreläsningar hålles torsdagen den 15
november. Schema sist i detta program.
Uppsala universitets aula
15.15
The Svedberg Lecture Series at BMC
" The Terminal Stages of Red Cell Development."
Dr. Harvey F. Lodish, Whitehead Institute for Biomedical
Research, Professor of Biology and Professor of
Bioengineering, Massachusetts Institute of Technology,
USA.
Host: Aristidis Moustakas
Sal B 21, BMC
09.00
DISPUTATION
"Support Group Intervention in Primary Breast Cancer:
Health-Related Quality of Life, with Special Reference to
Anxiety, Depression and Fatigue."
Helena Granstam Björneklett, Centrum för klinisk forskning, Västerås.
Opponent: Professor Inger Thune, Samfunnsmedisin, universitet i Tromsö, Norge.
Aulan, ingång
21, Västerås
sjukhus
Torsdagen den 15 november Installationsföreläsningar. Lokal: Universitetshuset, sal IV
13:15 Inledning av Medicinska fakultetens dekanus, professor Stellan Sandler
13:20 Wilhelm Graf: "Tarmresan" – 30 års utveckling i gastrointestinal kirurgi.
13:40 Lena Gunningberg: Trycksår – är nollvision möjlig?
14:00 Torsten Gordh: Smärtbehandling – nya perspektiv.
14:20 Göran Laurell: Hur blev det sen? Att leva efter behandling av huvud- och halscancer.