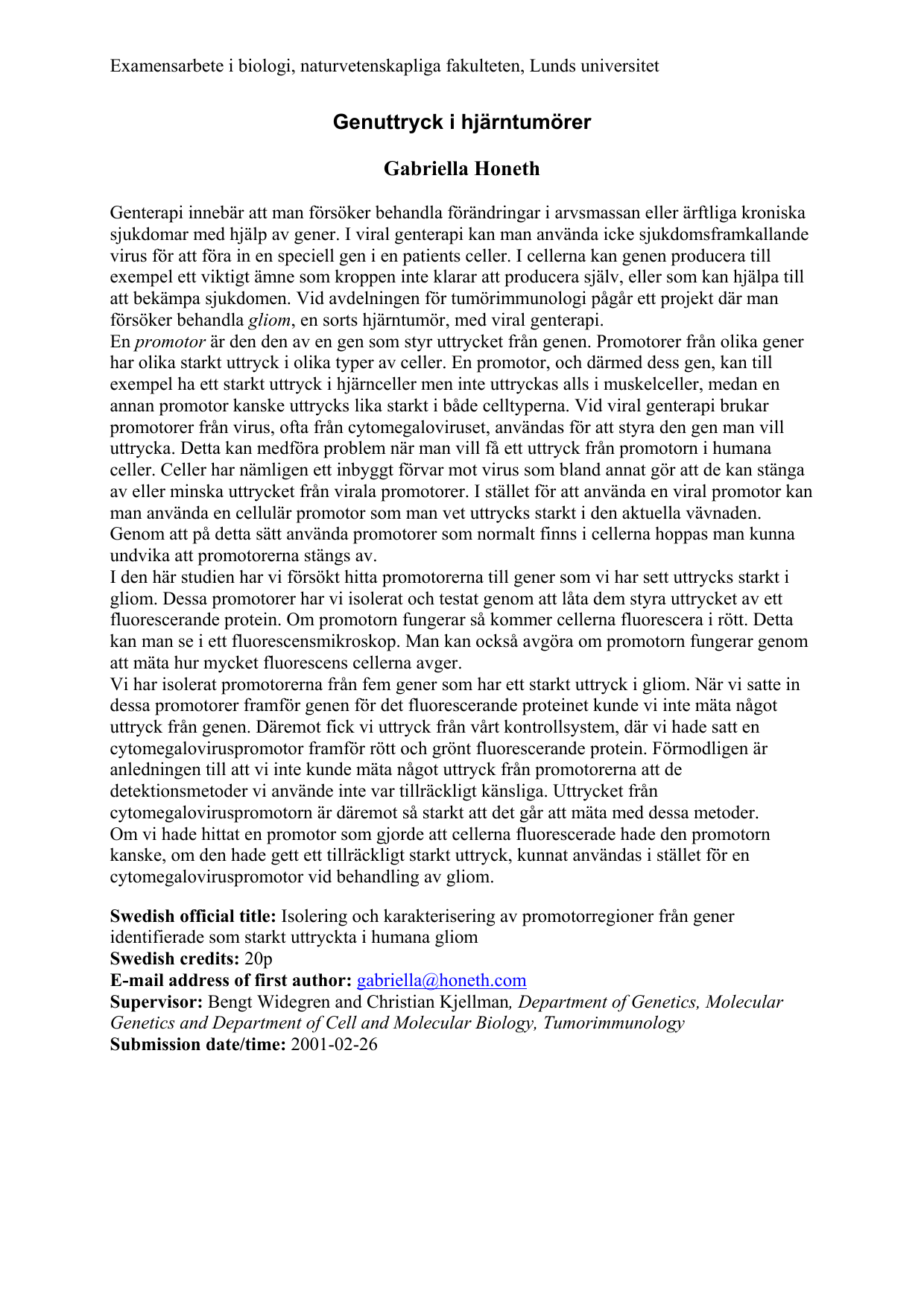 Examensarbete i biologi, naturvetenskapliga fakulteten, Lunds universitet
Genuttryck i hjärntumörer
Gabriella Honeth
Genterapi innebär att man försöker behandla förändringar i arvsmassan eller ärftliga kroniska
sjukdomar med hjälp av gener. I viral genterapi kan man använda icke sjukdomsframkallande
virus för att föra in en speciell gen i en patients celler. I cellerna kan genen producera till
exempel ett viktigt ämne som kroppen inte klarar att producera själv, eller som kan hjälpa till
att bekämpa sjukdomen. Vid avdelningen för tumörimmunologi pågår ett projekt där man
försöker behandla gliom, en sorts hjärntumör, med viral genterapi.
En promotor är den den av en gen som styr uttrycket från genen. Promotorer från olika gener
har olika starkt uttryck i olika typer av celler. En promotor, och därmed dess gen, kan till
exempel ha ett starkt uttryck i hjärnceller men inte uttryckas alls i muskelceller, medan en
annan promotor kanske uttrycks lika starkt i både celltyperna. Vid viral genterapi brukar
promotorer från virus, ofta från cytomegaloviruset, användas för att styra den gen man vill
uttrycka. Detta kan medföra problem när man vill få ett uttryck från promotorn i humana
celler. Celler har nämligen ett inbyggt förvar mot virus som bland annat gör att de kan stänga
av eller minska uttrycket från virala promotorer. I stället för att använda en viral promotor kan
man använda en cellulär promotor som man vet uttrycks starkt i den aktuella vävnaden.
Genom att på detta sätt använda promotorer som normalt finns i cellerna hoppas man kunna
undvika att promotorerna stängs av.
I den här studien har vi försökt hitta promotorerna till gener som vi har sett uttrycks starkt i
gliom. Dessa promotorer har vi isolerat och testat genom att låta dem styra uttrycket av ett
fluorescerande protein. Om promotorn fungerar så kommer cellerna fluorescera i rött. Detta
kan man se i ett fluorescensmikroskop. Man kan också avgöra om promotorn fungerar genom
att mäta hur mycket fluorescens cellerna avger.
Vi har isolerat promotorerna från fem gener som har ett starkt uttryck i gliom. När vi satte in
dessa promotorer framför genen för det fluorescerande proteinet kunde vi inte mäta något
uttryck från genen. Däremot fick vi uttryck från vårt kontrollsystem, där vi hade satt en
cytomegaloviruspromotor framför rött och grönt fluorescerande protein. Förmodligen är
anledningen till att vi inte kunde mäta något uttryck från promotorerna att de
detektionsmetoder vi använde inte var tillräckligt känsliga. Uttrycket från
cytomegaloviruspromotorn är däremot så starkt att det går att mäta med dessa metoder.
Om vi hade hittat en promotor som gjorde att cellerna fluorescerade hade den promotorn
kanske, om den hade gett ett tillräckligt starkt uttryck, kunnat användas i stället för en
cytomegaloviruspromotor vid behandling av gliom.
Swedish official title: Isolering och karakterisering av promotorregioner från gener
identifierade som starkt uttryckta i humana gliom
Swedish credits: 20p
E-mail address of first author: [email protected]
Supervisor: Bengt Widegren and Christian Kjellman, Department of Genetics, Molecular
Genetics and Department of Cell and Molecular Biology, Tumorimmunology
Submission date/time: 2001-02-26
Examensarbete i biologi, naturvetenskapliga fakulteten, Lunds universitet
Isolation and Characterization of Promoter Regions of Genes
Identified as Being Strongly Expressed in Human Gliomas
Gabriella Honeth
Biology, Molecular Genetics
Autumn 2000
Abstract in English
In viral gene theraphy it may arise difficulties because of viral promoters that are frequently
being shut-down in vivo. To overcome this problem, tissue-specific cellular promoters can be
used. The aim of this study was to characterize promoters from genes that are strongly
expressed in human gliomas. A number of genes had previously been identified as strongly
expressed in gliomas by microarray. Five of these genes were analysed with promoter
predicting programs to find potential promoter regions. These regions were amplified by PCR
and cloned into the pDsRed1-1 vector in front of a fluorescent protein. The expression from
the potential promoter regions was determined by transfection of such constructs to human
glioma cells. With the detection methods used in this study, fluorescence microscope and
fluorescence activated cell sorting (FACS) analysis, it was not possible to detect any activity
from the promoter constructs. However, the control vectors, expressing fluorescent protein
from a cytomegalovirus (CMV) promoter, did work well. We concluded that more sensitive
detection methods need to be tested. It is also necessary to screen more glioma cell lines for
promoter activity since it is likely to find variations in activity between gliomas. There ought
to be at least some expression from the promoter constructs, given that they were identified as
giving a high expression in gliomas. Also, one of the analysed promoters is known from the
literature to have promoter activity. One the other hand, even if more sensitive methods could
detect an expression from the promoters, it might not be enough to be useful in viral gene
therapy against gliomas. If the expression was strong enough it ought to have been possible to
detect it with the methods used in this study.