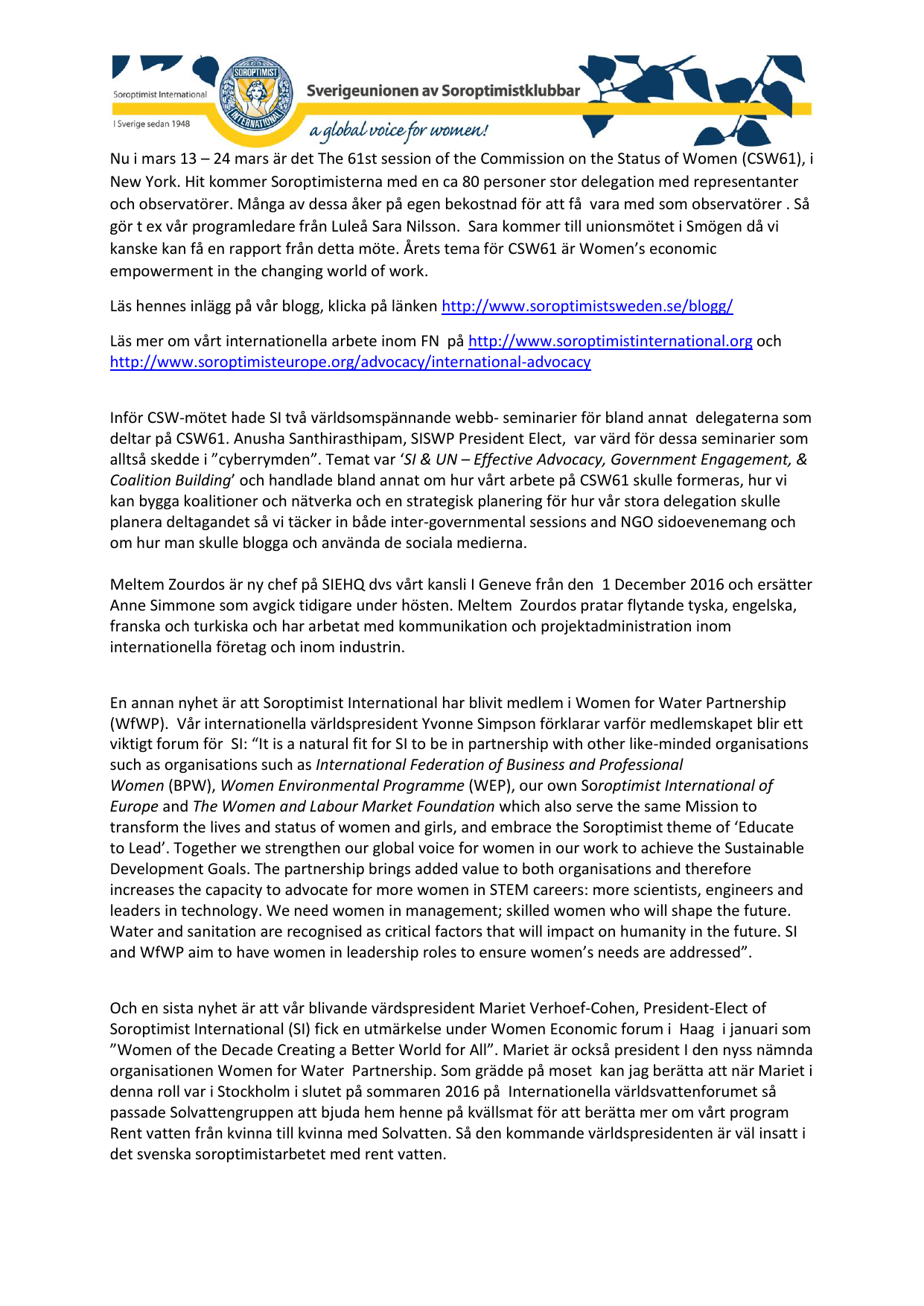 Nu i mars 13 – 24 mars är det The 61st session of the Commission on the Status of Women (CSW61), i
New York. Hit kommer Soroptimisterna med en ca 80 personer stor delegation med representanter
och observatörer. Många av dessa åker på egen bekostnad för att få vara med som observatörer . Så
gör t ex vår programledare från Luleå Sara Nilsson. Sara kommer till unionsmötet i Smögen då vi
kanske kan få en rapport från detta möte. Årets tema för CSW61 är Women's economic
empowerment in the changing world of work.
Läs hennes inlägg på vår blogg, klicka på länken http://www.soroptimistsweden.se/blogg/
Läs mer om vårt internationella arbete inom FN på http://www.soroptimistinternational.org och
http://www.soroptimisteurope.org/advocacy/international-advocacy
Inför CSW-mötet hade SI två världsomspännande webb- seminarier för bland annat delegaterna som
deltar på CSW61. Anusha Santhirasthipam, SISWP President Elect, var värd för dessa seminarier som
alltså skedde i "cyberrymden". Temat var 'SI & UN – Effective Advocacy, Government Engagement, &
Coalition Building' och handlade bland annat om hur vårt arbete på CSW61 skulle formeras, hur vi
kan bygga koalitioner och nätverka och en strategisk planering för hur vår stora delegation skulle
planera deltagandet så vi täcker in både inter-governmental sessions and NGO sidoevenemang och
om hur man skulle blogga och använda de sociala medierna.
Meltem Zourdos är ny chef på SIEHQ dvs vårt kansli I Geneve från den 1 December 2016 och ersätter
Anne Simmone som avgick tidigare under hösten. Meltem Zourdos pratar flytande tyska, engelska,
franska och turkiska och har arbetat med kommunikation och projektadministration inom
internationella företag och inom industrin.
En annan nyhet är att Soroptimist International har blivit medlem i Women for Water Partnership
(WfWP). Vår internationella världspresident Yvonne Simpson förklarar varför medlemskapet blir ett
viktigt forum för SI: "It is a natural fit for SI to be in partnership with other like-minded organisations
such as organisations such as International Federation of Business and Professional
Women (BPW), Women Environmental Programme (WEP), our own Soroptimist International of
Europe and The Women and Labour Market Foundation which also serve the same Mission to
transform the lives and status of women and girls, and embrace the Soroptimist theme of 'Educate
to Lead'. Together we strengthen our global voice for women in our work to achieve the Sustainable
Development Goals. The partnership brings added value to both organisations and therefore
increases the capacity to advocate for more women in STEM careers: more scientists, engineers and
leaders in technology. We need women in management; skilled women who will shape the future.
Water and sanitation are recognised as critical factors that will impact on humanity in the future. SI
and WfWP aim to have women in leadership roles to ensure women's needs are addressed".
Och en sista nyhet är att vår blivande värdspresident Mariet Verhoef-Cohen, President-Elect of
Soroptimist International (SI) fick en utmärkelse under Women Economic forum i Haag i januari som
"Women of the Decade Creating a Better World for All". Mariet är också president I den nyss nämnda
organisationen Women for Water Partnership. Som grädde på moset kan jag berätta att när Mariet i
denna roll var i Stockholm i slutet på sommaren 2016 på Internationella världsvattenforumet så
passade Solvattengruppen att bjuda hem henne på kvällsmat för att berätta mer om vårt program
Rent vatten från kvinna till kvinna med Solvatten. Så den kommande världspresidenten är väl insatt i
det svenska soroptimistarbetet med rent vatten.