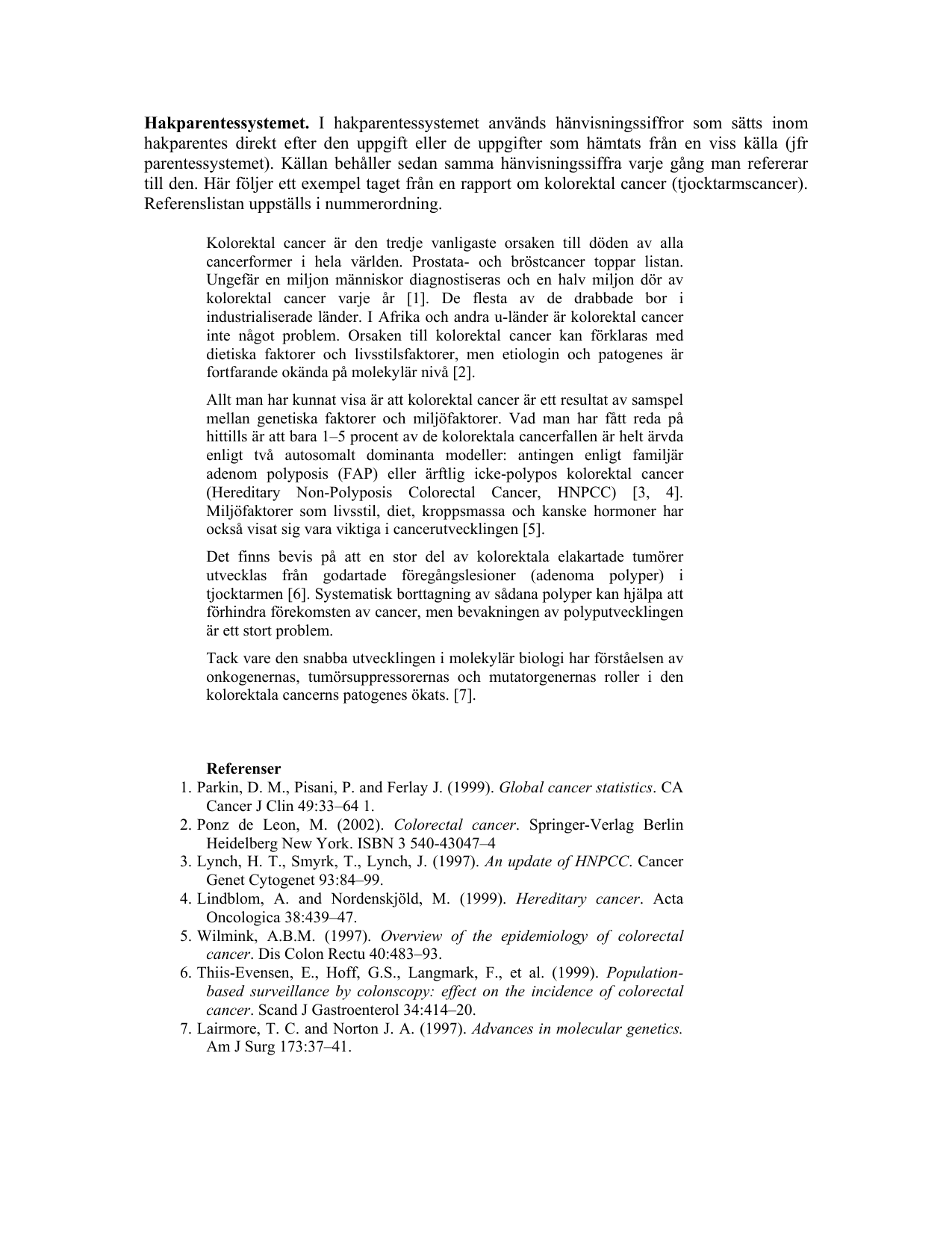 Hakparentessystemet. I hakparentessystemet används hänvisningssiffror som sätts inom
hakparentes direkt efter den uppgift eller de uppgifter som hämtats från en viss källa (jfr
parentessystemet). Källan behåller sedan samma hänvisningssiffra varje gång man refererar
till den. Här följer ett exempel taget från en rapport om kolorektal cancer (tjocktarmscancer).
Referenslistan uppställs i nummerordning.
Kolorektal cancer är den tredje vanligaste orsaken till döden av alla
cancerformer i hela världen. Prostata- och bröstcancer toppar listan.
Ungefär en miljon människor diagnostiseras och en halv miljon dör av
kolorektal cancer varje år [1]. De flesta av de drabbade bor i
industrialiserade länder. I Afrika och andra u-länder är kolorektal cancer
inte något problem. Orsaken till kolorektal cancer kan förklaras med
dietiska faktorer och livsstilsfaktorer, men etiologin och patogenes är
fortfarande okända på molekylär nivå [2].
Allt man har kunnat visa är att kolorektal cancer är ett resultat av samspel
mellan genetiska faktorer och miljöfaktorer. Vad man har fått reda på
hittills är att bara 1–5 procent av de kolorektala cancerfallen är helt ärvda
enligt två autosomalt dominanta modeller: antingen enligt familjär
adenom polyposis (FAP) eller ärftlig icke-polypos kolorektal cancer
(Hereditary Non-Polyposis Colorectal Cancer, HNPCC) [3, 4].
Miljöfaktorer som livsstil, diet, kroppsmassa och kanske hormoner har
också visat sig vara viktiga i cancerutvecklingen [5].
Det finns bevis på att en stor del av kolorektala elakartade tumörer
utvecklas från godartade föregångslesioner (adenoma polyper) i
tjocktarmen [6]. Systematisk borttagning av sådana polyper kan hjälpa att
förhindra förekomsten av cancer, men bevakningen av polyputvecklingen
är ett stort problem.
Tack vare den snabba utvecklingen i molekylär biologi har förståelsen av
onkogenernas, tumörsuppressorernas och mutatorgenernas roller i den
kolorektala cancerns patogenes ökats. [7].
Referenser
1. Parkin, D. M., Pisani, P. and Ferlay J. (1999). Global cancer statistics. CA
Cancer J Clin 49:33–64 1.
2. Ponz de Leon, M. (2002). Colorectal cancer. Springer-Verlag Berlin
Heidelberg New York. ISBN 3 540-43047–4
3. Lynch, H. T., Smyrk, T., Lynch, J. (1997). An update of HNPCC. Cancer
Genet Cytogenet 93:84–99.
4. Lindblom, A. and Nordenskjöld, M. (1999). Hereditary cancer. Acta
Oncologica 38:439–47.
5. Wilmink, A.B.M. (1997). Overview of the epidemiology of colorectal
cancer. Dis Colon Rectu 40:483–93.
6. Thiis-Evensen, E., Hoff, G.S., Langmark, F., et al. (1999). Populationbased surveillance by colonscopy: effect on the incidence of colorectal
cancer. Scand J Gastroenterol 34:414–20.
7. Lairmore, T. C. and Norton J. A. (1997). Advances in molecular genetics.
Am J Surg 173:37–41.