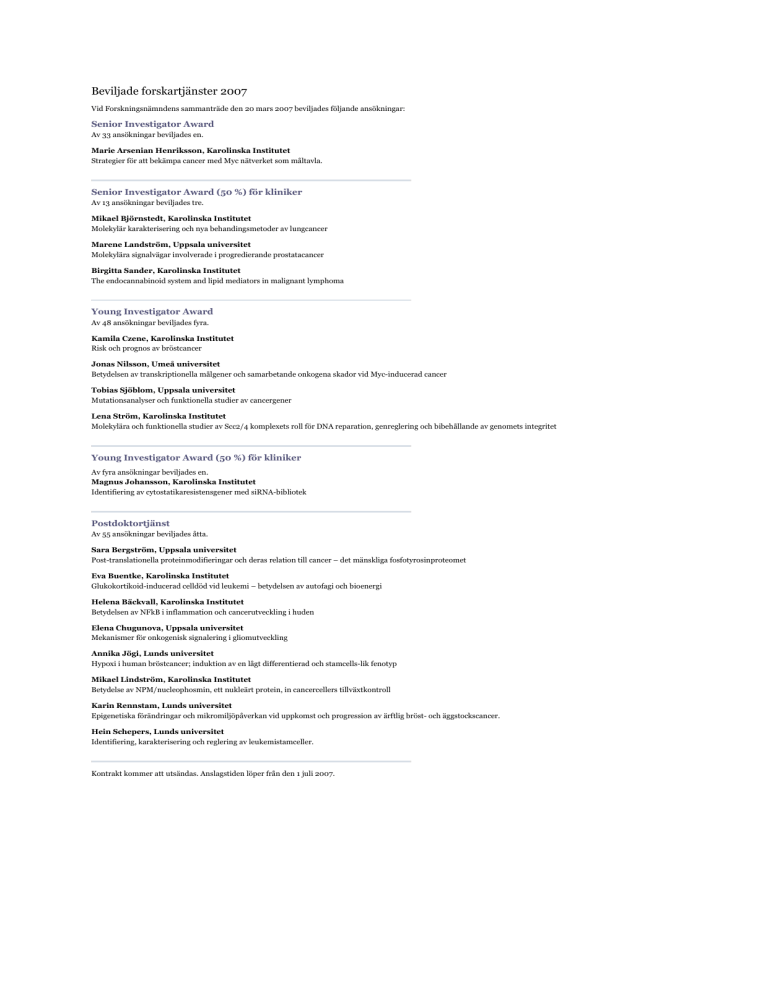 Beviljade forskartjänster 2007
Vid Forskningsnämndens sammanträde den 20 mars 2007 beviljades följande ansökningar:
Senior Investigator Award
Av 33 ansökningar beviljades en.
Marie Arsenian Henriksson, Karolinska Institutet
Strategier för att bekämpa cancer med Myc nätverket som måltavla.
Senior Investigator Award (50 %) för kliniker
Av 13 ansökningar beviljades tre.
Mikael Björnstedt, Karolinska Institutet
Molekylär karakterisering och nya behandingsmetoder av lungcancer
Marene Landström, Uppsala universitet
Molekylära signalvägar involverade i progredierande prostatacancer
Birgitta Sander, Karolinska Institutet
The endocannabinoid system and lipid mediators in malignant lymphoma
Young Investigator Award
Av 48 ansökningar beviljades fyra.
Kamila Czene, Karolinska Institutet
Risk och prognos av bröstcancer
Jonas Nilsson, Umeå universitet
Betydelsen av transkriptionella målgener och samarbetande onkogena skador vid Myc-inducerad cancer
Tobias Sjöblom, Uppsala universitet
Mutationsanalyser och funktionella studier av cancergener
Lena Ström, Karolinska Institutet
Molekylära och funktionella studier av Scc2/4 komplexets roll för DNA reparation, genreglering och bibehållande av genomets integritet
Young Investigator Award (50 %) för kliniker
Av fyra ansökningar beviljades en.
Magnus Johansson, Karolinska Institutet
Identifiering av cytostatikaresistensgener med siRNA-bibliotek
Postdoktortjänst
Av 55 ansökningar beviljades åtta.
Sara Bergström, Uppsala universitet
Post-translationella proteinmodifieringar och deras relation till cancer – det mänskliga fosfotyrosinproteomet
Eva Buentke, Karolinska Institutet
Glukokortikoid-inducerad celldöd vid leukemi – betydelsen av autofagi och bioenergi
Helena Bäckvall, Karolinska Institutet
Betydelsen av NFkB i inflammation och cancerutveckling i huden
Elena Chugunova, Uppsala universitet
Mekanismer för onkogenisk signalering i gliomutveckling
Annika Jögi, Lunds universitet
Hypoxi i human bröstcancer; induktion av en lågt differentierad och stamcells-lik fenotyp
Mikael Lindström, Karolinska Institutet
Betydelse av NPM/nucleophosmin, ett nukleärt protein, in cancercellers tillväxtkontroll
Karin Rennstam, Lunds universitet
Epigenetiska förändringar och mikromiljöpåverkan vid uppkomst och progression av ärftlig bröst- och äggstockscancer.
Hein Schepers, Lunds universitet
Identifiering, karakterisering och reglering av leukemistamceller.
Kontrakt kommer att utsändas. Anslagstiden löper från den 1 juli 2007.