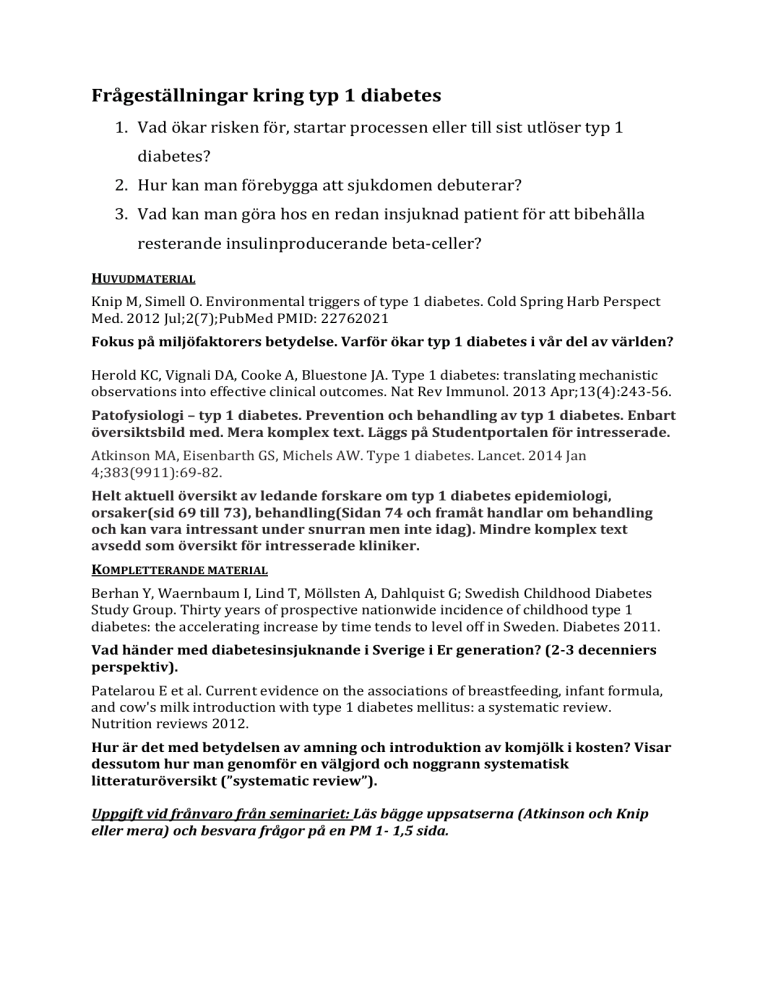 Frågeställningar kring typ 1 diabetes
1. Vad ökar risken för, startar processen eller till sist utlöser typ 1
diabetes?
2. Hur kan man förebygga att sjukdomen debuterar?
3. Vad kan man göra hos en redan insjuknad patient för att bibehålla
resterande insulinproducerande beta-celler?
HUVUDMATERIAL
Knip M, Simell O. Environmental triggers of type 1 diabetes. Cold Spring Harb Perspect
Med. 2012 Jul;2(7);PubMed PMID: 22762021
Fokus på miljöfaktorers betydelse. Varför ökar typ 1 diabetes i vår del av världen?
Herold KC, Vignali DA, Cooke A, Bluestone JA. Type 1 diabetes: translating mechanistic
observations into effective clinical outcomes. Nat Rev Immunol. 2013 Apr;13(4):243-56.
Patofysiologi – typ 1 diabetes. Prevention och behandling av typ 1 diabetes. Enbart
översiktsbild med. Mera komplex text. Läggs på Studentportalen för intresserade.
Atkinson MA, Eisenbarth GS, Michels AW. Type 1 diabetes. Lancet. 2014 Jan
4;383(9911):69-82.
Helt aktuell översikt av ledande forskare om typ 1 diabetes epidemiologi,
orsaker(sid 69 till 73), behandling(Sidan 74 och framåt handlar om behandling
och kan vara intressant under snurran men inte idag). Mindre komplex text
avsedd som översikt för intresserade kliniker.
KOMPLETTERANDE MATERIAL
Berhan Y, Waernbaum I, Lind T, Möllsten A, Dahlquist G; Swedish Childhood Diabetes
Study Group. Thirty years of prospective nationwide incidence of childhood type 1
diabetes: the accelerating increase by time tends to level off in Sweden. Diabetes 2011.
Vad händer med diabetesinsjuknande i Sverige i Er generation? (2-3 decenniers
perspektiv).
Patelarou E et al. Current evidence on the associations of breastfeeding, infant formula,
and cow's milk introduction with type 1 diabetes mellitus: a systematic review.
Nutrition reviews 2012.
Hur är det med betydelsen av amning och introduktion av komjölk i kosten? Visar
dessutom hur man genomför en välgjord och noggrann systematisk
litteraturöversikt ("systematic review").
Uppgift vid frånvaro från seminariet: Läs bägge uppsatserna (Atkinson och Knip
eller mera) och besvara frågor på en PM 1- 1,5 sida.