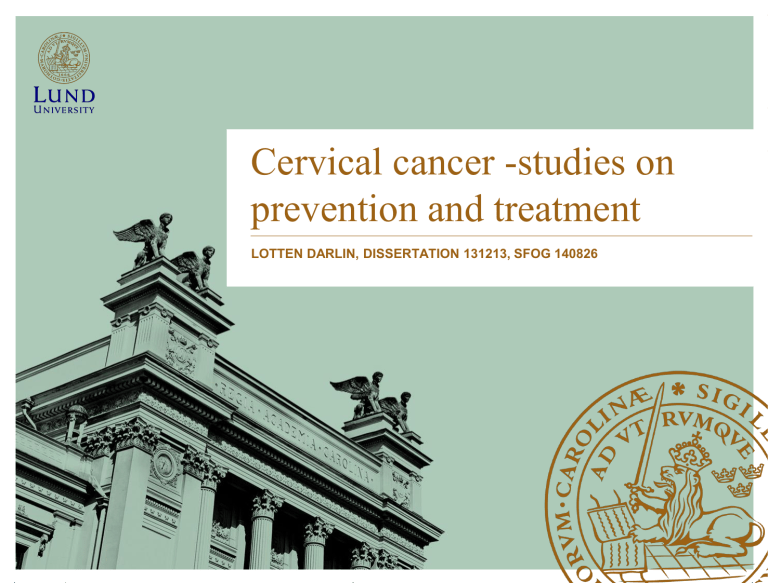 Cervical cancer -studies on
prevention and treatment
LOTTEN DARLIN, DISSERTATION 131213, SFOG 140826
CERVIXCANCER
World age-standardized incidence rates
of cervical cancer
Incidens och mortalitet
CERVIXCANCER I VÄRLDEN
Nordiska länderna incidens
livmoderhalscancer år 1960-2010
HPV-virus
INFEKTION NÖDVÄNDIG FÖR LIVMODERHALSCANCER
Burke 2005
HPV-infektionen
Doorbar et al 2012
HPV-prevalens, åldersindelad
Cancer research UK; Kitchener et al 2006
HPV-prevalens och cervixcancerincidens, åldersuppdelad i år.
Sellots et al 2000 o 2002; Riots et al 1997
Cellförändringar; risk att utveckla
cancer
Ostor et al 1993
Risk att utveckla cervixcancer beroende
på HPV-typ
Khan et al 2005
Hypotes: Analysera cellprovshistoriken, och
därigenom hitta sätt att förebygga
cervixcancer.
• Aim: Analyse the screening history in women
with cervical cancer 2009-2010, and see
their outcome.
Resultat
• Kvinnor över 65; mer avancerade stadier
• Alla patienter som diagnostiserats av screeningprogrammet levde fortfarande (30/30) vid medianuppföljningstiden (36 mån).
• Av alla kvinnor var en tredjedel över 60 år. Av dessa hade
42% normal screeninghistoria
Screening-upptäckta vs symtomupptäckta
Konklusion
• Konklusion: Cervix cancer hos kvinnor över
65-årsålder upptäcks i avancerade stadier av
sjukdomen, med dålig prognos.
Hypotes: Vårt självtest är lika säkert
som LBC HPV-test
Aim: att evaluera vårt HPV självtest
Resultat
• Sensitiviteten att finna
HSIL var hos självtestet 81%,
med LBC HPV-test hade sensitiviteten 90%.
• Kappavärdet mellan de två testen är 0.67
Konklusion
• Vårt självtest är lika säkert som ett läkar-taget HPV-test
Hypotes: Ett HPV självtest ger fler
svar än flexibel mottagning
Aim:
• Att jämföra två olika sätt att få "non-attenders"( >9 år) att
ta cellprov.
• Att ta reda på orsaker till tidigare "non-attendance"
Resultat
• 14,7 % Svarade på självtestet, av dem 6,9% hrHPV
• 4,2% Kom på öppen mottagning, 9,5% hrHPV
• Vanligaste orsaken till utebliven screening:
• Obehag vid vaginal undersökning
• Känner sig frisk
• Tidsbrist
Konklusion
• Fler kvinnor svarar på HPV självtest än på kallelse till
flexibla mottagningar
• Vanligaste orsaken till tidigare "non-attendance" är
obehag vid vaginala undersökningar
Hypotes: Sentinel node är lika säkert
som standardmetoden vid cervixcancer
• Aim: Utvärdera SLN istället för fullständig
lymfkörtelutrymning vid tidig cervixcancer
Resultat
• Minst en sentinel node hos 90% av patienterna
• Tumör< 2cm 94%
• 1 falskt negativ SLN hos tumör 3,5cm
• Sensitivitet hos alla 94%, hos patienter med tumör <2cm
100%
Sentinel node distribution
Sentinel nodes
Rob et al 2005
Positive sentinel nodes
Varför sentinel node?
• Minska morbiditeten hos
patienter
• Hitta metastaser bättre
• Hitta ovanligt belägna
lymfkörtlar
Konklusion
Sentinel node är säkert vid cervixcancer mindre än 2 cm.