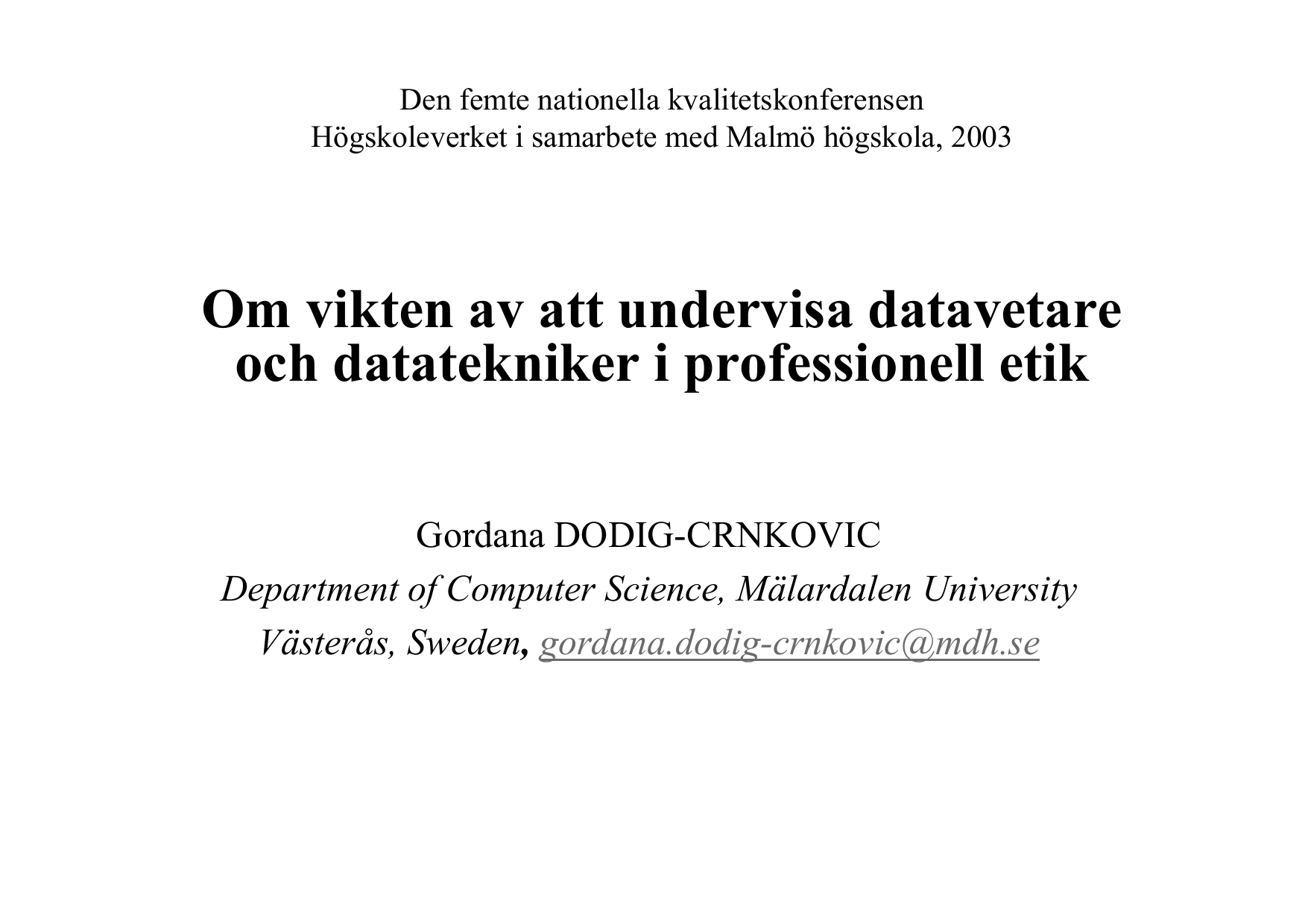 Den femte nationella kvalitetskonferensen
Högskoleverket i samarbete med Malmö högskola, 2003
Om vikten av att undervisa datavetare
och datatekniker i professionell etik
Gordana DODIG-CRNKOVIC
Department of Computer Science, Mälardalen University
Västerås, Sweden, [email protected]
De svenska utbildningar i datavetenskap följer för det
mesta en internationell modell, den amerikanska
ACM/IEEE Computing Curriculum
http://www.computer.org/education/cc2001/index.htm
Typiska allmänbildande ämnen som ingår är
Vetenskapsteori och Forskningsmetodik.
Däremot saknas undervisning i professionell etik, som är
en obligatorisk del av ACM/IEEE Computing
Curriculum.
Computing Curricula 2001, ACM/IEEE
•
•
•
•
•
•
•
•
•
Social context of computing
Methods and tools of analysis of ethical argument
Professional and ethical responsibilities
Risks and liabilities of safety-critical systems
Intellectual property
Privacy and civil liberties
Social implications of the Internet
Computer crime
Philosophical foundations of ethics
Varför är den professionella etiken
viktig för datavetare och datatekniker?
Därför att den professionella etiken bör ingå i
alla för samhället väsentliga yrken, som en del
av innebörd av begreppet professionalism!
Exempel på frågor som omfattas
•
•
•
•
•
•
•
•
yrkets sociala kontext
datavetarens ansvar för risker i teknologiska system
äganderätt
potentiella hot mot privatliv och medborgerliga
rättigheter
datorrelaterad brottslighet
yrkesrollens etik
etiska aspekter av underhållning (datorspel och dyl.)
rollen av Internet
Professional Ethics in Science and Engineering
Course at Mälardalen University
• Is Computer Ethics Unique in Relation to Other Fields of Ethics?
• Codes of Ethics and Professional Conduct
• Engineering as Social Experimentation
• What Is Ethics?
• A Framework for Ethical Decision Making
• Types of Ethics Inquiry
• Ethics: A Pluralistic Approach to Moral Theory
Professional Ethics in Science and Engineering
Course at Mälardalen University
DATE
TOPIC
4 Nov
L1
Getting Started. Course Preliminaries. Introduction. Administrivia.
Identifying Moral Issues
Basic Moral Orientations
6 Nov
L2
METHODS AND TOOLS OF ANALYSIS OF ETHICAL ARGUMENT
Philosophical Foundations of Ethics
Ethical Relativism, Absolutism and Pluralism
11 Nov
L3
The Ethics of Conscience
Ethical Egoism
The Ethics of Duty
The Ethics of Respect
13 Nov
L4
The Ethics of Consequences: Utilitarianism
The Ethics of Rights
The Ethics of Justice
18 Nov
L5
The Ethics of Character
Ethics and Gender
20 Nov
L6
GUEST LECTURE BY JAN ODELSTAD
25 Nov
L7
PRIVACY AND CIVIL LIBERTIES
In-class activity: CASE STUDIES
27 Nov
L8
ENVIRONMENTAL ETHICS
In-class activity: CASE STUDIES
02 Dec
L9
GUEST LECTURE BY KERSTI MALMSTEN
03 Dec
E1
PROFESSIONAL AND ETHICAL RESPONSIBILITIES
CODES OF ETHICS
WHISTLE BLOWING
In-class activity: CASE STUDIES
Social context of profession of engineer and scientist/researcher
04 Dec
L10
RISKS IN TECHNOLOGY AND SCIENCE
Risks and liabilities of safety-critical systems
PRECAUTIONARY PRINCIPLE
09 Dec
L11
GUEST LECTURE BY MONIKA EIBORN
10 Dec
E2
INTELLECTUAL PROPERTY
In-class activity: CASE STUDIES
11 Dec
L12
In-class activity: ORAL PRESENTATIONS
16 Dec
E3
COURSE WRAP-UP
TAKE-HOME
EXAM
Mål
Det viktigaste målet är att utveckla etisk autonomi,
d.v.s. förmågan och vanan att tänka rationellt och
kritiskt om etiska frågor.