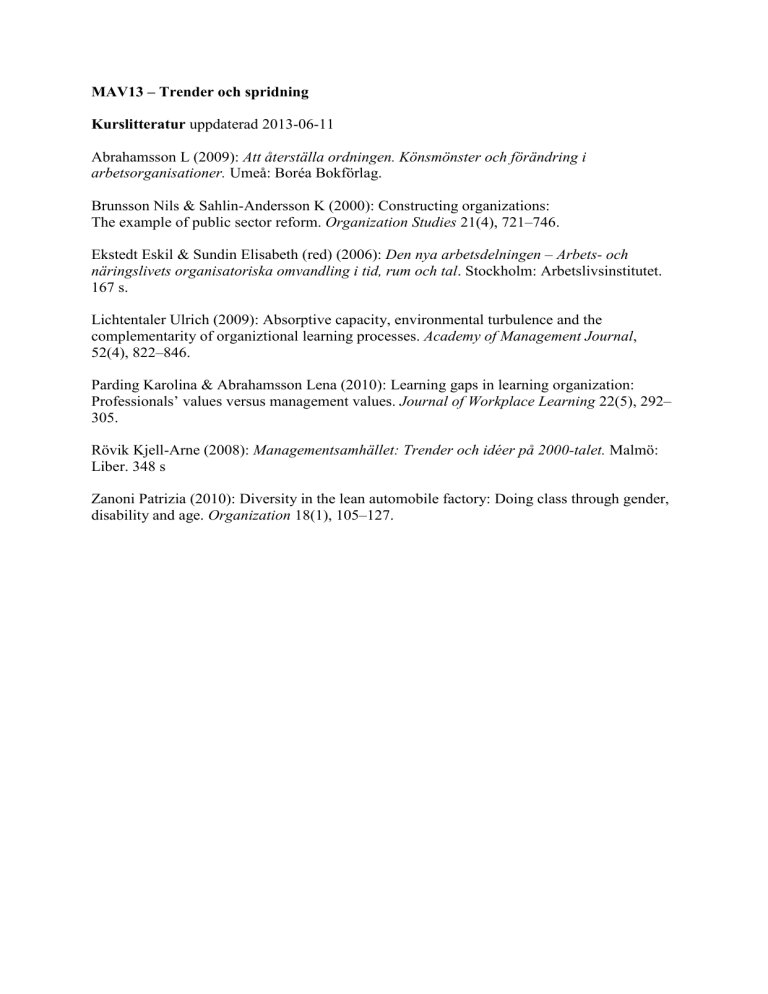 MAV13 – Trender och spridning
Kurslitteratur uppdaterad 2013-06-11
Abrahamsson L (2009): Att återställa ordningen. Könsmönster och förändring i
arbetsorganisationer. Umeå: Boréa Bokförlag.
Brunsson Nils & Sahlin-Andersson K (2000): Constructing organizations:
The example of public sector reform. Organization Studies 21(4), 721–746.
Ekstedt Eskil & Sundin Elisabeth (red) (2006): Den nya arbetsdelningen – Arbets- och
näringslivets organisatoriska omvandling i tid, rum och tal. Stockholm: Arbetslivsinstitutet.
167 s.
Lichtentaler Ulrich (2009): Absorptive capacity, environmental turbulence and the
complementarity of organiztional learning processes. Academy of Management Journal,
52(4), 822–846.
Parding Karolina & Abrahamsson Lena (2010): Learning gaps in learning organization:
Professionals' values versus management values. Journal of Workplace Learning 22(5), 292–
305.
Rövik Kjell-Arne (2008): Managementsamhället: Trender och idéer på 2000-talet. Malmö:
Liber. 348 s
Zanoni Patrizia (2010): Diversity in the lean automobile factory: Doing class through gender,
disability and age. Organization 18(1), 105–127.